Regardless of your major, being proficient in a foreign language not only demonstrates your ability to communicate internationally, it can create more career opportunities. Whether you want to study abroad, teach, pursue government work, or conduct international business, you can give yourself an edge by building a foreign language into your studies (see Modern Language Skills for the World of Work).
About Classical & Modern Languages
Boost Your Language Skills
At Truman, you can take classes in an area that interests you or add a foreign language minor to any major. Check out some of your options:
Majors
Minors
Interdisciplinary Minors:

Add a Study Abroad Experience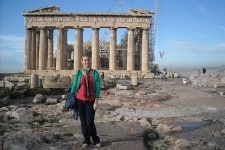 Hone your language skills and broaden your cultural awareness through one of the many study-abroad programs available at Truman.