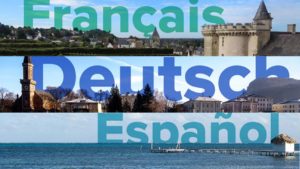 You have a passion for learning about other cultures. You yearn to travel and experience the world. And you want to broaden your mind and develop communication skills in understanding, speaking, reading and writing another language. Truman offers a bachelor of arts degree in modern language with areas of specialization:
You can focus on one language or heighten your language ability even further through a combination of more than one area of specialization. Because of its relevance to so many other fields, the modern language major is a popular choice for students pursuing multiple majors. And if your future plans include teaching, Truman also offers a Master of  Arts in Education degree.
With a degree in modern language, you develop a competent command of the language along with familiarity with the culture, literature, and history of the language. And you have ample opportunities to put your languages skills into action. Sit in on conversation tables for some casual practice. Apply to live in the Romance Language House located within Missouri Hall and practice your language skills on a daily basis. Get involved in service learning. Develop a deeper cultural understanding and converse with native speakers during study abroad.
The modern language major positions you to thrive in a variety of fields:
international business
hospitality
journalism
healthcare
government work
international relations
translation
linguistics
education
law
political science
---