Now is the time to

apply

!
Experience Campus in Person
The best way to learn about Truman is to visit campus —  we're excited to meet you and show you around. Pick a day and the things you want to do. Then get ready for a great day. Unable to attend a visit session or tour? We've got you covered with our Virtual Tour.

Saturday Showcase Events
Our Saturday Showcase Events are full-day events that provide as much information about Truman as possible in a one-day visit. Showcases are a great way for you to tour campus, meet future and current students, talk with faculty, and attend a presentation on financial aid or study abroad opportunities.
You're invited to attend any of our Saturday Showcase Events held throughout the year, and students of any age are welcome. The tentative Showcase schedule will give you an idea of how much information about Truman you will discover during a Saturday Showcase Event.
Upcoming Showcase Event Dates:
March 28, 2020
April 25, 2020
---
Admitted Student Events
Admitted Student Event Information
Students who have been accepted to Truman State University are invited to join us for a special day to celebrate the big achievement! The Admitted Student Event is an opportunity for admitted students and their families to explore what makes Truman so unique and learn about the next steps to take to join the Truman community!
The Admitted Student Event is free for all admitted students and their families. Attendees will have the opportunity to tour all of the residence halls, explore academic areas, make new friends, and have lots of fun! Plus, attendees will gain early access to orientation registration and be entered to win an Orientation Fee waiver.
Upcoming Admitted Student Events:
Monday, February 17, 2020
Friday, March 20, 2020
---
Weekday Visits
During a weekday personal visit, you meet with an Admission Counselor who can answer your questions about financial aid, major or academic interests, extracurricular activities, residence life, and the application process. Guided campus tours visit the residence halls, academic buildings, and recreational areas. You can even stop by the University Bookstore in the Student Union Building to purchase Truman apparel.
If classes are in session the day you visit, you can request to meet with a professor. At Truman, our professors are recognized for their dedication to teaching and are motivated to help you reach your potential. Other appointment options include conversations with athletic coaches, lunch on campus, and class observations. Plus, Truman has a number of student service offices that you can visit while on campus. Want to learn more about our Career Center? Are you interested in Study Abroad opportunities? We will work to accommodate all of your appointment requests so that your weekday visit is as unique as your interests.
---
Saturday Visits
Each Saturday Visit includes a presentation by an admission counselor and a walking tour of campus led by a student. Please allow around two hours for your Saturday Visit.
Note that Saturdays Visits are separate from the Saturday Showcase Events and special appointments are not available during a Saturday Visit. If it is important for you to meet with a faculty member or with another campus office, consider attending a Saturday Showcase Event or weekday personal visit instead.
Upcoming Saturday Visit Dates:
---
Group Visits
Trying to plan a weekday visit for a group of five students or more? Truman offers a number of activities that can be customized to fit your group's needs when you visit Truman. Whether you want a tour of campus, academic presentations, or a behind-the-scenes visit to one of the various campus facilities, the Office of Admissions will be happy to assist you.
Please complete the Group Visit Request Form at least two weeks prior to your visit date. After you submit the Group Visit Request Form, we will contact you to discuss the details of your weekday group request.
---
Contact the Campus Visit Coordinator
Do you have questions about your visit options? Give our Campus Visit Coordinator a call at 660-785-4135 or email visit@truman.edu.
Truman State University is committed to providing reasonable accommodations to qualified individuals with disabilities upon request. To request an accommodation, please submit relevant information on your visit registration form or contact the Office of Student Access and Disability Services at:
Office of Student Access and Disability Services
Kirk Building 114B
100 E. Normal
Kirksville, MO 63501
(660) 785-4011
studentaccess@truman.edu
Truman State University, in compliance with applicable laws and in furtherance of its commitment to fostering an environment that welcomes and embraces diversity, does not discriminate on the basis of age, color, disability, national origin, race, religion, sex (including pregnancy), sexual orientation, or protected veteran status in its programs and activities, including employment, admissions, and educational programs and activities. Inquiries may be directed to the Institutional Compliance Officer at:
Institutional Compliance Office
Violette Hall 1308
100 E. Normal
Kirksville, MO 63501
(660) 785-4354
titleix@truman.edu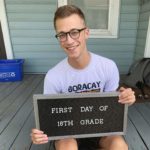 The best part about Truman is how small, intimate, and personal every aspect of the school is. It's rare to walk from class to class and not wave to at least one or two people or have your professor not know your name; you feel like you have a distinct purpose on campus, rather than just another random student.