Monday, February 17, 2020 & Friday, March 20, 2020
Students who have been accepted to Truman State University are invited to join us for a special day to celebrate the big achievement! The Admitted Student Event is an opportunity for admitted students and their families to explore what makes Truman so unique! The Admitted Student Event is free for all admitted students and their families. Attendees will have the opportunity to tour all of the residence halls, explore academic areas, make new friends, and have lots of fun!
*Truman will not conduct in-person classes for the remainder of the Spring 2020 semester in an effort to limit the possibility of exposure to the coronavirus to the campus and Kirksville communities. We have cancelled the March 20 Admitted Student Event. If you have questions or concerns, please refer to the established TruAlert site or contact the Office of Admission at 660-785-4114 or admissions@truman.edu.*
---
Tentative Schedule of Events
9:30 am to 10:00 am
Check In at Baldwin Hall for the February event and at the Student Union Building for the March event. Upon check-in, students will receive a welcome packet and lunch ticket for a complimentary lunch.
10:00 am to 10:45 am
Presidential Welcome featuring University President Dr. Susan L. Thomas. Visitors will also receive a warm welcome from our Truman community. We are excited to celebrate your future as a Bulldog!
11:00 am to 1:45 pm
Lunch. Try our campus dining services in one of our three dining halls or explore the over 50 dining options in the Kirksville area on your own.
Residence Hall Open Houses. Guided tours will depart periodically from the main lounge or hall desk area. Please take this opportunity to explore all of the University's living facilities. Submit your living preferences in the lobby of each residence hall, if you haven't already!
Student Recreation Center Open House. Guided tours will depart periodically from the main lobby.
Center for Diversity and Inclusion Open House. The Center for Diversity and Inclusion staff welcome you to stop by and learn about the programming and support they provide to the campus community.
11:30 am to 12:00 pm or 12:30 pm to 1:00 pm
Campus tours. Take an abbreviated tour with one of our Student Ambassadors before attending various open houses and/or information sessions.
12:30 pm to 1:00 pm or 1:15 to 1:45 pm
Money Matters informational session. Attend an optional presentation about Financial Aid and paying for college.
Becoming a Bulldog informational session. If you've already decided on coming to Truman or are still making that decision, attend an optional presentation about what life is like as a Bulldog and information about your next steps, including Summer Orientation.
2:00 pm to 3:00 pm
Pursuit of Excellence: Academic Programs informational session. Faculty members from various schools and majors are eager to help you explore their curriculum as well as learn more about the student organizations, study abroad options, and career support you'll receive in your major! You will choose one college or academic department that most fits your interest to spend time hearing directly from their faculty, advisors, and current students.
3:00 pm to 3:30 pm
Cookies with our Community. Enjoy special treats with a panel of current students, parents, faculty, and administrators to learn how our community will support you here.
3:00 pm to 5:00 pm
Counselor Connect & Gifts. Don't leave campus with any remaining questions! Admissions staff members will be available in the Office of Admission to talk one-on-one about financial aid, campus resources, transfer credit, next steps, and more.
3:30 pm to 4:00 pm
Truman Talks. Attend a mock class with a current faculty member. Spaces in each Truman Talk are limited.
"Astrobiology: The Science of Life in the Universe" Dr. Vayujeet Gokhale, Associate Professor of Physics, explores the big questions we have asked for centuries: Are we alone? What is the Universe? What will a profound discovery of life elsewhere mean for our planet in the context of science, society, and religion? (This Truman Talk is only available during the March event.)
"Brains, Trains (Of Thought), and Automatons: Could computers one day be counted as persons?" In an age of artificial intelligence, Dr. Chad Mohler, Professor of Philosophy & Religion, dives into a question in the area of metaphysics having to do with personal identity. He explores whether one day, computers may count as persons.
"Can People Become Happier Through Effort?: Findings from the science of well-being" Dr. Yuna Ferguson, Associate Professor of Psychology, is on the pursuit of happiness. Through her research, she discusses how personality, social factors, and intentional effort contribute to people's happiness.
"Income Taxes Aren't Always Bad News"  Chair of Accounting and Truman alumna, Dr. Stacey Kaden, will give an overview of the tax benefits that make higher education more affordable including discussions on saving for college, paying for college, and paying back student loans. (This Truman Talk is only available during the March event.)
"Music and the Brain: Thinking Musically" Throughout her music career, Professor Shirley McKamie, Professor of Music and Musicology, has encompassed several areas and modes of teaching. She will explore biomusicology, the study of music from a biological perspective. (This Truman Talk is only available during the February event.)
"Nerd Fame Again: Bots, Flarf, and Uncreative Writing" Dr. James D'Agostino, Associate Professor of English and practicing poet, looks at the role of the writer in the age of computer-generated poetry. He will discuss Truman student research into the topic, as well as faculty-student collaboration.
"Torn Between Worlds: How Botticelli depicts a culture in crisis" Dr. Carlo Annelli, Assistant Professor of Italian, presents a famous painting by Sandro Botticelli to combine with perspectives from history, art, and poetry to explore the extraordinary cultural changes that occurred during the early Italian Renaissance in Florence, Italy.
"What a Waste: Your food scraps and the future of the planet" Dr. Michael Seipel, Chair of Agricultural Science, is passionate about food waste: its contribution to global warming, implications for resource use and food prices, and its impact on increasing international food insecurity.
"Why Liberal Arts? An overview of higher education in the United States and the uniqueness of the liberal arts model" Dr. Anton Daughters, Associate Professor of Anthropology, explores why a liberal arts and sciences education model in the United States is unique in terms of student development and societal contributions. (This Truman Talk is only available during the February event.)
"Why We Move: A Biomechanical Approach" This topic relates to the value and risk of human movement. We are made to move, but now movement is more about choice than it once was, so the benefits and risks are always evaluated. Dr. Michael Bird, Chair of Health and Exercise Sciences, will explore what will happen if we are less active and what will happen if we are more active.
---
Truman State University does not discriminate on the basis of age, color, disability, national origin, race, religion, sex (including pregnancy), sexual orientation, or protected veteran status in its programs and activities, including employment, admissions, and educational programs and activities. Inquiries may be directed to the Institutional Compliance Officer at (660) 785-4354 or titleix@truman.edu.
For disability accommodation, please contact the Institutional Compliance Officer at (660) 785-4354 or titleix@truman.edu or provide the request below in the Questions or Additional Requests box. One week advance notice is appreciated. To request this document in an alternate format, please contact Office of Student Access and Disability Services at (660) 785-4478 or studentaccess@truman.edu.
Planning Your Visit
Take a Virtual Tour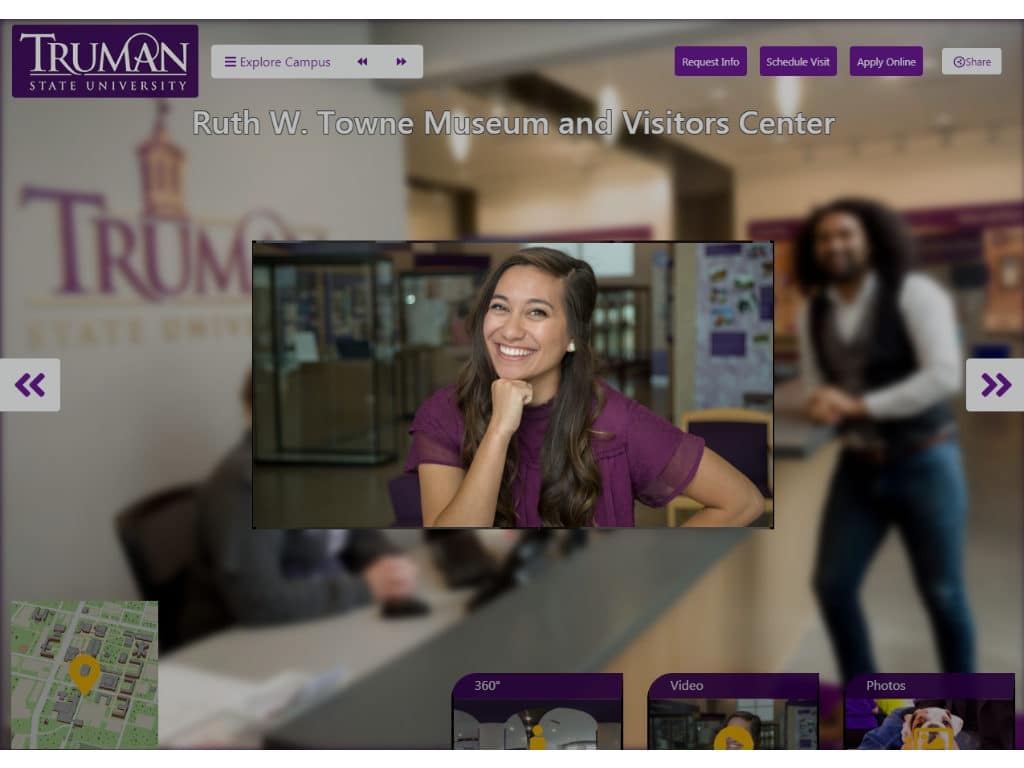 Have questions?
We're here to help. Contact the Admission Office.