A Comfortable Place to Live, Learn, and Grow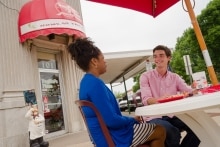 Fondly referred to as the "Ville," Kirksville provides the best of both worlds with its friendly, small-town atmosphere and a location within easy driving distance of several major cities. Practically everything you need is within walking distance with shopping, restaurants and cafes, farmers market, nightlife and more located downtown just a few blocks from campus.
An Active Community
Local organizations, such as the Kirksville Arts Association, host events year-round so there's always something going on — St. Patrick's Day Festival, Summer on the Square Concert Series, Phi Mu Alpha Jazz Festival, FLATS Trail Half Marathon and the Northeast Missouri (NEMO) Triathlon as well as concerts in an outdoor amphitheater, plays and art exhibits. You can also take advantage of a local skate park and the downtown movie theatre.
Nature makes people happy, and you can take it all in at three large conservation areas in the region. You can also grab some friends and head out to Thousand Hills State Park to explore hiking and biking trails, historical petroglyphs, and a 573-acre lake for kayaking, swimming, fishing, and other water sports.
A community of approximately 17,000 people, Kirksville offers you the opportunity to pursue your interests and create a rich college experience you'll remember long after graduation.
WEKIRKSVILLE
Welcome Event for New Students
Each fall at the New Student Welcome event held downtown on the courthouse lawn, local businesses and organizations offer coupons, product samples and more to welcome new students to the community.
Community Involvement
Looking for ways to get involved in the community? The SERVE Center at Truman can help you find service opportunities in the community that match your interests.
Explore the Kirksville Community
What I like about the local community…
"The people and the fun atmosphere of the town. There are a lot of unexpected and cool places in this town."
—Lindsey A.
"I enjoyed the variety of activities in the Kirksville community. From hiking at Thousand Hills State Park to bowling to shopping at the thrift stores, there was always something you could do with friends."
—Samantha B.
"I would not be the woman I am today as well as striving to be the woman I will be in the future if it were not for all the amazing, brilliant, hilarious, kind-hearted, intelligent, and unique people I have encountered during my time in Kirksville."
—Caitlin D.
"I loved that everything in Kirksville was about a 15-minute drive, from 1000 Hills to the grocery store, or the numerous restaurants in the area. There are so many opportunities to serve and become involved with the community through the numerous events that the city or shops sponsor."
—Natalie K.