Campus  
Truman's beautiful 180-acre residential campus, located in Kirksville, Missouri, blends old and new with a mix of historic and contemporary red-brick buildings that provide modern living and learning facilities. Lush green spaces like the Quad and a library filled with natural light and plenty of group study areas make the Truman campus a comfortable place to study, make new friends, and socialize.
Accreditation
Truman has been accredited since 1914 by the Higher Learning Commission of the North Central Association of Colleges and Schools.
Top-Ranked Nationally
Truman consistently achieves national recognition for its high-quality academics and affordability in well-known college rankings produced by publications such as U.S. News and World Report, Princeton Review, Consumers Digest, Kiplinger's Personal Finance, and Washington Monthly.
Small Classes for Personalized Learning
Truman's student-to-faculty ratio of 16:1 means professors get to know their students well enough to provide meaningful references for internships and jobs. Students also have access to numerous academic support services to help ensure their success.
Learning Outside the Classroom
High-impact learning experiences, such as internships, research, and study abroad, allow students to apply what they learn in the classroom to real-world situations and gain hands-on experience.
Active Student Body
There is always something taking place on campus — sports, plays, music performances, art shows, live entertainment — and with around 250  student organizations, student media, Bulldog athletics, intramural recreational sports, Greek Life, and more, students can pursue their interests and discover new ones.
Successful Outcomes
Employers and graduate and professional schools recognize the value of a degree from Truman — a fact that is reflected in our high placement rate after graduation. About half of our students go to graduate or professional school while the other half embark on their career after graduating from Truman.
High Graduation Rate
According to the Missouri Department of Higher Education, Truman has the highest overall graduation rate among Missouri's public colleges and universities.
High Retention Rate
Truman has the highest freshman-to-sophomore retention rate among Missouri public universities.
Phi Beta Kappa
Truman is one of only two Missouri public universities with a Phi Beta Kappa chapter, America's oldest academic honor society for the liberal arts. Phi Beta Kappa is one of the nation's most prestigious honor societies.
Rich History
With a history that dates back to 1867, cherished traditions are an important part of the college experience.
Unique Mission
The Missouri Legislature gave Truman a statewide liberal arts and sciences mission in 1985. The well-rounded education that a liberal arts and sciences education is known for prepares students for life well beyond their first job. By building a broad base of knowledge and skills, Truman graduates gain a broader understanding of multiple disciplines they can apply to a variety of careers throughout their lives.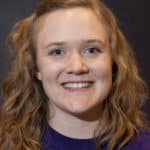 I love how easy it is to get to know people at Truman because of the size. Whenever I go to class or attend an event on campus, I always know at least a handful of people.