Pursue Your Passion for Teaching
To apply to Truman's MAE program, you must complete a strong liberal arts and sciences undergraduate degree in the major of your choice at Truman or another institution (or you can also transfer to Truman prior to earning the bachelor's degree). Typically, students apply during their senior year at Truman, and our dedicated professors provide individual mentoring to guide you every step of the process.
Working with our certification officer, you can design an academic experience that fits your aspirations. Upon entering the MAE program, you select the area of specialization that matches your career goals:
You may also work toward add-on certifications to your specialization area:
ESOL ([Teaching] English to Speakers of Other Languages)
Reading Specialist
Student Spotlight
Evyn Spencer, a graduate student in the Education Department at Truman, is an accomplished competitive swimmer. She also has a passion for volunteering with young athletes training for the Special Olympics.

Field Experiences
During their teaching internships, Jacob and Lauren helped their students make some surprising connections when they applied liberal arts principles in their classrooms. Their interdisciplinary lesson illustrated how authentic learning can cross any boundary.

100%
of majors complete an internship
—
100%
of majors engage in research
—
94%
of our professors have the highest degree in their field
—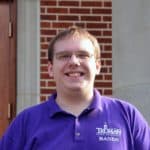 Truman is really the land of opportunity. If there is a project or idea that you want to pursue, all you have to do is reach out to students and faculty and the idea can become reality. I was able to collaborate on a variety of ventures from research projects, to starting new organizations, to finding internships, and even planned some travel experiences. Your imagination is the limit here!