Master of Arts in Education: Specialty Area Requirements
Foreign Language — French & Spanish
Students must have a minimum 3.25 GPA in their language major (French or Spanish) and demonstrate Intermediate-High proficiency (or above) on the ACTFL scale in the language they plan to teach. Students will take the STAMP web-based proficiency test in the fall semester of the senior year through Truman's Assessment and Testing Office.
Students scoring below Intermediate-High will work with the MAE specialty director in his/her language to develop a language proficiency plan, which may include additional coursework, study abroad, or independent study.  This plan must be approved by the MAE specialty director.  After completing the language proficiency plan, the student must retake the STAMP assessment and score at the Intermediate-High level before applying for admission to the MAE.
In addition, students must present at least one letter of recommendation from a faculty member (French or Spanish) for the language they plan to teach.  This letter should comment on the student's ability with the language, work habits and suitability for graduate study.  Ideally, the student should also show evidence of experience working with young people such as volunteer work, camps or tutoring.
Foreign Language Education Faculty:

---
GPA Sheets—Foreign Language Education
Current as of 1 July 2018
Please see your Education advisor each semester to ensure smooth processing through the program.

Students being certified to teach in Missouri must have a 2.75 or higher GPA overall, a 3.0 GPA or higher in their content area, and a 3.0 GPA or higher in professional classes (mostly education classes).  This GPA sheet was crafted to help students keep track of these three GPA calculations, as well as to aid with advisement and enrollment.  If students have any questions about their GPA, they should meet with their specialty area advisor.
French
Download GPA Sheet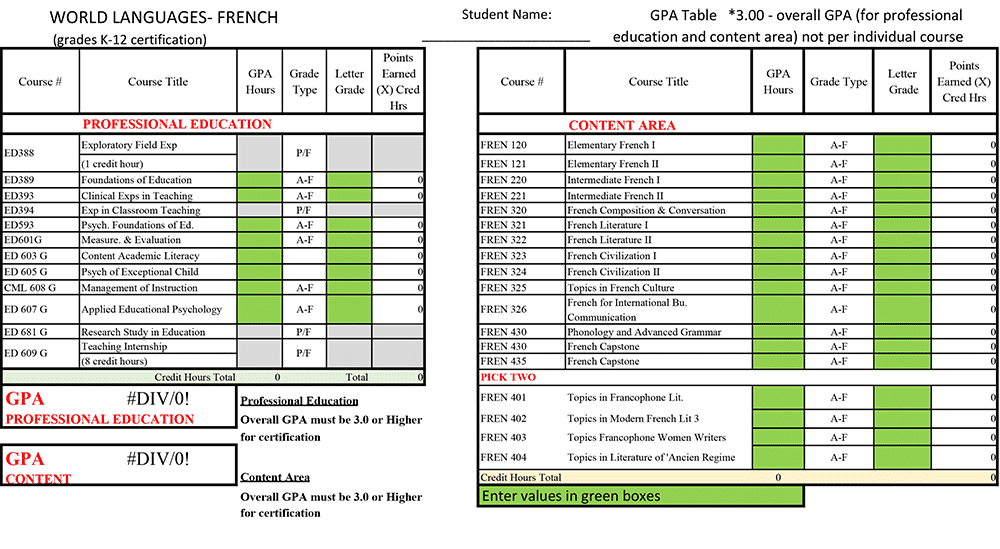 ---
Spanish
Download GPA Sheet