Gain an in-depth appreciation of Italian language, culture, and civilization. The rediscovery of Roman civilization was one of the most important aspects of the Renaissance, which began in Italy and spread to the rest of Europe. By studying classical Italian culture, you acquire an understanding of key historical periods in the formation of Italian civilization and get a better perspective on our modern culture as well.
A minor in Italian Studies pairs well with any major —  whether you're in business, communication, medicine, education, or many other professional fields. Or perhaps you'd just like to pursue a personal interest. The core courses zero in on Italian language and culture, while the supporting courses broaden your perspective, offering choices in various disciplines such as film, art and history.
Get Involved
Live on campus in the Romance Language House, a special wing within Missouri Hall reserved for students studying Spanish, French, Italian, or Portuguese.  Join the Italian language conversation table (Tavola italiana) for weekly meetings in Missouri Hall. And meet other Romance language speakers who get together for dinner.
Truman's official Italian Club, C.I.A.O. (Club for Italian Appreciation and Outreach) plans events including guest speakers from Italy, cultural trivia nights, Italian games, informational sessions about
study abroad
opportunities in Italy. For more information on what we're up to, see our
newsletter
or email
ciao@truman.edu
to join our mailing list.
As an Italian language student, you can participate in a pen-pal exchange with Italian high school and university students. Over the course of the semester, students enrolled in 100-level courses participate in a series of guided email exchanges on a specific set of cultural and grammar topics. Pen pals are encouraged to continue their conversations by email and Skype outside of class as well, and intermediate language students can also participate in the program. The students created the following video: Un tour virtuale della Truman
Italian Studies Minor Committee
For more information, please contact the chair or a committee member:
April 14, 2020
Dr. Stacy L. Davis has been chosen to receive a $1,400 Faculty Scholarship Grant from the Office of Academic Affairs to begin work on a book manuscript. Working with two Truman students, Kathleen Placke and Claire Benevento, Dr. Davis will begin compiling short stories by Spain's foremost feminist writer, Emilia Pardo Bazán, that deal with emigration and the […]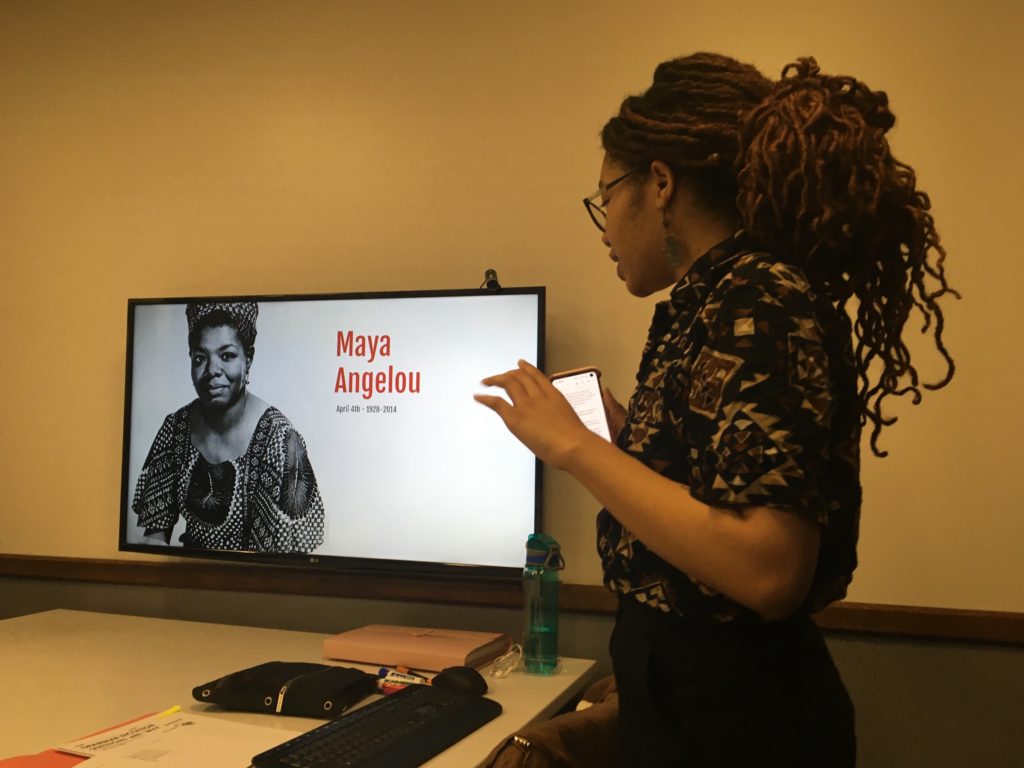 United Speakers – Black History Month
March 2, 2020
United Speakers is constantly working to find creative ways to help the Congolese population of Kirksville expand their knowledge of the English language. As this month is Black History month they have been teaching lessons that center around the theme of African American artists. Junior, Taj Butler has been striving to create interactive lessons about […]