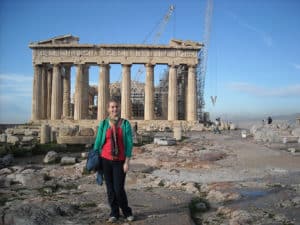 Much can be learned from the study of ancient languages, and a Greek minor complements virtually any field of study—especially if you're majoring in History, English, Theater, or Philosophy and Religion. At Truman, you can choose to study the language at a more advanced level or supplement your Greek language studies with courses in Greek literature, mythology, classical civilization, and historical developments from Bronze Age Greece and Crete through the Hellenistic Age.
Experience Greek culture first-hand through Truman's study-abroad programs. Travel to Athens, one of the most powerful cities in Greece during the classical period. Or spend a semester studying in Thessaloniki, a college town known for its festivals and vibrant cultural life.
Exposure to the Greek language, history and culture gives you a powerful tool to apply to a broad range of professions—biology, law, medicine, philosophy and religion, politics, teaching, and more.
---