Are you aspired to cultivate a vivid sense of global diversity? Are you drawn to something diametrically different from English and American mainstream culture?  The Japanese Minor is for open-minded and intellectually curious students. Japanese linguistic principles and cultural concepts often turn out to be the opposite of those underlying English language and American culture, viz. indirect and restrained vs. forthcoming.  You will extend and deepen your understanding of language and culture by pursuing the Japanese Minor.
A diverse group of students, ranging from English/Linguistics, Computer Science, Art, Biology, Business, Psychology, Sociology/Anthropology, Philosophy/Religion to History, takes Japanese courses.
Choose Your Own Path
Starting with elementary Japanese, you can continue to advanced Japanese along with Japanese culture and sociolinguistics or Japanese linguistics and language; these courses ensure that you attain solid foundations of language skills and a nuanced understanding of culture. Then, you can choose either language-concentrated or culture-concentrated courses. Take fourth-year Japanese, translation in Japanese, and communication in Japanese to hone your language skills and knowledge while taking Japanese film, Japanese society and culture, Japanese religion, and Japanese history to deepen your understanding of its culture.
Study Abroad
Two faculty-led summer study abroad programs offer an invaluable opportunity for personal growth: one that combines learning Japanese intensively and visiting cultural sites in Kyoto, Hiroshima, and Tokyo; the other, a service learning and study abroad course, wherein you assist in teaching English to high school and college students in Japan while being totally immersed in Japanese society.
Alternatively, more traditional study abroad opportunities are available, either semester or entire academic year long.  You can choose your destination from among the Tokyo area representing modern Japan and the Kansai area with Japan's traditional cultural center: visit the Center for International Education Abroad.
Co-curricular Opportunities
Truman has a highly vibrant Japanese Language Exchange Group (JLEG) serving for language and cultural exchanges between learners of Japanese and students from Japan.  Truman has the Anime Club too.  Once you have reached an advanced level of Japanese learning, you are encouraged to serve as a peer tutor for elementary and intermediate learners, providing a good opportunity for service learning and leadership.
April 14, 2020
Dr. Stacy L. Davis has been chosen to receive a $1,400 Faculty Scholarship Grant from the Office of Academic Affairs to begin work on a book manuscript. Working with two Truman students, Kathleen Placke and Claire Benevento, Dr. Davis will begin compiling short stories by Spain's foremost feminist writer, Emilia Pardo Bazán, that deal with emigration and the […]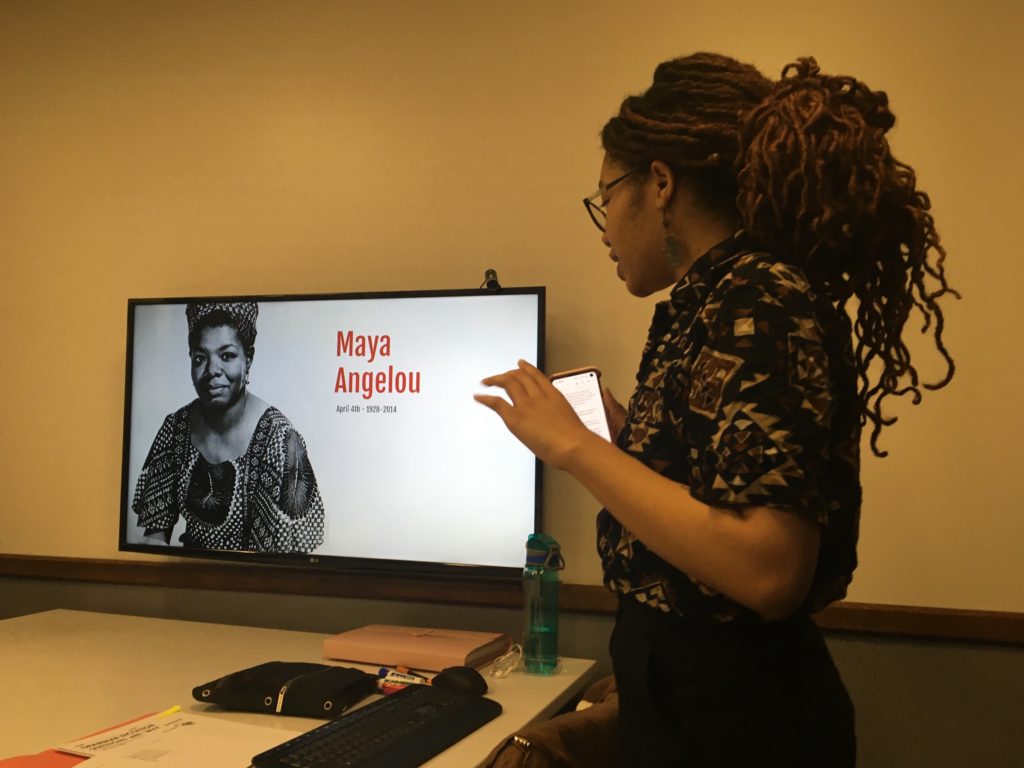 United Speakers – Black History Month
March 2, 2020
United Speakers is constantly working to find creative ways to help the Congolese population of Kirksville expand their knowledge of the English language. As this month is Black History month they have been teaching lessons that center around the theme of African American artists. Junior, Taj Butler has been striving to create interactive lessons about […]