Pursuing questions across subject areas, you discover connections between classroom learning and the real world through research, study abroad, internships and other activities outside of class. With so many intellectual opportunities at your fingertips, you can tailor your academic experience to match your own personal interests and goals.
| | | |
| --- | --- | --- |
| Eric: Discovering a land of opportunity | Maya: Spending a semester studying in Spain | Sadie: Racking up experience with an eye on the future |
| Becca: Promoting environmental consciousness | Jamie: Following the motto "Do what you love" | Bethany: Enhancing academic understanding through study abroad |
| Lauren: The making of a teacher | Jacob: Using transformational learning experiences to carve out a career path | Thomas: Finding unique opportunities for pre-med studies |
| Brittany: Assisting doctors in Belize | Cisco: A modern-day Renaissance man | Josie: Conducting trailblazing research |
| Allison: Research opportunities for curious minds | Cole & Mitchell: Two brothers make theatre a family affair | Derek: Taking language skills to the next level |
| Molly: Getting a global education through a Semester At Sea | Mackenzie: Real-world experience in Mexico | Sara: Gaining hands-on experience in communication disorders |
| Jennifer Marks: Research Project Digitizing WWII-era Letters | Chynna: Pursuing intellectual curiosity | Eli: Chemistry major gets excellent preparation for grad school |
| Lexi: Research opportunities from a surprising source | Patrick: Studying marine biology up close in Belize | Emma: Translating skills from classroom to career |
| Conor: Connecting science & writing through an internship | Jabari: Finding the perfect career | Josh: Success on your own terms |
| Joanne: Life as a theatre major | Renee: Life-changing experiences studying in Finland | |
---
Browse More Stories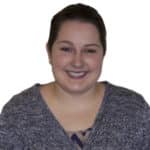 Truman's Liberal Arts program allowed me to take classes in a variety of areas besides my major. I spent a semester in Orlando, Fla., completing an internship through the Disney College Program, I spent a semester in Angers, France, taking business classes with international students from around the world, and I spent a summer in Taiwan teaching ESL. Truman offered me the flexibility to be able to take an entire year away from campus to complete an internship and study abroad, and I believe these experiences made me a more well-rounded person when I started my first full-time position.