Pursuing questions across subject areas, you discover connections between classroom learning and the real world through research, study abroad, internships and other activities outside of class. With so many intellectual opportunities at your fingertips, you can tailor your academic experience to match your own personal interests and goals.
| | | |
| --- | --- | --- |
| Christian: Internship with the Gateway Grizzlies | Sadie: Racking up experience with an eye on the future | Becca: Promoting environmental consciousness |
| Jamie: Following the motto "Do what you love" | Bethany: Enhancing academic understanding through study abroad | Lauren: The making of a teacher |
| Jacob: Using transformational learning experiences to carve out a career path | Thomas: Pre-med student finds unique opportunities | Brittany: Assisting doctors in Belize |
| Cisco: A modern-day Renaissance man | Josie: Conducting trailblazing research | Allison: Research opportunities for curious minds |
| Cole & Mitchell: Two brothers make theatre a family affair | Derek: Taking language skills to the next level | Molly: Getting a global education through a Semester At Sea |
| Mackenzie: Real-world experience in Mexico | Sara: Gaining hands-on experience in communication disorders | Jennifer Marks: Research Project Digitizing WWII-era Letters |
| Chynna: Pursuing intellectual curiosity | Eli: Chemistry major gets excellent preparation for grad school | Lexi: Research opportunities from a surprising source |
| Patrick: Studying marine biology up close in Belize | Emma: Translating skills from classroom to career | Conor: Connecting science & writing through an internship |
| Jabari: Finding the perfect career | Josh: Success on your own terms | Joanne: Life as a theatre major |
| Renee: Life-changing experiences studying in Finland | Alex: Pursuing a passion for health | Emily: Studying art in Indonesia |
---
Browse More Stories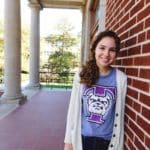 Truman is a supportive and personal community. At Truman, you can count on the fact that your professors will know your name, say "hi" to you on campus, ask about life, and go out of their way to help with everything from research to internships to studying abroad.