Bulldogs are curious. Ambitious. Creative. Focused. We dream big. And we actively explore what drives us. We know what we do here has an incredible impact on everything.

| | | |
| --- | --- | --- |
| Maggie: Finding a Niche in the Art World | Eric: Small Town. Big Opportunities | Maya: The Power of Study Abroad |
| Becca: Promoting Environmental Consciousness | Jamie: Indulge Your Curiosity | Sadie: Jump-Start a Career |
| Lauren: The Making of a Teacher | Jacob: Transformative Experiences | Bethany: Enhancing Academic Understanding through Study Abroad |
| Brittany: Assisting Doctors in Belize | Cole & Mitchell: Two Brothers Make Theatre a Family Affair | Thomas: Unique Opportunities for Pre-med Studies |
| Allison: Exploring Academic Opportunities | Mackenzie: Real-World Experience in Mexico | Josie: Conducting Trailblazing Research |
| Molly: A Semester At Sea | Chynna: Pursuing Intellectual Curiosity | Derek: Taking Language Skills to the Next Level |
| Jennifer Marks: Research Project Digitizing WWII-era Letters | Patrick: Studying Marine Biology in Belize | Sara: Gaining Hands-on Experience |
| Lexi: Working with a Professor on Research | Jabari: Finding the Perfect Career | Eli: Preparation for Grad School |
| Conor: Internship Connects Science and Writing | Renee: Maximizing the Educational Experience Through Study Abroad | Emma: Translating Skills from Classroom to Career |
| Joanne: Life as a Theatre Major | Josh: Success on Your Own Terms | |
---
Browse More Stories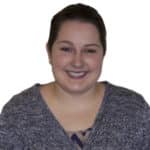 Truman's Liberal Arts program allowed me to take classes in a variety of areas besides my major. I spent a semester in Orlando, Fla., completing an internship through the Disney College Program, I spent a semester in Angers, France, taking business classes with international students from around the world, and I spent a summer in Taiwan teaching ESL. Truman offered me the flexibility to be able to take an entire year away from campus to complete an internship and study abroad, and I believe these experiences made me a more well-rounded person when I started my first full-time position.