Studying Communication Disorders and Learning by Doing
Sara Hahn
Bachelor of Science, Communication Disorders (2014) and Master's in Communication Disorders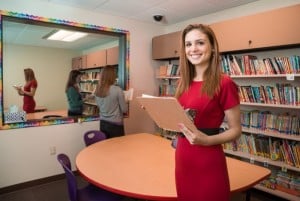 Sara Hahn decided to go to Truman State University for a number of reasons  ̶  the location and size of the institution, her first impression of the students, Truman's reputation for a great education, and the reasonable price. She also found mentors to help guide her and tremendous access to learning opportunities that connected what she learned in the classroom with the real world and helped define her career path.
Sara liked the location in Kirksville, Mo., because it was only a 3.5 hour drive from her hometown of Saint Louis. "Close enough that I could go home for a weekend if I needed to but far enough that I felt I'd get the full 'college experience' away from home," says Sara.
She also liked Truman's smaller-size classes which meant not only would her professors know her by name, it would also make it easy to develop close relationships with both her teachers and her peers. This was confirmed when she visited campus for the first time — the warm welcome of the tour guide and the smiles from the students walking around made her feel right at home.
"From what I'd read online, I could tell that Truman was one of the best universities in the Midwest and prepares its students well for graduate programs and the workforce," says Sara. "Additionally, the suitable price for a great education made me thankful that I wouldn't be spending years paying back student loans as I would at a more expensive institution."
An Engaged Community of Learners Working Together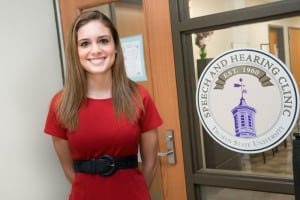 Sara decided to pursue studies in communication disorders after having a discussion with Janet Gooch, dean of the Health Sciences and Education Department at Truman. "She informed me that this field is crucial for helping those with speech, language, and hearing difficulties — all topics of importance to me," says Sara.
"One of my favorite aspects regarding the communication disorders program at Truman is the opportunity that students have to observe actual live therapy sessions that take place in the on-campus clinic," says Sara. "These therapy sessions involve graduate students working with clients from Truman or around the community, and they are a great way to learn more about therapy techniques as well as communication disorders in a hands-on approach."
"As an undergraduate, completing 25 hours of observation in the Truman State University Speech and Hearing Clinic allowed for my observation of clients ranging from preschool age to elderly adult age with a variety of disorders: articulation disorders, voice disorders, phonological disorders, language disorders, and auditory disorders, to name a few," says Sara, who enjoyed observing and working with clients who have autism spectrum disorders. The experience also piqued her interest in acquired language disorders — communication difficulties caused by traumatic brain injuries, neurological diseases, or strokes.
Through the Communication Disorders Department, Sara had the opportunity to be part of an Inter-professional House Calls team consisting of student representatives in the fields of speech pathology, nursing, health sciences, physician, occupational therapy, and physical therapy. "Over the course of a year, we were able to work with the same geriatric patient in the community to make monthly visits and assess the patient's health needs in a team-based approach," says Sara. "My knowledge as a communication disorders major of swallowing disorders and hearing impairment was beneficial in evaluation of my team's client."
Sara discovered lots of opportunities for student involvement outside of academics which allowed her to engage with students from a variety of different majors and to participate in service on and off campus. As an undergraduate student she was involved with Alpha Phi Omega, a service organization, and the Sigma Kappa sorority. One of her most memorable experiences was taking part in the Big Event, a day of service in which Truman students gather together to assist members of the Kirksville community. "It was great to see so many fellow students out and around the community in the spirit of service and to have fun doing it!" says Sara.
Through a study-abroad experience in Israel, Sara gained a greater level of cultural competence and had an opportunity to increase her awareness of Judaism and Israeli culture. "The experience allowed me to increase my comfort and confidence level when engaging with people from a culture different than my own  and will be beneficial to me in the clinical field when interacting with clients who may come from multiple backgrounds," says Sara. "This trip also helped me gain a better understanding of how others live and how different cultures' beliefs can shape, change, and expand my own."
Preparing to Make a Difference in the World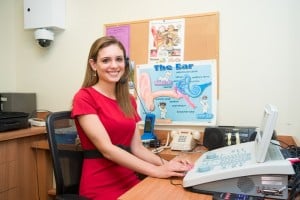 Sara believes that the liberal arts and sciences education offered at Truman allowed her to pursue her passion to improve the lives of others along with the opportunity to explore a variety of perspectives and fields which she may not have had a chance to learn about had she attended a non-liberal-arts school. "I was able to explore topics which I knew virtually nothing about, such as philosophy and religion, Spanish, and psychology, which will be beneficial in my career in furthering my understanding of clients who have cultures different than my own," says Sara.
She already has a bachelor's degree in communication disorders under her belt, and once she has earned her master's degree, Sara plans to become a speech-language pathologist in a school or a hospital.
More Internship Stories
Internships Overview