Study Abroad: A Semester at Sea
Molly, St. Louis
Communication Major
Molly discovered a study-abroad opportunity that made her a world traveler in one short semester. Spending a semester at sea, she visited a remarkable number of exciting destinations. To top it off, she then spent a summer living and working in Taiwan. Experiencing the different cultures completely changed Molly's perspective on the world and served as an important turning point in her life.
More about study abroad at Truman>>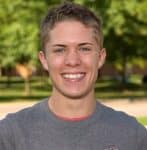 The care and concern that my professors have for their students is the best part of classes here. They come to class every day truly excited to teach their subject.