As a communication major or minor at Truman, you pursue the complexities that characterize communication in an advanced, technical, and multicultural world — fast-paced and ever-changing. We guide you to meet these challenges in and out of the classroom to become a thoughtful, engaged citizen in many walks of life.
Timely Coursework
At Truman, your classes emphasize the interconnectedness essential for meeting the challenges of the future. You pursue a broad course of study and choose the area of focus that matches your interests:
Communication Studies: Communication is the cornerstone of all successful relationships. Here you'll study the theories and practices of human communication from both rhetorical and social-scientific viewpoints. This area of study prepares you for a wide variety of careers in management, consulting, research and client/customer service.  You'll also be prepared for graduate or professional school, particularly in law, counseling, education, and seminary.
Journalism: Make a difference in society by learning to analyze, interpret, and critique civic issues by writing and producing content for the new convergent media environment—newspaper, online, magazine, radio, television, and more.
Public Communication: Learn how public opinion is formed and build practical skills in writing, speaking, and advocacy. Great for careers in public policy development, political consulting, public relations, advertising, integrated and social marketing, non-profit activism, and other areas of social influence.
Theoretical Base, Practical Experiences
Freely explore the many fields of communication through student media or other communication organizations—without fighting the large numbers of other students you see at larger schools. From writing for a convergent travel magazine to covering a beat for the student newspaper or anchoring newscasts on a weekly TV show; from radio announcing, talk shows, and sports to writing a column for the Truman Media Network (TMN), new experiences await you.
Maybe the university's nationally competitive Speech and Debate team is your thing. Or join the Ad & PR club or Lambda Pi Eta (our national honorary fraternity). Whatever your interest, there's likely a student organization that offers opportunities to explore communication beyond the classroom in a fun and creative atmosphere.
Our Graduates Succeed
Whether you're planning on grad school or moving straight into the workforce, you'll graduate with a portfolio of real-life experience that gives you the edge over your peers.
Our graduates enter the world beyond Truman in a variety of capacities:
Public Communication/Public Relations/Public Service

Social Communication Specialist–Scottrade, St. Louis
Marketing And Promotions–CBS Radio
Account Executive–Fleishman-Hillard (PR and marketing)
Manager of Marketing & PR–Saint Luke's Hospital
Assistant District Attorney–New York City, N.Y.
Public Relations Manager–The Repertory Theatre of St. Louis
Journalism/Media Production/Publishing

Copy Editor, Real Time News Desk, Wall Street Journal
Multi-Media Journalist, Xinhua News Agency, China
Sports Reporter–Jefferson City, Mo., News Tribune
Production Supervisor–DreamWorks Animation, Los Angeles
Television Reporter, KCTV-5, Kansas City
Graduate/Professional Studies

MA candidate, International Human Rights, University of Denver
MFA candidate, Interior Architecture + Design, George Washington University
Juris Doctor candidate, University of Missouri
PhD candidate, Communication Studies, University of North Carolina
MSc, Politics & Communication, London School of Economics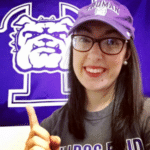 Professors and staff go out of their way to help students. Almost every professor and staff member I interacted with became a mentor to me. For one class project, I had a conversation with my professor about a book I had read that related to my interest in socioeconomics. He ended up connecting me with the author of the book so I could interview her for the assignment. Another professor spent time helping me decide which campus organizations I should invest my time in to meet my professional goals. When applying for internships, the Career Center staff regularly reviewed, and provided feedback on, applications before I submitted them; this helped ensure I had the best chance of getting the opportunities I wanted.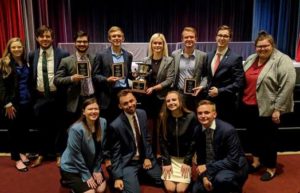 Truman Forensics: top 3 debate school in the nation
April 25, 2019
By Truman Forensics Students and Staff Truman State University's Forensic Union (speech and debate team) has once again proven to be one of the top debate schools in the United States. At the National Forensic Association's (NFA) Championship Tournament, this year hosted by the Santa Ana, CA school district, the Truman Forensic Union placed 3rd […]
April 16, 2019
Barry C. Poyner, Ph.D., professor of Communication, will have a book released in July 2019, "Aim for Restoration," from 21st Century Christian Publishing Co, Nashville, TN.  "Aim for Restoration" is part of its FLEX adult curriculum offerings. From the introduction: The author desires to capture the heart and thrill of restoration and not to put […]