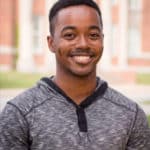 Major: History
Class of 2021
Hometown: St. Louis, Mo.
---
Why did you choose history as your major?

I always gravitated towards history. It is a discipline that has so much relevance in day-to-day life. History is a field that speaks legitimacy into life, and that statement is especially true for marginalized groups. It also allows me to interrogate our understanding of the past to push for a better future.
The things I like about my academic department are….

The History Department is full of diverse voices and minds who bring a variety of interests into classrooms and research allowing for any type of history student to engage in the field. The faculty in the department are exceptional, approachable, and supportive in all that we as students seek to pursue.
What student organizations and clubs have you been involved with?

McNair, Bulls Rugby, Alpha Phi Omega, Residence Hall Association

What Truman classes have been your favorites and why?

That's a tough question, I have had so many great classes at Truman. I would have to say my top two are Sexuality in American History and History and Theory. Sexuality in American History taught me so much about the marginalized history of LGBTQ+ Americans. I also completed a research paper exploring sexuality in early America, which illuminated many issues that we now face in the present. History and Theory was enjoyable because we delved into history as a discipline, attempting to identify its placement as either an art or a science. The theoretical background I got from the class has shaped the way I approach and analyze material both in and outside of the classroom.
What are your plans after Truman?
In the fall I will pursue a PhD in education policy at Michigan State University.
Do you have any advice for new students?
Your time at Truman will truly fly by. Take advantage of opportunities to grow outside of your comfort zone, I found those to be the most rewarding (and talk to your professors—they are great people!).