Marine Biology Learning Experience in Belize
Patrick Moranville
Biology Major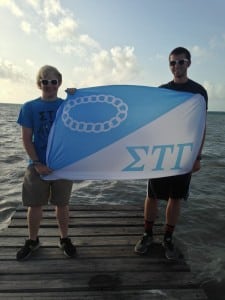 Naturally curious, Patrick Moranville, a biology major from St. Louis, likes to understand how things work. After a biology class in high school sparked an interest in the study of organisms, Patrick knew from his first day at Truman State University that he wanted to study biology. And thanks to his Truman experience, he now knows which career path he plans to pursue.
Truman professors are known for helping students discover connections between their studies and real-world settings, and during his second year at the University, Patrick was skimming through his inbox when an email about a study-abroad trip caught his eye. The trip offered a chance to study in an amazing environment through a marine ecology-based course in Belize — a learning opportunity that resonated with Patrick's enthusiasm for studying living things.
"Before the trip, I had an interest in the field of marine biology, but never really had an opportunity to have a hands-on experience with it," says Patrick. "Belize is home to the second-largest coral reef in the world, and I couldn't think of a better place to learn more about marine biology."
High-Impact Experiential Learning
When Patrick boarded the first flight of the trip to Central America, he embarked on an adventure that would have an impact on his future. "Whether we were exploring the island of Ambergris Caye, working at the research station, or snorkeling, there was always something new that was yet to be discovered," says Patrick. He also took advantage of an opportunity to swim with sharks, and he gained an appreciation for the culture and history of Belize during a visit to the ancient Mayan Ruins of Lamanai.
One of Patrick's most memorable experiences took place during a night snorkel at a dive sight called "Tuffy," the name of the boat that sank in the location. The wreckage of the sunken boat now serves as home to many organisms and viewing the site at night provided a different look at marine life. As they set off in the water, it was pitch black except for the small points of light emanating from their dive flashlights, and when they reached the site of the sunken boat, they were instructed to turn off all of their lights. "After around a minute, the wreckage of the boat started to light up with dim green lights — thousands of tiny organisms were creating the light by bioluminescence," says Patrick. "It was an incredible sight to see and almost disorienting because there were so many little lights all over."
Gaining Practical Skills and Valuable Experience
Patrick learned about marine life spanning from a tiny sponge to the large spotted eagle ray. The trip also provided an opportunity to further improve his data-gathering skills. Back on campus, the data collection and analysis skills he gained from the trip helped Patrick substantially when he took classes such as Ecology. "Throughout the course of the semester during lab, we gathered data concerning diversity from Sugar Creek Conservation Area, which we then used to write scientific research papers," says Patrick. "The prior experience of writing a scientific research paper during my time in Belize helped exponentially."
Experiencing first-hand what it would be like to be a marine biologist helped Patrick decide it was the right career for him. After graduating from Truman, Patrick plans to attend graduate school to obtain a Master's degree in marine biology and pursue a career within the field of marine ecology.