Student Spotlight
Alexandra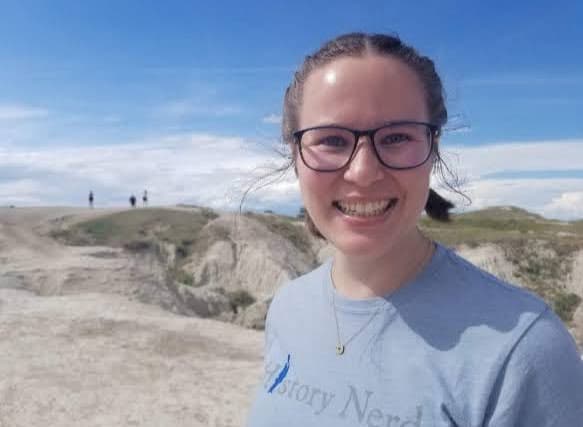 History Major
Class of 2021
Hometown: Overland Park, Kansas
---
Why did you choose Truman?

I chose to attend Truman because I knew I would be getting a good education at a very affordable price. I also knew that since it's a small school there would be more opportunities for me to stand out and make deeper connections with people. The resources here are really amazing if you take the time to look. Additionally, when I toured the campus I really felt at home and that feeling has continued throughout my four years. I distinctly remember one of my tour guides telling me that at Truman people just trust each other and leave their belongings out at the library or anywhere else on campus because there's no need to worry that they might disappear.
Why did you choose history as your major?

I chose history because I have always loved learning about it, and the faculty here really encouraged intellectual curiosity about different aspects of and approaches to history than I had previously considered.
The things I like about my academic department are…

I love the professors in the History Department, all of them are so supportive and willing to listen and give you resources about anything. I also really value the quality of education in history I have received. When I compare the things I have learned at Truman, all of which are essential to the study of history, to the things that are taught in other history programs I applied to, Truman is far superior in every way despite having fewer faculty.
What student organizations and clubs have you been involved with?

I have been involved with Phi Alpha Theta for two years, and I have been involved with Historical Society for three years, two of which I was the president.
Is there anything you've been a part of at Truman that you didn't know about (or explore) until you arrived here?

This isn't necessarily a part of Truman but more of the culture here: Truman is a place that gives back what you put in and it pays dividends. I see people every day complaining about Truman or a lack of resources or whatever but everyone I know who has actually looked for resources or avenues to express themselves has found what they were looking for and found more.
What would surprise your high school friends about you now?

I'm a lot more outgoing now. Truman and especially the jobs and offices I have held while here have really brought me out of my shell, I'm more open to people and to experiences.
What are your plans after Truman?

I will be pursuing an MA in public history at the University of South Carolina.
Do you have any advice for new students?

Participate, explore, meet people, talk to your professors, question everything.