New Student Scholarships
Completion of your undergraduate application for admission will provide automatic consideration for both automatic and competitive scholarships without requiring additional steps from you. The Office of Admission provides scholarship packages based on your merits and academic success. Many of these awards are stackable and renewable for up to eight semesters at Truman. International Students are also eligible for some scholarship awards.
Automatic Scholarships
Competitive Scholarships
Transfer Scholarships
Current Truman Students
Current Truman students can apply for scholarships established through the Truman State University Foundation which works hard to find alumni and friends who value the hard work and dedication Truman students put toward their education. Applications for these donor-funded scholarships are available several times a year. An online application can be found on TruView under the Student tab, Student Finances, Scholarships, Foundation Scholarship Applications.
Other Scholarships
There's more money out there if you know where to find it. There are a number of online tools you can explore to find more scholarship money!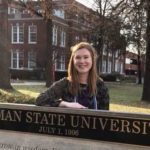 I am in the Communication Disorders graduate program at Truman. During my time here, I have been able to serve multiple individuals of a variety of ages in the Truman State University Speech and Hearing Clinic. I have also had the opportunity to study abroad with my department in Puerto Vallarta, Mexico, where we provided hearing and speech screenings to children in orphanages, a school and daycare for children with disabilities. After graduation I plan to return home to Lincoln, Nebraska, where I would like to work as a speech therapist in a school setting. As an out-of-state student, this scholarship really helps me out!