Whether you are starting your first year of college, pursuing graduate studies, or are a transfer or international student, you'll get a top-rated and affordable education at Truman. Grounded in the liberal arts and sciences, our rigorous academic programs prepare you to succeed in any career or graduate program you choose to pursue.
And academics aren't all Truman students pursue. Our campus is always buzzing with activity. Participate in any of our nearly 240 student organizations, volunteer in the local community, become a part of campus Greek life, watch our Bulldogs compete in one of our 20 NCAA Division II sports, or write for Detours, a Midwest travel magazine produced solely by Truman students.
Explore our website to discover all the ways you can get involved from student life to living in our welcoming college town. Then, schedule a campus visit. Already know you want to join all the other smart and curious students who are part of this vibrant learning community? Our application is available online and it is free to submit. And since your application serves as the scholarship application too, you won't need to do anything more than submit the application requirements.
Why Truman
Schedule a Visit
Tuition & Cost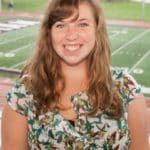 I like the small class sizes and how each professor generally teaches a small number of classes. Because of this, all my professors know my name and how I perform in the class. It helps to hold me responsible and gives me extra motivation to do my best.