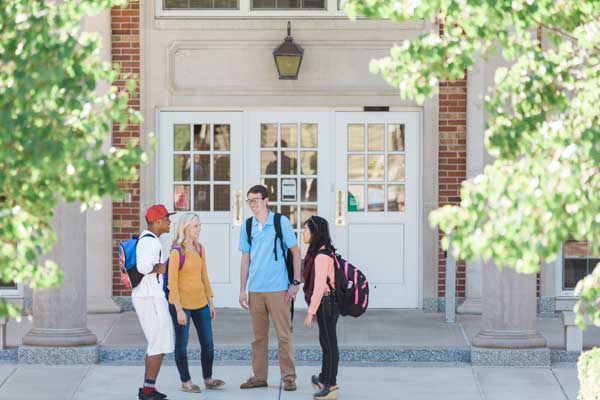 Truman State University: A Public Liberal Arts and Sciences University in Kirksville, Missouri
Consistently ranked among the nation's best colleges, Truman State University offers high-quality undergraduate majors and minors, pre-professional studies and graduate programs. The University is best known for offering rigorous academic programs and an amazing educational value along with a generous scholarship program.
With Truman's focus on the liberal arts and sciences, all of our academic programs ensure students are widely educated. Through a profoundly transformative experience, students learn to think critically and become effective problem solvers. Highly transferable job skills — like having the ability to quickly analyze and understand information and communicate ideas — become second nature. Our high-quality academic programs, combined with plenty of opportunities for student involvement outside of class, help develop the intellectual and social competence necessary to become a successful leader in any profession.
Location
Located in Kirksville, a charming town in the northeast corner of Missouri, our active residential campus provides a friendly and welcoming place where high-achieving students live, learn, work and play together.
Personal Attention
A 16:1 student-to-faculty ratio and a student population numbering around 6,000 students makes access to professors the norm. Our professors know their students by name and work hard to provide meaningful learning opportunities, such as research, in and out of the classroom.
Smart Students
As a highly selective university, Truman attracts academically talented students who are natural leaders — the type of students who like to surround themselves with other smart students. More than 90% of our freshman class had a high school GPA of 3.25 or higher.
Supportive Learning Environment
In step with Truman's strong focus on preparing students for success in all aspects of their lives, our faculty pursue excellence in teaching and compelling scholarship—guiding, mentoring, and challenging intellectual and curious students to discover connections across a wide range of endeavors. Nearly 100% of faculty teach undergraduate courses and represent major institutions including Harvard, Princeton, Yale, Oxford and the Sorbonne, to name a few.
High Placement Rate After Graduation
Our graduates have the ability and the confidence to succeed in whatever they put their minds to because of the experiences they have at Truman. Employers and graduate and professional schools recognize the value of a degree from Truman — a fact that is reflected in our high placement rate after graduation.
National Rankings and Recognition
Truman achieves national recognition in well-known college rankings produced by publications such as U.S. News and World Report and Kiplinger's Personal Finance, which consistently rank Truman among the nation's leading universities.
Read more»
A Place Where Students Build Important Work and Life Skills
Equipped with the skills, knowledge, and experience to meet the challenges of the world today, our graduates stand out above the crowd. Across industries and sectors, Truman alumni are pursuing lives as capable professionals, engaged citizens, and supportive colleagues. And they show support for their alma mater by investing in Truman and assisting current students.
Picturesque and Lively Learning Community
Dating back to 1867, our beautiful 180-acre campus blends old and new with a mix of both historic and contemporary buildings that provide modern living and learning facilities. The Quad, a huge park-like area, provides a pleasant place for quiet reflection and the perfect gathering spot—on a sunny day, you will likely see a dog chasing a Frisbee, students taking some time to relax, and a group collaborating on a team project.
Truman's vibrant, active campus exemplifies the ideals held by its namesake, Harry S. Truman, who embraced and promoted the value of an affordable, well-rounded education for everyone. We do, too. We pursue it.