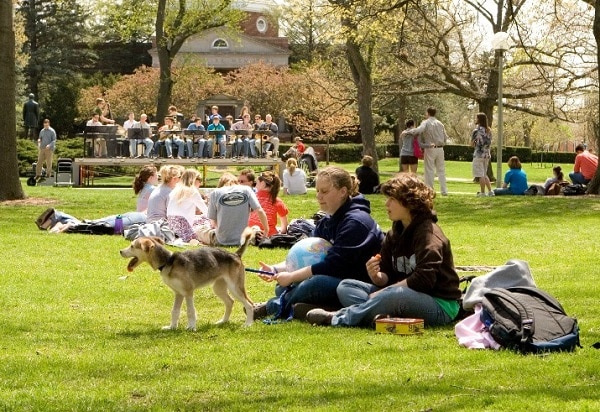 Preparing for Lives That Matter
At Truman, students pursue top-rated programs and an amazing educational value. And with our focus on the liberal arts and sciences, our majors and programs ensure all of our students receive a well-rounded education so they can make a difference in their careers, their communities, and the world.
Located in Kirksville, a welcoming college town in the northeast corner of Missouri, Truman is best known for attracting highly motivated students looking for rigorous academic programs and a supportive and friendly learning environment.
Personal Attention
With a 16:1 student-to-faculty ratio and a student population of 6,000+ students, the average class size is 24 students, which makes access to professors the norm. In step with Truman's strong focus on academics, our faculty pursue excellence in teaching and compelling scholarship—guiding, mentoring, and challenging intellectual and curious students to discover connections across a wide range of endeavors.
Building Important Work and Life Skills
Equipped with the skills, knowledge, and experience to meet the challenges of the world today, our graduates stand out above the crowd. Across industries and sectors, Truman alumni are pursuing lives as capable professionals, engaged citizens, and supportive colleagues. And they show support for their alma mater by investing in Truman and assisting current students.
Picturesque and Lively Learning Community
Dating back to 1867, our beautiful 180-acre campus blends old and new with a mix of both historic and contemporary buildings that provide modern living and learning facilities. The Quad, a huge park-like area that was originally the heart of campus, provides a pleasant place for quiet reflection and the perfect gathering spot—on a sunny day, you will likely see a dog chasing a Frisbee, students taking some time to relax, and a group collaborating on a team project.
Truman's vibrant, active campus exemplifies the ideals held by its namesake, Harry S. Truman. The only Missourian to serve as president of the United States, Truman embraced and promoted the value of an affordable, well-rounded education for everyone. We do, too. We pursue it.
Watch this video or visit us to get a glimpse of what it's like to be a student at Truman!