Since its founding in 1867, Truman has accumulated many stories surrounding its active student life and campus traditions. These are just several from our school's rich history. For more campus traditions, check out the library's History, Lore & Trivia page.
The Big Event
Bulldog Mascot
Gum Tree
Homecoming
Laying of the Wreath
National Spirit Days
Purple Friday
School Colors
Sunken Garden
Weathervane
Original Kirk Memorial Cupola
Every spring since 2001, Truman students devote a day of service to the Kirksville community. For the event, they scatter throughout the town to help residents with raking, window washing, painting, and more. More than 1,700 students participate each year at more than 80 sites across the area.
In 1915, the Truman student body was discouraged after several losing football seasons. To revive school spirit, a committee suggested the bulldog as a team mascot because of its "tenacity and ability to hold on and fight desperately until the end. A bulldog does not quit," former coach H.L. "Curly" McWilliams said. The baseball team played under the Bulldog name for the first time in the 1915 season, and the football team began using it one year later.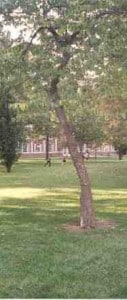 In the 1920s, it was against the rules to chew gum in class. Campus lore has it that students used to stick their chewing gum inside an old suit of armor named Oscar that was inside the library. That hiding spot was later replaced by a tree on the east side of the Quad because it was closer to more classrooms.
Some said adding your gum to it would bring good luck. Others said contributing to it on your way to an exam would ensure a passing grade. The original gum tree was knocked down by vandals in 1999, and made its farewell appearance as a float in the 1999 Homecoming parade. Within days of the first gum tree being knocked down, a new one was appointed (see photo). This replacement tree was lost due to a drought in the summer 2012, and it was cut down in 2013.
This weeklong celebration occurs annually in October and has taken place on campus since 1939. Homecoming still features a pep rally, parade, team competitions, and a dance to encourage school pride and spirit. More recently, we have started to pursue activities such as the lip sync competition, tailgate, Golden Alumni Class Reunion, special entertainment, and a 5K run during the festivities.
During the 1928 commencement, the graduating class and faculty paused in front of the newly dedicated statue of Joseph Baldwin so the class president could lay a wreath at its foot, recognizing Baldwin's educational ideals and standards. Now, during each spring commencement, the class valedictorians place the wreath.
One of Truman's newest traditions, National Spirit Days, started in 2011 as a way to unite University supporters around the world. On the first Friday in April and October, alumni and friends show their Truman pride by wearing Bulldog purple or Truman apparel and by decorating their homes, offices, and vehicles with Truman gear.
Purple Friday

The tradition of Purple Friday was established in 2009 to encourage students, faculty and staff to demonstrate their Bulldog spirit by wearing purple each Friday. Purple Friday activities include student gatherings in the Student Union Building and music on the Mall. And if you wear purple on campus on Friday, you may be selected for prizes awarded to some lucky Bulldogs who proudly show their Truman spirit.
In 1902, Basil Brewer wrote "Old Missou" as the then-school song. In it, he named the school colors as purple and white, even though they had never been officially or unofficially used by the school. Everyone went along with it anyway, though, and they have remained our hues ever since.
The Sunken Garden—a cellar left over from the Baldwin Hall fire of 1924—is the site of many weddings, perhaps because campus myth says that if a couple first kisses at midnight on one of the benches in the garden, they will eventually marry.
It's no accident or malfunction that the weathervane atop Kirk Memorial at the south end of the Quad hasn't changed directions since July 1, 1996. When Northeast Missouri State University became Truman State University, the weathervane was permanently welded into place to point northeast in honor of the school's history.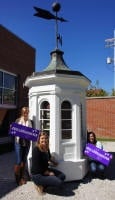 Students, alumni, families, and friends connect with part of Truman's history by stopping to take a photo by the original cupola that sat on top of Kirk Memorial for many decades. The campus icon, which once perched atop the historic Kirk Memorial, now resides outside the east entrance to the Ruth W. Towne Museum and Visitors Center.
When Kirk Memorial, a well-known campus landmark, underwent improvements in the summer of 2013, the old cupola could not be made watertight and some of the wood had rotted. A new cupola, which was created to look like the original, was constructed primarily of aluminum along with insulation and roofing material to protect the dome structure.
The cupola has been a symbol of Truman State University for years, and in 1996, its weathervane was welded in place to forever point northeast in honor of the University's previous name. In keeping with that tradition, the new weathervane on the new cupola, installed Aug. 15, 2013, was also welded in place to point northeast.
View Photo Gallery of Cupola Replacement