Helping Your Student Achieve Big Things
You've worked hard to help your student get to college. And we intend to make sure it pays off by offering the best college experience for your student. From your first visit to campus, you can see why Truman consistently receives national recognition. Quality academics. Experiential involvement. Supportive learning environment. And a great return on investment.
Nurturing curiosity, the Truman experience serves as career prep for all walks of life. Your student will learn how to use all of their talents to the fullest, how to think critically, and how to work with others to find solutions – skills that give them the versatility to adapt to unlimited career fields throughout their life.
Truman prepares students for lives that matter — as leaders, thinkers, citizens, and doers.
Schedule a Visit
Tuition & Cost
Contact Admissions
Student Well-Being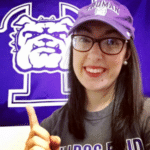 Professors and staff go out of their way to help students. When applying for internships, the Career Center staff regularly reviewed, and provided feedback on, applications before I submitted them—this helped ensure I had the best chance of getting the opportunities I wanted.