Supporting Your Student's Success
As a member of the Truman family, you can watch your student blend academic pursuit and human connection into the kind of action that makes a difference in a profession, in their communities, in business, and in service. Through coursework and practice, Truman prepares students for lives that matter — as leaders, thinkers, citizens, and doers.
Parents and families are an integral part of a student's educational journey — from your first visit to campus to see first-hand why Truman consistently receives national recognition for offering high-caliber academic programs at an affordable cost to participating in our annual Family Day which gives you a chance to create college memories your student will cherish forever.
Schedule a Visit
Tuition & Cost
Contact Admissions
Student Well-Being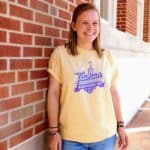 I initially chose to come to Truman because I was impressed with the numbers that compared well with other universities: average test scores, retention rates, job placements, rankings, degree programs, etc. I knew these statistics would provide me with a solid foundation of a well-rounded college education, and I was confident in my college choice. After arriving at Truman my freshman year, though, I realized that Truman has so much more to offer beyond our impressive statistics. We have a student body filled with individuals who inspire and motivate their peers, and a campus community that fosters life-long learning.