Supporting Your Student's Success
As a member of the Truman family, you can watch your student blend academic pursuit and human connection into the kind of action that makes a difference in a profession, in their communities, in business, and in service. Through coursework and practice, Truman prepares students for lives that matter — as leaders, thinkers, citizens, and doers.
Parents and families are an integral part of a student's educational journey — from your first visit to campus to see first-hand why Truman consistently receives national recognition for offering high-caliber academic programs at an affordable cost to participating in our annual Family Day which gives you a chance to create college memories your student will cherish forever.
Schedule a Visit
Tuition & Cost
Contact Admissions
Student Well-Being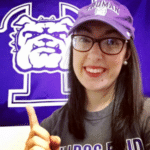 Professors and staff go out of their way to help students. Almost every professor and staff member I interacted with became a mentor to me. For one class project, I had a conversation with my professor about a book I had read that related to my interest in socioeconomics. He ended up connecting me with the author of the book so I could interview her for the assignment. Another professor spent time helping me decide which campus organizations I should invest my time in to meet my professional goals. When applying for internships, the Career Center staff regularly reviewed, and provided feedback on, applications before I submitted them; this helped ensure I had the best chance of getting the opportunities I wanted.