CANCELLED: Family Day, Sept 26, 2020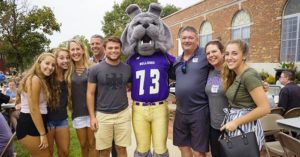 As part of the ongoing efforts of Truman State University to limit exposure to and spread of the coronavirus, Family Day activities scheduled for Sept. 26,  2020 have been cancelled.
Family Day is typically one of the largest annual on-campus events. CDC guidelines still advise against large gatherings, and it is not logistically feasible to plan multiple events which would allow participants to maintain proper social distance.
The decision to cancel the traditional Family Day activities is being made in advance to give those who planned to attend ample time to make other arrangements. The Student Affairs Office is continuing to explore options to allow family members to stay connected to their students. This could include: virtual events, expanded care package options or other creative ideas. Details on any alternative activities will be posted on this site.
Kirksville's Red Barn Arts and Crafts Festival, which traditionally takes place on the same date as Family Day, has also been cancelled.
Truman is taking a number of steps to limit exposure to and spread of the coronavirus. In addition to in-person classes, many will be offered in alternative or hybrid delivery methods. The semester schedule has been altered to allow students to conclude in-person classes prior to Thanksgiving Break, thus eliminating extensive travel and potentially increasing the risk of exposure. Details on the coming school year are available at truman.edu/fall2020.
---
Questions about Family Day?
Contact the Office of Public Relations, pr@truman.edu, (660) 785-4016.