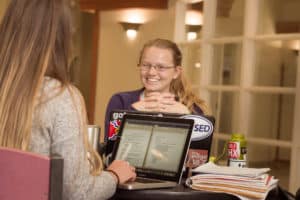 As a linguist, you find language structure fascinating for what it can tell us about the way the mind works. Applied linguistics looks at applying that knowledge to real-world problems. How can we teach foreign languages better? How can we use language to make better standardized tests? How can we improve the role of language in medical encounters, in business, in the courtroom?
Our applied linguistics minor is one of only two in the state.
You get hands-on practical experience locally, teaching English to speakers of other languages.
You can also pursue international for-credit ESL internships.
Having a strong foundation in applied linguistics expands your career opportunities in professional areas such as:
second language acquisition (e.g., teaching ESL or teaching foreign language)
literacy
language assessment
forensic linguistics
translation
language policy and planning
Learn from Distinguished Experts
International experts are brought to campus as Visiting Ofstad scholars offering coursework that can count toward an applied linguistics minor. We have featured special Ofstad courses on accent in foreign language (Dr. Elizabeth Kissling), language endangerment and revitalization (Dr. Katherine Riesenberg), and strategic metaphor (Dr. Marissa Fond of the FrameWorks Institute, a non-profit think tank that frames the public discourse about social and scientific issues, offering empirical guidance on what to say, how to say it, and what to leave unsaid).