Master of Arts in English
Master of Arts in English
Truman's Master of Arts in English allows you to explore literature, literary studies, composition theory, pedagogy, creative writing, and linguistics. Working closely with your faculty advisor, you can personalize a course of study to suit your interests and professional goals and choose which culminating project best matches your aspirations:
a thesis that displays the close reading, analytical skills, and research tools you have acquired
a portfolio that showcases the breadth and variety of the creative and analytical work you have produced in the program
a creative project (a novel, memoir, collection of short stories, a cycle of poems, or other creative work) that has benefitted from the intensive feedback, revision, and reflection on the artistic process
Truman is also known nationally for its Master of Arts in Education program, and English M.A. students may apply to simultaneously earn a Master of Arts in Education. Adding the M.A. degree to a Truman M.A.E. degree program is an especially attractive option because all the graduate English electives students take in fulfillment of the M.A.E.–at least 12 and usually 16 hour –count toward the M.A. degree as well. Students interested in adding the M.A. degree to their M.A.E. should discuss the option with the M.A.E. program coordinator.
Students graduating with the combined degrees of Master of Arts in English and Master of Arts in Education with an English specialty are highly qualified for a variety of teaching positions: secondary English, Dual Credit, Advanced Placement, and community college. Those who have served as teaching assistants while completing their graduate work are especially well qualified and are sought-after candidates for those teaching positions.
FALL ADMISSION:
Apply by August 16
SPRING ADMISSION:
Apply by November 1
SUMMER ADMISSION:
Apply by April 1
In addition to the online application to apply for the Master of Arts in English Program, you'll need to submit the following:
Summer 2021 Course Offerings
Costs for Summer 2021 Courses
2 credits
$780 (resident)
$1,352 (non-resident)
3 credits
$1,170 (resident)
$2,028 (non-resident)
4 credits
$1,560 (resident)
$2,704 (non-resident)
Fall 2021 Course Offerings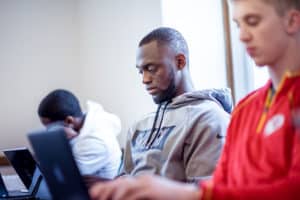 Virtual Visit
Get an inside look at the online learning environment, meet your professors, and get all your questions answered during a virtual visit.