A Customizable Program of Study Combined with Unparalleled Personal Attention
Truman is offering a range of graduate English courses online in 2020-2021, for part- and full-time English M.A. students, as well as for people who want to take a graduate course for fun, to test the waters, to fulfill continuing education requirements, or to qualify to teach AP or dual-enrollment courses.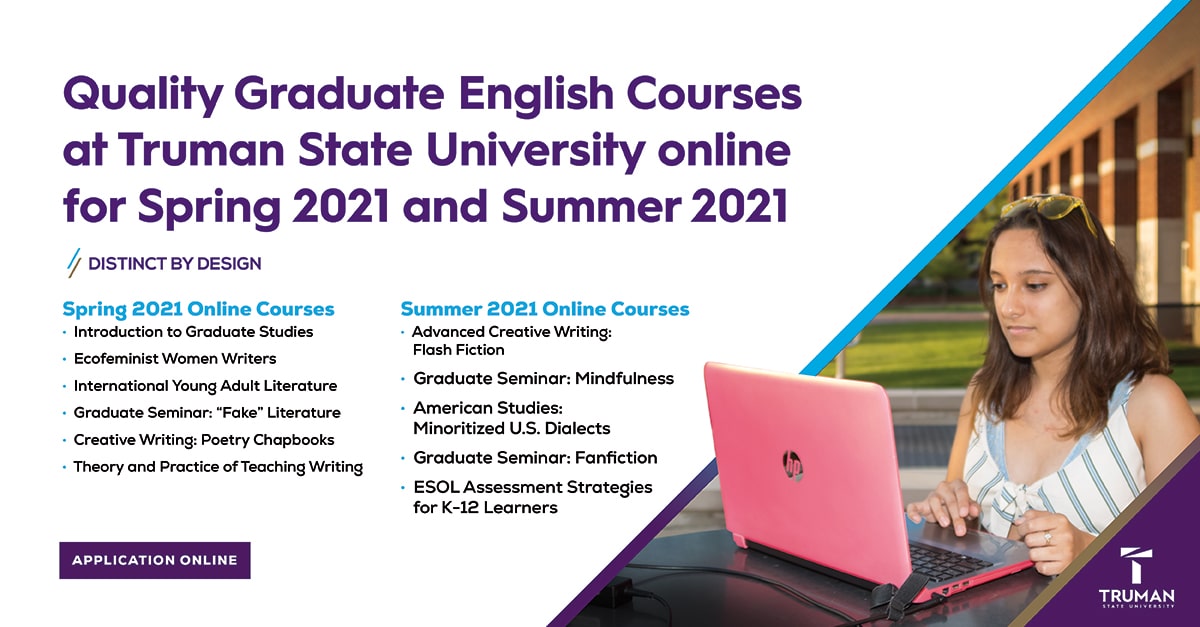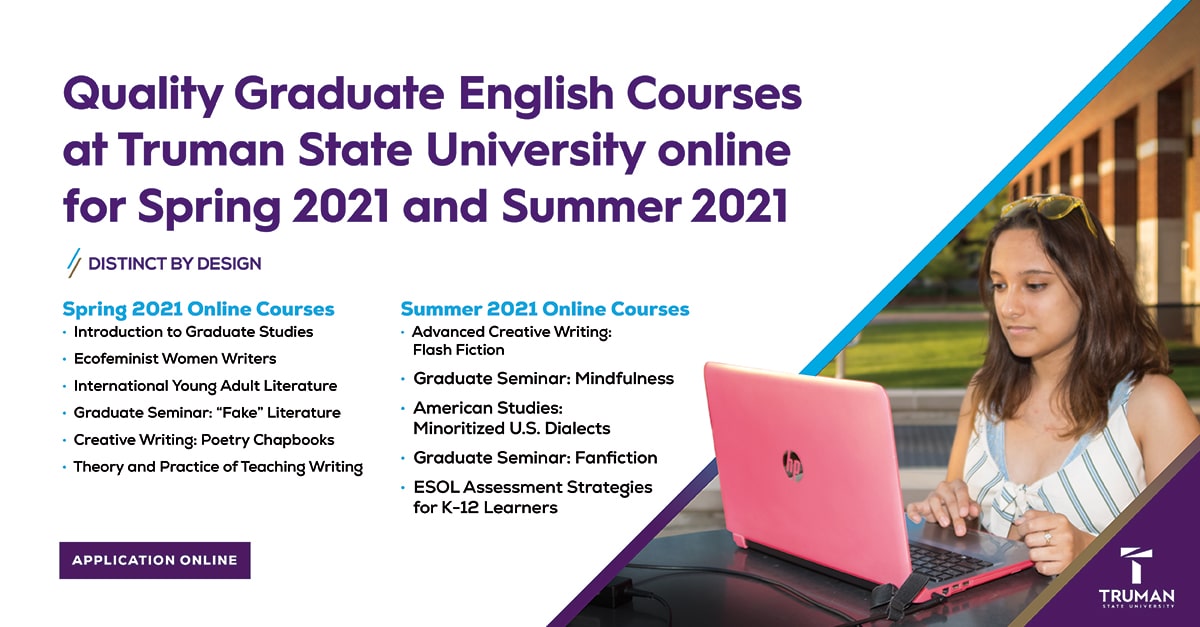 Truman's English M.A. program offers students the opportunity to:
explore literature, literary studies, composition theory, pedagogy, creative writing, and linguistics
engage with interdisciplinary fields such as disability studies, child studies, women's and gender studies, cognitive science, and the digital humanities
earn badges in areas of particular professional expertise
delve more deeply into the study of a particular literary genre, time period, or cultural context
Working closely with your faculty advisor, you can personalize a course of study to suit your interests and professional goals and choose which culminating project best matches your aspirations:
a thesis that displays the close reading, analytical skills, and research tools you have acquired
a portfolio that showcases the breadth and variety of the creative and analytical work you have produced in the program
a creative project (a novel, memoir, collection of short stories, a cycle of poems, or other creative work) that has benefitted from the intensive feedback, revision, and reflection on the artistic process
Preparing for a Successful Future
Recent graduates of Truman's English M.A. program have gone on to teach at high schools and community colleges, publish novels and poetry collections, pursue careers in higher education administration, publishing, media, and business, enroll in M.F.A. programs at Illinois State University, Purdue University, University of Missouri—St. Louis, University of Wisconsin-Milwaukee, Western Kentucky, and Western Michigan, and Ph.D. programs at Purdue University, the University of Colorado-Denver, the University of Missouri, the University of Iowa, the University of Georgia, the University of Wisconsin-Madison.
Truman is also known nationally for its Master of Arts in Education program, and English M.A. students may apply to simultaneously earn a Master of Arts in Education. Adding the M.A. degree to a Truman M.A.E. degree program is an especially attractive option because all the graduate English electives students take in fulfillment of the M.A.E.–at least 12 and usually 16 hour –count toward the M.A. degree as well. Students interested in adding the M.A. degree to their M.A.E. should discuss the option with the M.A.E. program coordinator.
Students graduating with the combined degrees of Master of Arts in English and Master of Arts in Education with an English specialty are highly qualified for a variety of teaching positions: secondary English, Dual Credit, Advanced Placement, and community college. Those who have served as teaching assistants while completing their graduate work are especially well qualified and are sought-after candidates for those teaching positions.
Opportunities to Build Professional Skills
Students interested in careers in teaching at the secondary level, publishing, and higher education administration can complete internships and practica in these areas or apply for one of the year-long teaching or administrative assistant positions the M.A. program offers.
Truman's English M.A. graduate teaching assistants work closely with a mentor to hone their professional skills and shape their philosophies of teaching and composition while teaching at the college level. Few graduate programs offer such opportunities to master's students. Truman graduate teaching assistants gain professional competence and a head-start on valuable experience that places them in the top tier of candidates for teaching jobs.
Truman's English M.A. graduate administrative and editorial assistants work equally closely with their mentors to gain a wide range of professional skills that make their résumés stand out, including specialized training in the areas of student advising, conference organization, administration, public relations, and editing.
Students may apply for one or both types of assistantships when applying to Truman's M.A. program and again at the end of their first year of studies.
Contact Us
If you have questions or would like more information about Truman's English M.A. program, please contact the Director of English Graduate Studies, Dr. Sarah B. Mohler, sbmohler@truman.edu; the English Graduate Teaching Supervisor, Dr. Barbara Price, bprice@truman.edu; or the English and Linguistics Department Chair, Dr. Mary Shapiro, mshapiro@truman.edu.