As part of the Homecoming festivities held on the Truman State University campus each fall, the grand marshal has the special honor of leading the parade as it travels from downtown Kirksville through the campus.
---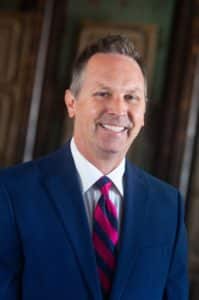 John Garlock ('90)
John Garlock and his two siblings were raised on a farm southeast of Kirksville. In 1986, he graduated from Brashear High School, where he earned the honor of valedictorian. He went on to graduate cum laude from Northeast Missouri State University (now Truman State University) in 1990, receiving his Bachelor of Arts degree in Mass Communication with hopes of becoming a television reporter.
After graduation, there were no reporter openings at KTVO, so Garlock got a part-time job at the Kirksville TV station running studio cameras for the live 6 p.m. and 10 p.m. newscasts. A few days later, a reporter position came open, and he was hired for that job. The northeast Missouri native served as a full-time reporter for five years before being promoted to weekend anchor. Six months later, he was promoted to main anchor of the station's nightly 6 p.m. and 10 p.m. newscasts. The job he still holds. Garlock has been bringing local news to viewers in northeast Missouri and southeast Iowa for more than 31 years.
Throughout his tenure at KTVO, Garlock has covered thousands of local news stories, including natural disasters like the Great Flood of 1993, where he and all news personnel were required to work seven days a week for an entire month, reporting on all conceivable impacts of the high water across the region. He also reported on the deadly 2009 Kirksville tornado as well as visits by former President Bill Clinton, former President Barack Obama and former First Lady Hillary Clinton.
One of the most memorable highlights of his three-decade career was his 1993 one-on-one interview with Oprah Winfrey, the media mogul who inspired Garlock to want to be a TV news reporter in the first place.
Over the past 31 years, he has emceed countless events, spoken to various civic groups and presented at numerous school career fairs. In fact, in 2015, Garlock was surprised with the "Longest-Serving Presenter" award by organizers of the Kirksville Area Technical Center's annual career fair. At that time, he had been a guest speaker at that event every year since 1996, missing only one year due to illness.
---
Previous Truman Homecoming Parade Grand Marshals:

2019: Russ Sloan
2018: Ray "Ricky" Armstead ('84)
2017: Louis "Lou" Coco ('67, '70)
2016:  Clifton "Dickie" Ray ('69, '76)
2015:  Victor Childers ('55)
2014:  Robert A. Dager & Jane Dager
2013:  Darrel Gourley ('50)
2012:  Edwin C. Carpenter & Nettie (Brown) Carpenter ('76)
2011:   Ray Klinginsmith & Judie Klinginsmith
2010:  Marietta (Jonas) Jayne ('41)
2009:  Larry Moore ('67) & Ruth Ann (Winter) Moore ('68)
2008:  Stan Bohon & Doris (Pickens) Bohon ('43)
2007:  Dean Rosebery ('41) & Amy (Ayres)  Rosebery ('43)
2006:  Gerald "Shag" Grossnickle ('42) & Sarah Grossnickle
2005:  Judge James Reinhard & Shari (Powell) Reinhard ('58)
2004:  Richard "Dick" Erzen ('49) & Edith "Edie" (Ford) Erzen ('49)
2003:  Delbert Maddox ('37)
2002:  Harry Gallatin ('49) & Beverly (Hull) Gallatin ('49)
2001:  Bob Holden & Lori Holden
2000:  Dwain Horn ('50)
1999: Charles McClain
1998:  Dick Franklin ('56)
1997:  Larry Lunsford ('81, '83)
1996:  Steve Gaw ('78) & Fannie (Bowdish) Gaw ('84)
1995:  B.D. "Bud" Hunter
1994:  Mary Alice Bunney ('38)
1993:  Frederick "Fritz" Lauer ('50)
1992:  Ruth Warner Towne ('39)
1991:  Larry Moore ('67)
1990:  Marshal E. L. McNeely ('40)
1989:  Martha Decker Blair ('40)