As part of the Homecoming festivities held on the Truman State University campus each fall, the grand marshal has the special honor of leading the parade as it travels from downtown Kirksville through the campus.
---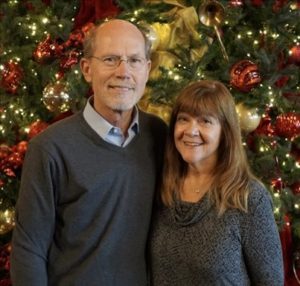 Dr. R. Keith Beeman ('79) & Lu Ann Beeman ('80)
Dr. R. Keith Beeman is a retired public school educator, most notably as a superintendent and deputy superintendent who oversaw the educational programs and operations of his school districts. Keith accumulated a wealth of experience during his 40-year career, from being a middle school English teacher to being a superintendent of schools in school districts whose student enrollment ranged from 125 students to over 47,000 students in California, Washington, Montana, Colorado, Nebraska, Kansas and Oklahoma.
Prior to returning to Kansas City area in January 2019, Keith served AVID Center as its chief human resources officer. Keith's scope of leadership responsibilities extended to over 7,000 schools in 47 states across the U.S., plus schools in Department of Defense Education, Canada and Australia. AVID impacts more that 2 million students in grades K-12 and 62 postsecondary institutions.
Keith served Billings (MT) Public Schools as superintendent of schools. He led the board and community in several "firsts," including the development of a strategic plan; the passage of a $12 million deferred maintenance bond; a comprehensive budget development process, resulting in the elimination of the district's structural deficit; a parent and family engagement process; the development of Native American Academic and Cultural Liaisons; and increased levels of student achievement.
In addition to that leadership role, Keith served the Kent (WA) School District, the Chino Valley (CA) Unified School District, the Oakland (CA) Unified School District, and the Compton (CA) Unified School District, as assistant, associate, and deputy superintendent. The capstone of this portion of his career occurred when authored and implemented Personnel Recover Plans which allowed Compton USD and Oakland USD to exit state oversight and return to local control. Throughout his career he has focused on the strategies and action steps necessary to provide access for quality education to under-served learners and students with special needs.
Keith earned a B.S.E. cum laude from Truman State University ('79), a M.Ed. from the University of Central Oklahoma, and a Ph.D. from The University of Kansas. He has received recognition from various organizations, including the American Association of School Personnel Administrators, Fiscal Crisis and Management Assistance Team, Leadership Billings, California Association of School Business Officials, IDEA Academy of Fellows, and Gallup International. Keith currently serves on the Advisory Board for the Master of Arts in Education (Truman State University), and the Heart Funding Council (The University of Kansas Health System).
During his time at Truman State University, Dr. Herman Wilson, Professor of English, greatly influenced Keith through his mentoring and friendship. Throughout his career there were many occasions when Keith relied upon Herman's quiet and thoughtful approach to life to resolve situations and confront challenges.
Lu Ann (Friedrich) Beeman proudly retired in 2016, following a 36-year career in public education. After graduating from Truman State University ('80) with a B.S.E. magna cum laude, Lu Ann started her teaching career in second-grade in Harrisonville, Missouri. One-year later, Lu Ann began teaching elementary music in Moore (OK) Public Schools. During her four-year tenure in Moore, she also taught private piano lessons to elementary students. After leaving Oklahoma, Lu Ann taught in a small private school in Gorham, Kansas. As an educator in every sense of the word, Lu Ann taught vocal and instrumental music to students in grades 7-12 and English to junior high students.
Returning to Harrisonville Elementary School for four additional years, Lu Ann once again taught second- grade. Lu Ann then had the opportunity to teach in the Lincoln (NE) Public Schools where she was responsible for teaching physical education and music to kindergarten and first-graders and teaching literacy to second through fifth grade students for the next four years. Lu Ann's nomadic educational journey ended when she found a home in the Greeley-Evans (CO) School District 6. For the next 22 years, Lu Ann taught first-grade at S. Christa McAuliffe Elementary School. It was during this time that Lu Ann's stable and lasting influence with her students earned her the respect and admiration of her colleagues, parents and the school community at-large.
Throughout her teaching career, Lu Ann always took the opportunity to expand her musical knowledge and resources. She continued her advanced study of music at the University of Oklahoma, Silver Lake College (WI), and at the University of Nebraska-Lincoln, where she received her Master in Music degree.
While at Truman State University, Lu Ann was an active member of the marching band, Sigma Kappa Sorority and Cardinal Key.
Since retiring, Lu Ann has served as an Ambassador for Copper Mountain Ski Resort (CO), where she combines her teaching prowess with her love of the outdoors by assisting skiers during the winter months and hikers during the dry months. During her free time in Colorado, Lu Ann skis often, hikes many of the region's mountains and shares time with visiting family and friends.
Through their relationship with Truman State University's Foundation Office, Keith and Lu Ann are generous supporters of the University's emerging Autistic Center. When opened the Autistic Center will support children diagnosed with autism and their families throughout northeast Missouri and the region with a range of health, educational and behavioral services to deliver comprehensive and coordinated family-centered care. They are members of the John R. Kirk Society and received the President's Circle Award.
Lu Ann and Keith have been married since 1981. They reside in Prairie Village, KS and Frisco, CO.
---
Previous Truman Homecoming Parade Grand Marshals:

2020:John Garlock ('90)
2019: Russ Sloan
2018: Ray "Ricky" Armstead ('84)
2017: Louis "Lou" Coco ('67, '70)
2016:  Clifton "Dickie" Ray ('69, '76)
2015:  Victor Childers ('55)
2014:  Robert A. Dager & Jane Dager
2013:  Darrel Gourley ('50)
2012:  Edwin C. Carpenter & Nettie (Brown) Carpenter ('76)
2011:   Ray Klinginsmith & Judie Klinginsmith
2010:  Marietta (Jonas) Jayne ('41)
2009:  Larry Moore ('67) & Ruth Ann (Winter) Moore ('68)
2008:  Stan Bohon & Doris (Pickens) Bohon ('43)
2007:  Dean Rosebery ('41) & Amy (Ayres)  Rosebery ('43)
2006:  Gerald "Shag" Grossnickle ('42) & Sarah Grossnickle
2005:  Judge James Reinhard & Shari (Powell) Reinhard ('58)
2004:  Richard "Dick" Erzen ('49) & Edith "Edie" (Ford) Erzen ('49)
2003:  Delbert Maddox ('37)
2002:  Harry Gallatin ('49) & Beverly (Hull) Gallatin ('49)
2001:  Bob Holden & Lori Holden
2000:  Dwain Horn ('50)
1999: Charles McClain
1998:  Dick Franklin ('56)
1997:  Larry Lunsford ('81, '83)
1996:  Steve Gaw ('78) & Fannie (Bowdish) Gaw ('84)
1995:  B.D. "Bud" Hunter
1994:  Mary Alice Bunney ('38)
1993:  Frederick "Fritz" Lauer ('50)
1992:  Ruth Warner Towne ('39)
1991:  Larry Moore ('67)
1990:  Marshal E. L. McNeely ('40)
1989:  Martha Decker Blair ('40)