Robert ('07) and Emily (Kiddoo) Kelchen ('08)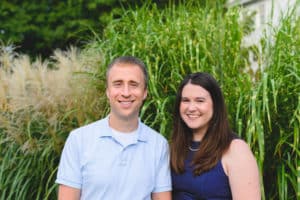 The 2019 Young Alumni of the Year are Robert and Emily (Kiddoo) Kelchen.
Robert and Emily (Kiddoo) Kelchen met for the first time at a Truman visit day. Robert was working as a student ambassador, and Emily was looking at Truman as a prospective school. The next year, their paths crossed again, and they became fast friends.
They worked on political campaigns and debated policy with fellow College Republicans and spent countless hours together serving in Student Government — Emily as the student representative to Truman's Board of Governors, and Robert as the lead author of the student vision document. Eventually, a mutual friend asked why they had never dated, and they didn't have a good answer. They gave it a try, and the rest is history. They continued to graduate school together at the University of Wisconsin-Madison where Emily pursued a law degree and Robert a doctorate in education policy.
Today, they live in New Jersey where Robert works as an associate professor of higher education at Seton Hall University. He is a nationally known expert in the areas of higher education finance, accountability and college affordability. Emily founded a government affairs and marketing company that focuses on helping fellow attorneys attract new clients and lobby policymakers.
In their free time, the Kelchens enjoy traveling around the Northeast, rehabbing their 1861 Victorian home and streaming St. Louis Cardinals baseball games.
About the Award
Truman graduates are eager to make an impact on the world as soon as they can. And they know how to leverage the knowledge, skills, and connections they acquired as a student to lead meaningful lives of influence. This award recognizes the achievements of some of our most outstanding young alumni leaders.
---
Recipients
2018: Derek Kent ('04) & Kelli (Floyd) Kent ('05)
2017:  Cody Sumter ('10)
2016:  Justis Tuia ('07)
2015:  Jason Turk ('02) & Janeen (Traen) Turk ('00)
2014:  Ryan Shreve ('02, '03) & Lauren (Rase) Shreve ('03)
2013:  Jason Hill ('00) & Jessica (Neighbors) Hill ('99)
2012:  Travis McCubbin ('97) & Mindy (Frick) McCubbin ('97)
2011:  Corey Then ('02) & Lauren DeSantis-Then ('03)
2010:  Rudy Arredondo ('02) & Alice (Moore) Arredondo ('02)
2009:  Scott Sifton ('96) & Stacey (George) Sifton ('00)
2008:  Erin (Lesczynski) Church ('02)
2007:  Jaime Geer ('00)
2006:  Sarah (Hartmann) Burkemper ('92)
2005:  Cindy Spiker ('93)
2004:  Brian Krippner ('89) & Ame (Ahrens) Krippner ('90)
2003:  DeAnn Malone ('93)
2002:  Kurt Schulz ('90)
2001:  Chris Geisert ('92) & Kara (Tuck) Geisert ('93)
2000:  Ryan Brennan ('95)
1999: Jeff Poe ('90)
1998:  Joseph Bambenek ('93)
1997:  Jim Cherrington ('85)