Angela Crawford ('08)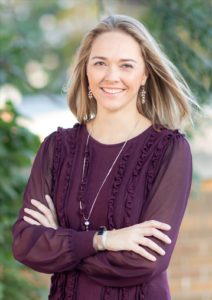 Angela Crawford is in the business of people and content: She builds relationships through better understanding what people and businesses need, and then successfully helps them reach those goals. The Kansas City-area native, with more than a decade of experience in strategic communications, currently serves as Membership and Marketing Vice President for The Builders, a chapter of the AGC.
Her broad range of experience has aided political campaigns, nonprofits, marketing agencies and private corporations in developing innovative strategies for success.
Crawford holds a Master of Arts degree in Communication from the University of Kansas and a Bachelor of Arts degree in Communication, Public Administration from Truman State University. She previously served as a Communications Consultant for Lockton, developing marketing solutions for internal stakeholders and shaping digital communication initiatives.
Crawford lives in the heart of Kansas City with her partner, Steve, and their beloved dogs Tommy and Mikey. A dedicated volunteer, she has served as President of the Truman State University Kansas City Alumni Chapter since 2014. She provided strategic planning and public relations support for Community LINC, a nonprofit group providing transitional housing for homeless Kansas City families; mentored elementary students for the Kansas City MLB Urban Youth Academy's Raising Royals After School program; and for nearly a decade she served as a Big Sister for Big Brothers Big Sisters of Kansas.
A lifelong environmental advocate, Crawford was appointed in 2021 to the Kansas City Climate Protection Steering Committee by Mayor Quinton Lucas, and she serves as a member of the Metropolitan Energy Council's Advisory Board.
Crawford is a member of the Kansas City Society of Association Executives, the Kansas City Lyric Opera Guild, the Society for Marketing Professional Services and Friends of the Kansas City Public Library. She serves as a member of the Kansas City Architectural Foundation Board of Directors and as a United WE Ambassador.
About the Award
Truman graduates are eager to make an impact on the world as soon as they can. And they know how to leverage the knowledge, skills, and connections they acquired as a student to lead meaningful lives of influence. This award recognizes the achievements of some of our most outstanding young alumni leaders.
---
Recipients
2022: Oseyi Ikuenobe ('05) & Sucheta Jawalkar ('06)
2021: Hope (Slaby) Harms ('07)
2019: Robert ('07) & Emily (Kiddoo) Kelchen ('08)
2018: Derek Kent ('04) & Kelli (Floyd) Kent ('05)
2017:  Cody Sumter ('10)
2016:  Justis Tuia ('07)
2015:  Jason Turk ('02) & Janeen (Traen) Turk ('00)
2014:  Ryan Shreve ('02, '03) & Lauren (Rase) Shreve ('03)
2013:  Jason Hill ('00) & Jessica (Neighbors) Hill ('99)
2012:  Travis McCubbin ('97) & Mindy (Frick) McCubbin ('97)
2011:  Corey Then ('02) & Lauren DeSantis-Then ('03)
2010:  Rudy Arredondo ('02) & Alice (Moore) Arredondo ('02)
2009:  Scott Sifton ('96) & Stacey (George) Sifton ('00)
2008:  Erin (Lesczynski) Church ('02)
2007:  Jaime Geer ('00)
2006:  Sarah (Hartmann) Burkemper ('92)
2005:  Cindy Spiker ('93)
2004:  Brian Krippner ('89) & Ame (Ahrens) Krippner ('90)
2003:  DeAnn Malone ('93)
2002:  Kurt Schulz ('90)
2001:  Chris Geisert ('92) & Kara (Tuck) Geisert ('93)
2000:  Ryan Brennan ('95)
1999: Jeff Poe ('90)
1998:  Joseph Bambenek ('93)
1997:  Jim Cherrington ('85)