2018 Young Alumni of the Year: Derek ('04) and Kelli (Floyd) Kent ('05)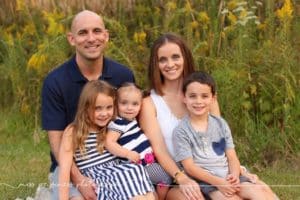 Derek Kent graduated in 2004 with a degree in business marketing and management and a minor in economics. While a student, Derek was a member of Delta Sigma Pi business fraternity and the captain of the football team. A defensive back, he was all-MIAA three times and is currently second on the Truman all-time tackle list. He was also a Homecoming court candidate his senior year and won Big Man on Campus in 2003. He showed his lighter side serving as the mascot Spike during men's and women's basketball games.
Kelli (Floyd) Kent, a 2005 biology graduate, was on the women's basketball team, starting for three years as point guard and was co-captain for three years.  Both Derek and Kelli served on the Student-Athlete Advisory Committee.
Derek and Kelli were married in 2005 and currently live in Columbia, Mo. They have three children, Joshua (9), Kaelyn (7) and Claire (3). Derek has had a successful career in medical sales since graduating from Truman. Kelli spent four years as an assistant varsity girls' basketball coach at Father Tolton Catholic High School before moving to the youth level. Kelli has been a stay-at-home mom since 2009. She and her sister, Jackie Floyd ('07), began opening Smoothie King franchises in 2015, and Kelli has worked part time in that business ever since. Kelli and her family have opened eight Smoothie King locations across three states since 2015.
Kelli and Derek are both active in their community and church. They serve as youth sports coaches and teach classes at their church a couple times each month.
About the Award
graduates are eager to make an impact on the world as soon as they can. And they know how to leverage the knowledge, skills, and connections they acquired as a student to lead meaningful lives of influence. This award recognizes the achievements of some of our most outstanding young alumni leaders.
---
Recipients
2017:  Cody Sumter ('10)
2016:  Justis Tuia ('07)
2015:  Jason Turk ('02) & Janeen (Traen) Turk ('00)
2014:  Ryan Shreve ('02, '03) & Lauren (Rase) Shreve ('03)
2013:  Jason Hill ('00) & Jessica (Neighbors) Hill ('99)
2012:  Travis McCubbin ('97) & Mindy (Frick) McCubbin ('97)
2011:  Corey Then ('02) & Lauren DeSantis-Then ('03)
2010:  Rudy Arredondo ('02) & Alice (Moore) Arredondo ('02)
2009:  Scott Sifton ('96) & Stacey (George) Sifton ('00)
2008:  Erin (Lesczynski) Church ('02)
2007:  Jaime Geer ('00)
2006:  Sarah (Hartmann) Burkemper ('92)
2005:  Cindy Spiker ('93)
2004:  Brian Krippner ('89) & Ame (Ahrens) Krippner ('90)
2003:  DeAnn Malone ('93)
2002:  Kurt Schulz ('90)
2001:  Chris Geisert ('92) & Kara (Tuck) Geisert ('93)
2000:  Ryan Brennan ('95)
1999: Jeff Poe ('90)
1998:  Joseph Bambenek ('93)
1997:  Jim Cherrington ('85)