Oseyi Ikuenobe ('05) & Sucheta Jawalkar ('06)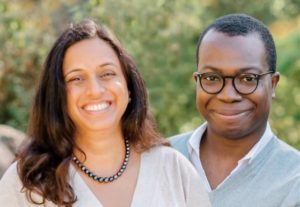 Oseyi Ikuenobe graduated from Truman in 2005 with a Bachelor's of Science in Computer Science and a minor in mathematics. As an international student from Nigeria, Oseyi was active on campus and held leadership roles in the African Students Association, the International Club and the Student Union's Advisory Board. He went on to receive a master's degree in information management from Washington University in St Louis and an MBA from the Haas School of Business at the University of California, Berkeley.
Upon graduating from Truman in 2005, Oseyi spent more than eight years at Monsanto (now Bayer Crop Science) in various roles of increasing responsibility. During his time at Monsanto, he returned to campus regularly as a guest speaker in computer science classes and to recruit Truman students. In 2021 Oseyi and his wife, Sucheta Jawalkar-Ikuenobe, Ph. D., who he met while at Truman, established the Emerging Innovators Undergraduate Summer Research Program to support undergraduate research opportunities for Truman students.
Oseyi is currently the Head of Product at Square, Inc. (now Block, Inc.) for Orders & Checkout where he leads global product development and strategy for the order management and checkout experiences, platforms and partner integrations in all markets in which Square operates. Since joining Square, Inc. in 2017, he has launched several critical products and platform solutions in the UK, Japan, Canada, Australia, Spain, France, Ireland and U.S. He has more than 16 years of experience in the technology industry spanning product management, software engineering and solutions and architecture roles in e-commerce at Square, Walmart and Monsanto/Bayer Crop Science.
He was named an Aspen Institute Scholar for the 2014 Aspen Ideas Festival and in 2012 was a recipient of the St. Louis Business Journal's 30 under 30 Award. He is also a startup investor and advisor and has been involved with nonprofits in St. Louis, San Francisco and now Atlanta. He's an advisor at Fuse Inventory and JetStream Africa and an informal advisor to several other startups. He served on the board of the Berkeley Community Scholars for several years while he lived in the San Francisco Bay Area and was a cabinet member for the United Way of Greater St. Louis' Young Leaders Society when he lived in St. Louis.
Sucheta Jawalkar graduated from Truman in 2006 with a Bachelor's of Science in Physics with a minor in mathematics. She was a member of the Sigma Pi Sigma Physics Honor Society, International Club and the Omicron Delta Kappa Honor Society. She went on to receive a Ph. D. in hadronic physics at The College of William and Mary, followed by a postdoctoral fellowship at Duke University.
Sucheta spent three years as teaching faculty at Santa Clara University and switched careers from physics to data science with the help of a startup called Insight Data Science. She then spent three years applying machine learning methods to forecasting at Walmart Labs. Most recently she was a senior researcher at Georgia Tech Research Institute in the Advanced Computing and Artificial Intelligence Division. She is an Insight Data Science Fellow, an Aspen Scholar and Senior Member in IEEE.
Sucheta and Oseyi currently reside in Atlanta with their daughter.
About the Award
Truman graduates are eager to make an impact on the world as soon as they can. And they know how to leverage the knowledge, skills, and connections they acquired as a student to lead meaningful lives of influence. This award recognizes the achievements of some of our most outstanding young alumni leaders.
---
Recipients
2021: Hope (Slaby) Harms ('07)
2019: Robert ('07) & Emily (Kiddoo) Kelchen ('08)
2018: Derek Kent ('04) & Kelli (Floyd) Kent ('05)
2017:  Cody Sumter ('10)
2016:  Justis Tuia ('07)
2015:  Jason Turk ('02) & Janeen (Traen) Turk ('00)
2014:  Ryan Shreve ('02, '03) & Lauren (Rase) Shreve ('03)
2013:  Jason Hill ('00) & Jessica (Neighbors) Hill ('99)
2012:  Travis McCubbin ('97) & Mindy (Frick) McCubbin ('97)
2011:  Corey Then ('02) & Lauren DeSantis-Then ('03)
2010:  Rudy Arredondo ('02) & Alice (Moore) Arredondo ('02)
2009:  Scott Sifton ('96) & Stacey (George) Sifton ('00)
2008:  Erin (Lesczynski) Church ('02)
2007:  Jaime Geer ('00)
2006:  Sarah (Hartmann) Burkemper ('92)
2005:  Cindy Spiker ('93)
2004:  Brian Krippner ('89) & Ame (Ahrens) Krippner ('90)
2003:  DeAnn Malone ('93)
2002:  Kurt Schulz ('90)
2001:  Chris Geisert ('92) & Kara (Tuck) Geisert ('93)
2000:  Ryan Brennan ('95)
1999: Jeff Poe ('90)
1998:  Joseph Bambenek ('93)
1997:  Jim Cherrington ('85)