Hope (Slaby) Harms ('07)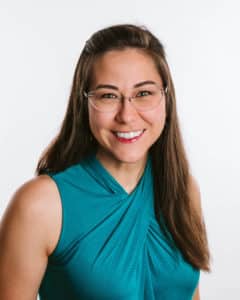 Hope (Slaby) Harms graduated from Truman in 2007 with a Bachelor of Science degree in Linguistics. Immediately following graduation, she worked in Truman's Office of Admission before relocating to the Kansas City area. There she furthered her liberal arts and sciences education through a Master of Library Science degree and began working for Johnson County Library, where she is presently the eResources Librarian managing a thriving digital collection.
In Kansas City, Hope continued to stay in touch with the Truman community by assisting with local college fairs and was recruited to serve on the Kansas City Alumni Chapter board in 2013. She has fully embraced this role, volunteering to support the chapter's social media presence, scholarship review and various events. Her little car is regularly loaded up with Truman t-shirts, cornhole, balloons, Flat Spikes or other supplies to fit the occasion. She additionally served on the Alumni Association's national board from 2014-2021, representing the KC Chapter and serving in a variety of leadership positions. Drawing on other volunteer experiences with her church choir and local running club, Hope has led with authentic relationships, fresh perspective and attention to detail in projects ranging from bylaw revisions and strategic planning to friend-raising and virtual programming.
Hope and her husband Tyler reside in Overland Park, Kansas, with their three cats. Tyler has been an honorary Bulldog since regularly trekking to Kirksville from Rolla during their college days. Over the years, they've enjoyed connecting with fellow Bulldogs on campus, locally in Kansas City and in various chapter regions – not to mention participating a variety of virtual events and an alumni trip to Iceland. They are also supporters of the KC Alumni Chapter Scholarship and Truman's Friends of the Art Gallery. Hope and Tyler share pride in Truman's mission and humbly support the Truman community in providing high-impact, meaningful learning experiences for generations to come.
About the Award
Truman graduates are eager to make an impact on the world as soon as they can. And they know how to leverage the knowledge, skills, and connections they acquired as a student to lead meaningful lives of influence. This award recognizes the achievements of some of our most outstanding young alumni leaders.
---
Recipients
2019: Robert ('07) & Emily (Kiddoo) Kelchen ('08)
2018: Derek Kent ('04) & Kelli (Floyd) Kent ('05)
2017:  Cody Sumter ('10)
2016:  Justis Tuia ('07)
2015:  Jason Turk ('02) & Janeen (Traen) Turk ('00)
2014:  Ryan Shreve ('02, '03) & Lauren (Rase) Shreve ('03)
2013:  Jason Hill ('00) & Jessica (Neighbors) Hill ('99)
2012:  Travis McCubbin ('97) & Mindy (Frick) McCubbin ('97)
2011:  Corey Then ('02) & Lauren DeSantis-Then ('03)
2010:  Rudy Arredondo ('02) & Alice (Moore) Arredondo ('02)
2009:  Scott Sifton ('96) & Stacey (George) Sifton ('00)
2008:  Erin (Lesczynski) Church ('02)
2007:  Jaime Geer ('00)
2006:  Sarah (Hartmann) Burkemper ('92)
2005:  Cindy Spiker ('93)
2004:  Brian Krippner ('89) & Ame (Ahrens) Krippner ('90)
2003:  DeAnn Malone ('93)
2002:  Kurt Schulz ('90)
2001:  Chris Geisert ('92) & Kara (Tuck) Geisert ('93)
2000:  Ryan Brennan ('95)
1999: Jeff Poe ('90)
1998:  Joseph Bambenek ('93)
1997:  Jim Cherrington ('85)