Terry ('68) and Faye Whitworth ('68)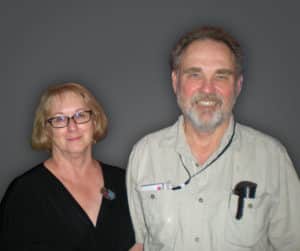 The 2019 Alumni of the Year are Terry and Faye Whitworth.
Terry and Faye met late in their freshman year at Truman in 1965. Terry was a "local" who grew up 30 miles north of Kirksville on a small farm. He lived with his five younger siblings in a little four-room farmhouse. Faye, a member of Delta Zeta social sorority, was an Air Force "brat" who had traveled the world and graduated from high school on a military base in Okinawa with a college scholarship.
Though Terry's major was zoology and Faye's was social science, they took many required classes with one another. Terry learned a lot from Faye about how to study and they spent many hours working on academics together. They were married at the end of their sophomore year in 1966 at the age of 19, and they both graduated in 1968 with honors and with identical GPAs. After graduation, Terry and Faye attended Utah State University; Terry earned a master's and Ph.D. in entomology while Faye earned two master's, one in history and one in education.
Terry started his own business, Whitworth Pest Solutions, in 1981. At first, the business was a one-man operation, working out of the couple's garage. It quickly expanded and now, nearly 40 years later, has become one of the largest pest management firms in Washington state. Meanwhile, Faye took a job teaching high school social studies. She became president of her school district's teachers' union and was chief negotiator for her district for 10 years. She also spent many years as a teacher trainer, helping teachers keep up with the frequent changes in teaching. She retired in 2006.
Terry retired from day-to-day operations in 2008 and has since set up a lab in his home where he studies his specialty: blow flies and their relatives. He has published 34 refereed papers and described 41 new species of blow flies and mesembrinellids. The couple regularly hosts visiting graduate students and professors who want to learn about blow fly identification, dissection and photographic techniques. On a 2009 insect collecting trip to the Caribbean, Terry found a new species of blow fly and, to recognize all Faye's support over the years, he named it after her – much to her delight – Lucilia fayeae. Last May, the couple celebrated their 53rd anniversary.
About the Alumni of the Year
Award
The Alumni of the Year distinction recognizes Truman graduates whose life's work is representative of the core values the University strives to instill in all its students:
intellectual integrity and informed ethical values
a focus on public service and the betterment of society
the willingness to exercise personal and intellectual leadership
---
Recipients of the Alumni of the Year Award
2018: Dick Erzen ('49) & Edie (Ford) Erzen ('49)
2017:  Kenneth "Ken" Rickli ('65)
2016:  Daniel "Dan" Shepherd ('79) & Janet "Jan" (Kreimeyer) Shepherd ('76)
2015:  Steve Justice ('70, '81)
2014:  Mike McClaskey ('85) & Janet (Yearns) McClaskey ('84)
2013:  Mary (Rhodes) Russell ('80)
2012:  Jack Magruder ('57) & Sue (Brimer) Magruder ('55, '77)
2011:   Steve Rose ('69)
2010:  Larry Quisenberry ('66, '75) & Sharron (Bailey) Quisenberry ('66)
2009:  Greg A. Gerhardt ('79)
2008:  Lanny Morley ('62, '64) & Beth (Fisher) Morley ('63)
2007:  Randa Rawlins ('79)
2006:  Guy Burton ('53, '55) & Betty (McKanna) Burton
2005:  Eugene Croarkin Sr. ('49, '52)
2004:  Dwain Horn ('50)
2003:  Calvin Roebuck ('57)
2002:  Linda Miller ('70)
2001:  Dean Rosebery ('41) & Amy (Ayres) Rosebery ('43)
2000:  Carole Kennedy ('72)
1999:  Chuck Foudree ('66)
1998:  B.D. "Bud" Hunter ('50)
1997:  Joseph Hasenstab ('60)
1996:  Steve Gaw ('78) & Fannie (Bowdish) Gaw ('84)
1995:  James C.C. Chen ('86)
1994:  Ruth Warner Towne ('39)
1993:  Frederick "Fritz" Lauer ('50)
1992:  Ray Bentele ('60) & Mary (Cox) Bentele ('60)
1991:  Larry Moore ('67)