2018 Alumni of the Year: Dick and Edie Erzen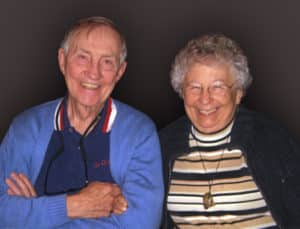 Dick Erzen received his Bachelor of Science in Education degree in math education from Truman State University in 1949, his Master of Science in education from the University of Missouri-Columbia in 1952 and his doctorate in education from Illinois State University in 1966.
He was inducted into the Truman Athletic Hall of Fame in 1995 for his skills on the court as a "super-sub" on two basketball teams that posted a cumulative record of 59-4. Dick was a member of the "K" Club, Blue Key, Sigma Zeta, Kappa Delta Pi and Student Council.  He spent his career in education, first as a teacher, then in administration, at several high schools. He later served as dean at Illinois Valley Community College, a visiting professor at Illinois State University and as president of the College of Lake County in Grayslake, Ill.
Edie received her Bachelor of Science in education degree from Truman in 1949. She was a cheerleader and a member of Sigma Sigma Sigma, Cardinal Key and Student Council. She was also selected as the Carnival Queen in 1948.  Edie is a passionate quilter and a member of the Land of Lincoln Quilting Hall of Fame.
Dick and Edie have six grandchildren, three great grandchildren and are the proud parents of Laura and the late Linda and Mark. They are members of the John R. Kirk Society and attend many Golden Alumni events on campus.
About the Award
The Alumni of the Year distinction recognizes Truman graduates whose life's work is representative of the core values the University strives to instill in all its students:
intellectual integrity and informed ethical values
a focus on public service and the betterment of society
the willingness to exercise personal and intellectual leadership
---
Recipients
2017:  Kenneth "Ken" Rickli ('65)
2016:  Daniel "Dan" Shepherd ('79) & Janet "Jan" (Kreimeyer) Shepherd ('76)
2015:  Steve Justice ('70, '81)
2014:  Mike McClaskey ('85) & Janet (Yearns) McClaskey ('84)
2013:  Mary (Rhodes) Russell ('80)
2012:  Jack Magruder ('57) & Sue (Brimer) Magruder ('55, '77)
2011:   Steve Rose ('69)
2010:  Larry Quisenberry ('66, '75) & Sharron (Bailey) Quisenberry ('66)
2009:  Greg A. Gerhardt ('79)
2008:  Lanny Morley ('62, '64) & Beth (Fisher) Morley ('63)
2007:  Randa Rawlins ('79)
2006:  Guy Burton ('53, '55) & Betty (McKanna) Burton
2005:  Eugene Croarkin Sr. ('49, '52)
2004:  Dwain Horn ('50)
2003:  Calvin Roebuck ('57)
2002:  Linda Miller ('70)
2001:  Dean Rosebery ('41) & Amy (Ayres) Rosebery ('43)
2000:  Carole Kennedy ('72)
1999:  Chuck Foudree ('66)
1998:  B.D. "Bud" Hunter ('50)
1997:  Joseph Hasenstab ('60)
1996:  Steve Gaw ('78) & Fannie (Bowdish) Gaw ('84)
1995:  James C.C. Chen ('86)
1994:  Ruth Warner Towne ('39)
1993:  Frederick "Fritz" Lauer ('50)
1992:  Ray Bentele ('60) & Mary (Cox) Bentele ('60)
1991:  Larry Moore ('67)