Richard ('70) & Kathleen (Gilbert) Theriault ('71)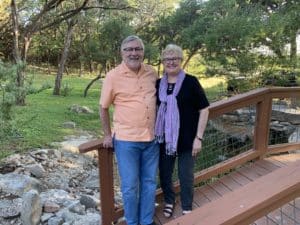 Richard had the good fortune of attending Truman State upon the recommendation of his family doctor. He graduated in 1970 with a Bachelor of Science in Biology.  He successfully applied and was accepted to medical school at the Kirksville College of Osteopathic Medicine (KCOM) in Kirksville, MO.
Upon his graduation from KCOM with a Doctorate of Osteopathy in 1973, he completed an internship and medical residency in St. Louis. After practicing Internal Medicine in St. Louis and Kirksville for a number of years, he completed at medical oncology fellowship in Houston, Texas. He then accepted a position in the Department of Medical Oncology and specialized in the treatment of patients with breast cancer. He retired in December of 2021.
Kathy graduated from Truman in 1971 with a Bachelor of Science in Elementary Education. After graduation, she taught for two years in Putnam County until her husband relocated to St. Louis in 1973. She received a Master's of Education degree from UMSL in 1974.
Kathy enjoyed being a stay-at-home mom for the next 13 years. The family relocated to Houston, Texas in 1987, and she began teaching preschool on a part-time basis. In 1995 she began teaching fourth-grade at a local Catholic school. She retired in 2013 and is enjoying spending time with her husband, grandchildren and their new dog, Rosie.
About the Alumni of the Year
Award
The Alumni of the Year distinction recognizes Truman graduates whose life's work is representative of the core values the University strives to instill in all its students:
intellectual integrity and informed ethical values
a focus on public service and the betterment of society
the willingness to exercise personal and intellectual leadership
---
Recipients of the Alumni of the Year Award
2021: Bill "Woody" Woodall ('79)
2019: Terry ('68) & Faye ('68) Whitworth
2018: Dick Erzen ('49) & Edie (Ford) Erzen ('49)
2017:  Kenneth "Ken" Rickli ('65)
2016:  Daniel "Dan" Shepherd ('79) & Janet "Jan" (Kreimeyer) Shepherd ('76)
2015:  Steve Justice ('70, '81)
2014:  Mike McClaskey ('85) & Janet (Yearns) McClaskey ('84)
2013:  Mary (Rhodes) Russell ('80)
2012:  Jack Magruder ('57) & Sue (Brimer) Magruder ('55, '77)
2011:   Steve Rose ('69)
2010:  Larry Quisenberry ('66, '75) & Sharron (Bailey) Quisenberry ('66)
2009:  Greg A. Gerhardt ('79)
2008:  Lanny Morley ('62, '64) & Beth (Fisher) Morley ('63)
2007:  Randa Rawlins ('79)
2006:  Guy Burton ('53, '55) & Betty (McKanna) Burton
2005:  Eugene Croarkin Sr. ('49, '52)
2004:  Dwain Horn ('50)
2003:  Calvin Roebuck ('57)
2002:  Linda Miller ('70)
2001:  Dean Rosebery ('41) & Amy (Ayres) Rosebery ('43)
2000:  Carole Kennedy ('72)
1999:  Chuck Foudree ('66)
1998:  B.D. "Bud" Hunter ('50)
1997:  Joseph Hasenstab ('60)
1996:  Steve Gaw ('78) & Fannie (Bowdish) Gaw ('84)
1995:  James C.C. Chen ('86)
1994:  Ruth Warner Towne ('39)
1993:  Frederick "Fritz" Lauer ('50)
1992:  Ray Bentele ('60) & Mary (Cox) Bentele ('60)
1991:  Larry Moore ('67)