2018 Distinguished Service Awards
Vid Vidyasagara ('92)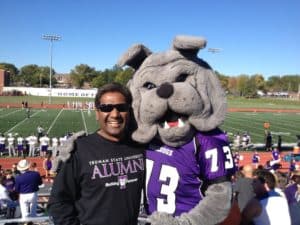 Naomal "Vid" Vidyasagara grew up in Colombo, Sri Lanka, and attended Truman as an international student. He earned a Bachelor of Science degree in computer science from Truman and attended the University of Illinois in Champaign-Urbana, where he obtained a Master of Business Administration.
While at Truman, Vid represented Israel, Cote d'Ivoire and Iran as a member of Truman's three winning U.N. delegations at the Midwest Model United Nations. In 1992, he was president of the International Club, which was selected as the best organization on campus. In his final year, Vid was elected to the Student Senate to represent the class of graduating seniors.
Vid was active in the Truman Residence Life program and was a resident advisor in Missouri Hall. He also worked for the University's Upward Bound program as an academic counselor and mathematics tutor.
After serving a six-year term on Truman's Alumni Board, Vid remains an advocate of the University as the president of the Arizona Alumni Chapter.
Vid works as an IT manager, specializing in cyber security at Honeywell. He met his wife Pasanthi at Truman, and they now reside in Phoenix.
Doug Villhard ('94)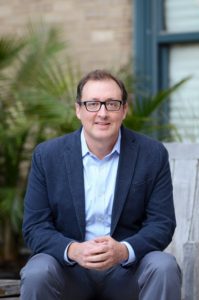 Doug Villhard is a successful St. Louis entrepreneur, founder, investor and philanthropist who actively manages, invests and serves on the boards of for-profit companies and nonprofit organizations.
He has offered his passion and skills to Truman State University in recent years by founding the Bulldog B.I.T.E. Business Pitch Competition, serving on the President's Advisory Council and teaching a new course this spring entitled "The Art (and Science) of Entrepreneurial Thinking."
As a student, Doug was the first inductee to Truman's Student Hall of Fame. His accomplishments as a student included being selected to serve on the Student Activities Board, serving on the executive council of Lambda Chi Alpha, working as a weekly columnist for the Index, being hired as executive producer of the student-run television station, serving as a student ambassador and being voted the Journalism Student of the Year by faculty in 1994. He met his wife, Diane ('95), at Truman during this time as well.
Doug is the co-founder and CEO of Second Street whose "Engagement Platform" is licensed by more than 3,000 media companies across the United States. In recent years, he has founded a private equity firm, Villhard Growth Partners, and is a recent investor in St. Louis Magazine.
In addition to his undergraduate communication degree at Truman, Doug has a master's degree from Boston University and an MBA from Washington University in St. Louis.
Doug and Diane live in the St. Louis area with their four children. They have given back to their local community by founding Father McGivney Catholic High School, which is now in its seventh year and has graduated three classes of seniors with generations more to follow.
In his spare time Doug coaches Little League Baseball and robotics while always dreaming of somehow magically becoming a better golfer.
About the Award
Alumni, faculty, staff, families, and friends of the University directly impact the future of Truman State University through outstanding volunteer and philanthropic service. Our Distinguished Service Award is one of the ways the University recognizes their generous commitment to Truman and its students.
Recipients
2017:  Sharon (Hogan) Husmann ('83)
2017:  John Thompson Jr. ('92)
2016:  Angela "Ann" Leone Patterson ('72, '73)
2016:  Collene Ritchie ('84)
2015:  Gail B. Crump ('64)
2014:  Cynthia M. Spiker ('93)
2013:  Jeffrey Romine ('74) & Marilyn (Casteel) Romine ('78)
2013:  Mike Schwend ('83, '90) & Mary Jo (Fitzpatrick) Schwend ('81, '83)
2012:  Jim Bergman ('90)
2011:  Jim Cherrington ('85)
2010:  Jeannette (Toth) Harris ('71, '78)
2010:  David Nichols & Debra (Fortenberry) Nichols ('80, '01)
2009:  Kathy Rieck ('73, '76, '81)
2008:  Ron Gaber ('82) & Elsie (Kins) Gaber ('87)
2008:  G. Ruth (Black) Mach
2008:  Wilma (Rayfield) Maddox ('79)
2007:  Tom Ballard ('69)
2007:  Major General John V. Cox ('52)
2006:  Geraldine (Toth) Ready ('70)
2006:  Dwyane Smith ('84, '91)
2006:  Chuck Woods ('86)
2005:  Bill Cable & Dianthe (Truitt) Cable ('60, '77)
2005:  Kevin Kuebler ('90) & Bonnie (Neuner) Kuebler ('87)
2004:  Steven Barger ('67)
2004:  Doris (Pickens) Bohon ('43)
2004:  Victor Childers ('55)
2004:  John Lundgren ('64, '65)
2003:  Maria Evans ('81)
2003:  Larry Lunsford ('81,'83)
2003:  Steve Rose ('69)
2003:  Mary (Rhodes) Russell ('80)
2002:  Kay (Dewey) Baird ('62)
2002:  Steve Justice ('70, '81)