Two notable alumni are being presented Truman's Distinguished Service Award for 2022: Amanda Gioia ('93) and Floyd Simpson III ('02).
Amanda Gioia ('93)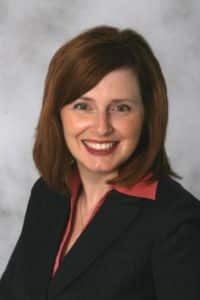 With Mastercard for more than 20 years, Ms. Gioia has held a variety of leadership roles for the company, including serving as Vice President, Technology Risk Management, Communications and Partnerships;  Vice President for Information Technology Service Management and Vice President for the Worldwide Communications Team at MasterCard, where she was responsible for managing and implementing internal communications, leadership communications, philanthropy for the company's technology organization.
Prior to joining MasterCard, Ms. Gioia was an account executive with Kupper Parker Communications and a senior marketing coordinator for Sverdrup Civil, Inc.
Ms. Gioia is the Executive Vice Chairperson of the St. Louis Area Foodbank board and a board member of Autism Speaks.  She is a member of the Advisory Board for the School of Communications for Webster University. She has participated in several innovation activities with Truman State University, including the Bulldog Byte competition since its inception. In 2019,  she was selected as Bentele/Mallinckrodt Executive in Residence at Truman. She was honored as Outstanding Alumna of the Year by Webster University's School of Communications.
Ms. Gioia has a Master of Arts degree in Media Communications from Webster University and a Bachelor of Arts degree in English Literature from Truman State University.
---
Floyd Simpson III ('02)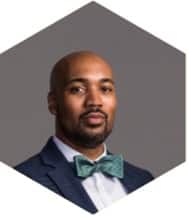 Floyd Simpson III, CFA, CAIA, CFP
Floyd Simpson is a 2002 graduate from Truman State University. During his time on campus he was a member of the football team for his first two years on campus, served on the campus executive board of National PanHellenic and International Fraternal Societies which stemmed from his membership with the Iota Xi Chapter of Alpha Phi Alpha Fraternity Incorporated, along with being a Robert E. McNair Scholar. He graduated from Truman State University with a Bachelors of Arts
In the summer of 2002, after graduation, he obtained a job with Northern Trust as a Securities Processing Analyst, and within the first three years moved over to the Wealth Management Consulting Group working with clients that had $100 million in investable assets. Over the period of 2007 to 2012, he was promoted twice, transferred to the Asset Management side of Northern Trust, taught business and economic classes at East-West University, was a member of the executive board for the Black Business Resource Council of Northern Trust, and was an advisory board member for PEAK Chicago along with being an Auxillary Board member for UCAN Chicago.
These experiences/achievements culminated with him moving to Philadelphia in September of 2012 for a position with FIS Group (now known as Xponance), a minority owned investment asset manager. He spent seven years at FIS Group and upon his departure was an Associate Portfolio Manager of Global Equities with oversight of approximately $2 Billion. During his time at FIS Group, he helped the firm grow from about $2.5 Billion to $10 Billion in Assets Under Management, was a part of the team that acquired a $4 Billion Asset Management firm, traveled across the world analyzing various boutique investment firms and speaking on panels, assisted in the creation of an analytical tool that evaluates investment managers and create diversified portfolios, while co-authoring investment insight thought pieces. From 2015-2021, Floyd served two terms as a Truman State University Foundation Board Member. In that role, he was a part of the Investment Committee that: updated the Investment Policy Statement and transitioned the Investment Management responsibilities to a new provider, with the ultimate goal of creating more opportunities for better future investment outcomes. His touch on campus extended beyond the board through his volunteer involvement with the Bulldog Investment Club. His commitment to education extended beyond the Truman Campus as he has been the CFA Research Challenge advisor for Temple University for the past five years.
Floyd still resides in Philadelphia with his wife, Erin Turner-Byfield, CPA and their daughter, Symone. He is a Director with PFM Asset Management, a subsidiary of US Bank. In his current role he works with institutional clients to develop and implement Multi-Asset strategies for their portfolios, authors Thought Leadership pieces, and is apart of the Outsourced Chief Investment Officer Investment Committee which has oversight of $16.7 Billion Assets Under Management as of June 30, 2022. He is an executive Board member of the CFA Society of Philadelphia, is on the Board of Trustees for Boys' Latin of Philadelphia school system and A.T. Still University, along with being a member of the Finance Committee for the Philadelphia Horticultural Society.  He holds an MBA with a dual concentration in Finance and Strategy, Execution, and Valuation from DePaul University, obtained his Certification in Financial Planning through the Northwestern University School of Continuing Studies, is a Chartered Financial Analyst and a Chartered Alternative Investment Analyst.  Through his scholarship pursuits and willingness to be a servant to all, he has been able to transcend beyond expectations.
---
About the Award
Alumni, faculty, staff, families, and friends of the University directly impact the future of Truman State University through outstanding volunteer and philanthropic service. Our Distinguished Service Award is one of the ways the University recognizes their generous commitment to Truman and its students.
Recipients
2021: Donna (Tague) Bailey ('76, '84)
2021: Dennis Hohn ('67, '73)
2021: Dr. Fontaine Piper ('70, '78)
2019: Keith Epperson ('82)
2018: Vid Vidyasagara ('92)
2018: Doug Villhard ('94)
2017:  Sharon (Hogan) Husmann ('83)
2017:  John Thompson Jr. ('92)
2016:  Angela "Ann" Leone Patterson ('72, '73)
2016:  Colleen Ritchie ('84)
2015:  Gail B. Crump ('64)
2014:  Cynthia M. Spiker ('93)
2013:  Jeffrey Romine ('74) & Marilyn (Casteel) Romine ('78)
2013:  Mike Schwend ('83, '90) & Mary Jo (Fitzpatrick) Schwend ('81, '83)
2012:  Jim Bergman ('90)
2011:  Jim Cherrington ('85)
2010:  Jeannette (Toth) Harris ('71, '78)
2010:  David Nichols & Debra (Fortenberry) Nichols ('80, '01)
2009:  Kathy Rieck ('73, '76, '81)
2008:  Ron Gaber ('82) & Elsie (Kins) Gaber ('87)
2008:  G. Ruth (Black) Mach
2008:  Wilma (Rayfield) Maddox ('79)
2007:  Tom Ballard ('69)
2007:  Major General John V. Cox ('52)
2006:  Geraldine (Toth) Ready ('70)
2006:  Dwyane Smith ('84, '91)
2006:  Chuck Woods ('86)
2005:  Bill Cable & Dianthe (Truitt) Cable ('60, '77)
2005:  Kevin Kuebler ('90) & Bonnie (Neuner) Kuebler ('87)
2004:  Steven Barger ('67)
2004:  Doris (Pickens) Bohon ('43)
2004:  Victor Childers ('55)
2004:  John Lundgren ('64, '65)
2003:  Maria Evans ('81)
2003:  Larry Lunsford ('81,'83)
2003:  Steve Rose ('69)
2003:  Mary (Rhodes) Russell ('80)
2002:  Kay (Dewey) Baird ('62)
2002:  Steve Justice ('70, '81)