Keith Epperson ('82)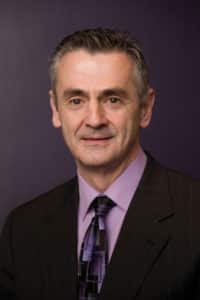 The 2019 Distinguished Service Award recipient is Keith Epperson.
Epperson was born and raised in Council Bluffs, Iowa.  His score on the state-based standardized math test was the highest at his high school, which prompted a phone call from Dr. Dale Woods, a Truman math professor. Woods convinced Epperson and his parents to visit the college and the rest was history.
While attending Truman, Epperson was a member of the Alpha Kappa Lambda social fraternity and the Kappa Mu Epsilon professional math fraternity. With encouragement from his father and support from Dr. Mary Sue Beersman, another Truman math professor, he chose to study math and statistics. He graduated from Truman in 1982 with a bachelor's in mathematics with a concentration in statistics.
Following graduation, Epperson began his career as an actuarial student at Mutual of Omaha. He then moved to Des Moines, working for American Republic, and ultimately became the chief health actuary. At one point during his 15 years in Des Moines, he received an invitation to a Truman-related social event in town. That event spurred a small group of Truman alumni, including Epperson, to begin what is now the Iowa Alumni Chapter. Epperson served as the president of the chapter for a time, and he also served for one year on the very first national alumni board as the Iowa Chapter representative.
Epperson and his wife, Rhonda, have been married for 37 years. They have three children and five grandchildren. Epperson's son attended Truman as well and married a fellow Truman student. In his spare time, of which there is very little, he enjoys spending time with his grandchildren, tinkering with antique clocks and relaxing at Lake Okoboji in Iowa. He has been fortunate enough to have the opportunity to climb Mt Kilimanjaro, trek Nepal, hike to Machu Pichu, hike dormant volcanos in Peru and spend time in the Philippines.
After working in Minneapolis as chief actuary and senior research scientist for United Healthcare, Epperson took his current position as chief actuary for Bright Health Insurance Company. His passion for Truman has only grown stronger after his years as a volunteer on the National Alumni Board and with the Iowa Alumni Chapter, and he is endeavoring to create a new circle of friends by connecting Truman to the Twin Cities.
About the Award
Alumni, faculty, staff, families, and friends of the University directly impact the future of Truman State University through outstanding volunteer and philanthropic service. Our Distinguished Service Award is one of the ways the University recognizes their generous commitment to Truman and its students.
Recipients
2018: Vid Vidyasagara ('92) & Doug Villhard ('94)
2017:  Sharon (Hogan) Husmann ('83)
2017:  John Thompson Jr. ('92)
2016:  Angela "Ann" Leone Patterson ('72, '73)
2016:  Colleen Ritchie ('84)
2015:  Gail B. Crump ('64)
2014:  Cynthia M. Spiker ('93)
2013:  Jeffrey Romine ('74) & Marilyn (Casteel) Romine ('78)
2013:  Mike Schwend ('83, '90) & Mary Jo (Fitzpatrick) Schwend ('81, '83)
2012:  Jim Bergman ('90)
2011:  Jim Cherrington ('85)
2010:  Jeannette (Toth) Harris ('71, '78)
2010:  David Nichols & Debra (Fortenberry) Nichols ('80, '01)
2009:  Kathy Rieck ('73, '76, '81)
2008:  Ron Gaber ('82) & Elsie (Kins) Gaber ('87)
2008:  G. Ruth (Black) Mach
2008:  Wilma (Rayfield) Maddox ('79)
2007:  Tom Ballard ('69)
2007:  Major General John V. Cox ('52)
2006:  Geraldine (Toth) Ready ('70)
2006:  Dwyane Smith ('84, '91)
2006:  Chuck Woods ('86)
2005:  Bill Cable & Dianthe (Truitt) Cable ('60, '77)
2005:  Kevin Kuebler ('90) & Bonnie (Neuner) Kuebler ('87)
2004:  Steven Barger ('67)
2004:  Doris (Pickens) Bohon ('43)
2004:  Victor Childers ('55)
2004:  John Lundgren ('64, '65)
2003:  Maria Evans ('81)
2003:  Larry Lunsford ('81,'83)
2003:  Steve Rose ('69)
2003:  Mary (Rhodes) Russell ('80)
2002:  Kay (Dewey) Baird ('62)
2002:  Steve Justice ('70, '81)