Sharron (Bailey) Quisenberry ('66) and the late Larry Quisenberry ('66, '75)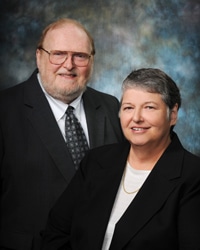 Sharron (Bailey) Quisenberry and her husband, the late Larry Quisenberry, have extensively supported many facets of Truman State University through their commitment, service, and generosity.
Both Sharron and Larry graduated from Truman in 1966―Sharron earned a bachelor of science education degree in biology, and Larry received a bachelor of science degree in business education followed by a master of arts degree in secondary school administration in 1975. Sharron also holds a master of arts degree in environmental biology from Hood College and a master of science degree and a doctorate degree in entomology from the University of Missouri-Columbia.  Larry earned a doctorate degree in general school administration from the University of Missouri-Columbia.
Recognized nationally and internationally for her work in host plant resistance to insects and insect-plant interactions, Sharron retired in 2013 as vice president for research and economic development at Iowa State University. Her professional journey included 5 1/2 years as dean of the College of Agriculture and Life Sciences at Virginia Tech, four years as dean of the College of Agriculture and director of the Montana Experiment Station at Montana State University and eight years in department-level administration positions (University of Idaho and University of Nebraska-Lincoln), and 12 years in research, teaching, and extension (Iowa State University and Louisiana State University).
Sharron has published more than 100 articles, books, and book chapters, as well as more than 150 other technical publications, including a patent and three registered germplasm/cultivars. She is a fellow and past president of the Entomological Society of America and served on the National Academy of Sciences' Board on Agriculture and Natural Resources and on the board for International Food and Agriculture Development Board.
Pursuing his passion for education, Larry enjoyed a successful career which spanned serving as a high-school administrator in four Missouri public schools and holding administrative positions at five universities. He also served as an accountant with the U.S. House of Representatives in Washington, D.C.  In 2012, he retired from Iowa State University as program coordinator reporting to the executive vice president and provost where he specialized in data management and grant procurement.  Larry died on March 05, 2019.
Ardent champions of Truman, Sharron and Larry have been recognized for their philanthropic support of the University with membership in the Joseph Baldwin Society, President's Circle and John R. Kirk Society. In addition to establishing the Sharron Quisenberry Scholarship in Business and Science, the couple provided a legacy gift to Truman through their estate that will substantially enhance their scholarship fund.
The Quisenberrys profound support has also impacted Truman through two comprehensive fundraising campaigns. The couple served on the Iowa Regional Campaign Committee for the University's "Bright Minds Bright Futures" campaign.  More recently, they both served on the steering committee for the University's "Pursue the Future" campaign with Sharron providing a key role as committee chair. Sharron also lent her expertise as a former member of the Truman State University Foundation Board of Directors.
About the Award
One of the most prestigious awards bestowed by the University, the President's Leadership Award honors Truman's most ardent supporters who show an exceptional commitment to the University through gifts of volunteerism, expertise and financial resources. The awards are presented at the annual Truman State University Foundation Banquet held on campus each spring.
---
Recipients
2018:
Mike McClaskey ('85) and Janet (Yearns) McClaskey ('84)
2017:
Grace Hortense Greenley ('40, '56)
Geraldine (Toth) Ready ('70)
2016:
John Bartling ('63)
2015:
John and Jackie Settlage
Charles Holman
2014:
Randa Rawlins ('79)
Odessa Ofstad
2013:
Calvin Roebuck ('57)
2012:
Linda Miller ('70)
2011:
Chuck Woods ('86) & Sherri (Pierce) Woods
2010:
Darrell Krueger & Nancy Krueger
Stanley & Doris (Pickens) Bohon ('43)
2009:
Linden Lyle Ingraham (awarded posthumously)
Dean Rosebery ('41) & Amy (Ayres) Rosebery ('43)
2008:
Chuck Foudree ('66)
2007:
Dwain Horn ('50)
2006:
Steve Rose ('69)
2005:
Charles McClain
2004:
Donald Scriven ('50, '59) & Jolene Davidson Scriven ('54, '59)
2003:
Alvina Britz
L.L. Via ('48)
I love my alumni chapter. Our group does so many things around the city that I never knew existed. It's a great way to meet people outside your normal social circle and of course, network! It's a low-commitment, fun way to still be involved with the University and get to hear about Truman's happenings.