Maj. Gen. John V. Cox ('52) and Mrs. Patricia (McMichael) Cox
Maj. Gen. John V. Cox ('52) and Mrs. Patricia (McMichael) Cox have long supported Truman State University. In 2021, they combined their philanthropic interests to establish the Cox McMichael Scholarship for First Americans, a full-tuition, room-and-board scholarship for Truman students with Native American ancestry. The name is in reference to the words of Harry S. Truman who, during his presidency, used the term "First Americans."
Maj. Gen. Cox graduated with a Bachelor of Science in business administration. He also holds a masters degree in international affairs from George Washington University. From Bevier, Missouri, he enrolled at Northeast Missouri State Teachers College in 1948. He recalls the opening of Blanton Hall, the first of the school's residence halls, and working in a cafeteria on campus as a student. He entered the Marine Corps following graduation and served as a naval aviator, flying 292 combat missions in two tours of duty in Vietnam. He was selected to attend the National War College in 1974 and was promoted to Brigadier General in 1977 and to Major General in 1981. Maj. Gen. Cox served in this capacity until July 1, 1985, when he retired from the Marine Corps after 33 years of service. During his career he amassed 5,043 hours total flight time and was a rated pilot in nearly every Marine Corps fixed-wing aircraft of the Cold War, including the F6F Hellcat, AD-4 Skyraider, FJ-4 Fury, F8U Crusader, and F-4 Phantom.
Patricia grew up on a farm just east of Atlanta, Missouri. She met Maj. Gen. Cox when they were students at a fraternity/sorority dance at the Millard Road House in 1950. They were married in 1953. Patricia taught one year at a country school in Gibbs, Missouri and was one quarter short of graduating from college when the young couple moved to Pensacola, Florida. Moving often as part of military life, Patricia returned to northeast Missouri several times to stay with family when expecting their children. Maj. Gen. Cox remembers flying from Camp Lejeune in North Carolina into the airport in Millard to meet children born in Macon and Kirksville.
The Coxes have many family members who attended the University, including Maj. Gen. Cox's grandfather, James L. Love, who enrolled in North Missouri Normal School and Commercial College in 1875 and 1876, just a few years after the school was established. His sisters, Josephine (Cox) Jansons ('39) and Nancy (Cox) Smith ('47) were alumni. Patricia's mother and aunt, Ruby and Inna Borron, and her brother, Wayne, along with several nephews, also attended.
The Coxes have four children, eight grandchildren, and eight great-grandchildren. In retirement, they have visited 85 countries on 43 international trips. They currently reside in McLean, Virginia.
About the President's Leadership Award
The most prestigious award bestowed by the University, the President's Leadership Award honors Truman's most ardent supporters who show an exceptional commitment to the University through gifts of volunteerism, expertise, and financial resources. The awards are presented at the annual Truman State University Foundation Banquet held on campus each spring.
---
Recipients of the President's Leadership Award
2020:
Betty Jo White, DO ('59)
2019:
Sharron (Bailey) Quisenberry ('66) and the late Larry Quisenberry
2018:
Mike McClaskey ('85) and Janet (Yearns) McClaskey ('84)
2017:
Grace Hortense Greenley ('40, '56)
Geraldine (Toth) Ready ('70)
2016:
John Bartling ('63)
2015:
John and Jackie Settlage
Charles Holman
2014:
Randa Rawlins ('79)
Odessa Ofstad
2013:
Calvin Roebuck ('57)
2012:
Linda Miller ('70)
2011:
Chuck Woods ('86) & Sherri (Pierce) Woods
2010:
Darrell Krueger & Nancy Krueger
Stanley Bohon & Doris (Pickens) Bohon ('43)
2009:
Linden Lyle Ingraham (awarded posthumously)
Dean Rosebery ('41) & Amy (Ayres) Rosebery ('43)
2008:
Chuck Foudree ('66)
2007:
Dwain Horn ('50)
2006:
Steve Rose ('69)
2005:
Charles McClain
2004:
Donald Scriven ('50, '59) & Jolene Davidson Scriven ('54, '59)
2003:
Alvina Britz
L.L. Via ('48)
2002:
Marie Laughlin
Rex Miskimins ('68) & Bette Miskimins ('68)
Lydle W. Staggs ('41)
2001:
Walker Allen ('39) & Doris Allen
2000:
M. Frances Fuller ('35)
Mary Jane Kohlenberg ('56)
Mary Evelyn Thurman ('46)
1999:
Josephine Cox Jansons ('39)
1998:
Marian Morelock ('31)
C. Ethel Schwengel ('32)
Ruth Warner Towne ('39)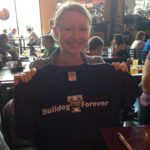 I love my alumni chapter. Our group does so many things around the city that I never knew existed. It's a great way to meet people outside your normal social circle and of course, network! It's a low-commitment, fun way to still be involved with the University and get to hear about Truman's happenings.