One of the most prestigious awards bestowed by the University, the President's Leadership Award honors Truman's most ardent supporters who show an exceptional commitment to the University through gifts of volunteerism, expertise and financial resources. The awards are presented at the annual Truman State University Foundation Banquet held on campus each spring.
2018  Recipients: Mike and Janet (Yearns) McClaskey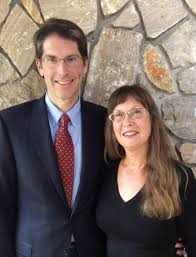 Truman State University was the starting point for a life full of meaningful intellectual pursuits that Mike and Janet (Yearns) McClaskey have built together. The couple first crossed paths in a McClain Hall classroom when they were students attending the University in the 1980s. The college romance led to marriage, and both Mike and Janet went on to pursue successful careers.  Over the years, they have remained involved with Truman serving in leadership roles and providing financial support.
Janet earned a Bachelor of Science in education from Truman in 1984 followed by a Master's degree in curriculum and instruction with an emphasis in English from the University of Missouri-Columbia. After receiving a Bachelor of Arts in English and a Bachelor of Science in education from Truman in 1985, Mike earned a Master's degree in English from the University of Missouri-Columbia.
Since graduating, the McClaskeys have remained involved with Truman making the University one of the core focuses of their philanthropy. They have provided a multi-million dollar bequest to the University through their estate to create the McClaskey Family Endowment, a multi-purpose fund to benefit Truman's School of Arts and Letters. They have supported the Martha McClaskey Humanities Scholarship in honor and memory of Mike's mother, a Truman alumna who taught English at the University from 1959 to 1978.
Mike, who is currently President of the Truman State University Foundation Board of Directors and a member of the President's Advisory Council, also serves on the steering committee for Truman's $40 million "Pursue the Future" fundraising campaign. Previously, he served on the steering committee for Truman's inaugural fundraising campaign, "Bright Minds Bright Futures," which concluded in 2011 surpassing its $30 million goal. Mike and Janet served together on the Colorado Regional Committee for the "Bright Minds Bright Future" campaign.
A Fortune 500 corporate executive, Mike retired after a distinguished career as a chief information officer (CIO) and chief human resources officer (CHRO).  Most recently, he served as executive vice president and CHRO at DISH Network.  Before joining DISH in 2007, he spent 12 years at Perot Systems (now NTT Data), where he was the corporation's vice president of Infrastructure Solutions and CIO responsible for IT strategy and operating Perot's customer-facing network, service center and data centers worldwide.
Among other professional honors, Mike has been recognized as CIO of the Year by the Denver Business Journal, and received national awards from CIO Magazine, Information Week and Forbes.
A multi-talented teacher, writer, and artist, Janet has taught sixth grade through university graduate levels in both public and private institutions in Missouri, Texas, and Colorado. Most recently, she taught Critical Thinking in the Honors Program at Metropolitan State University of Denver, where she also served on the METROLEADS committee which defines the University's leadership programs and develops key leaders.
As a dedicated educator, Janet has extended the reach of shared knowledge over the course of her career, presenting at numerous conferences and having her work published internationally. At state education levels, she has worked on curriculum and testing for the Missouri Department of Elementary and Secondary Education Goals 2000 Curriculum and Assessment Issues Task Force and the Texas Education Agency. In her current position as Omega State President of Delta Kappa Gamma Society International, she presents at regional and international conferences and leads 800 Colorado women educators in promoting personal and professional growth and excellence in education.
Honored as Truman's Alumni of the Year in 2014, Mike and Janet are members of the University's John R. Kirk Society, Joseph Baldwin Society, President's Circle and the Colorado Alumni Chapter.
---
Past Recipients
2017:
Grace Hortense Greenley ('40, '56)
Geraldine (Toth) Ready ('70)
2016:
John Bartling ('63)
2015:
John and Jackie Settlage
Charles Holman
2014:
Randa Rawlins ('79)
Odessa Ofstad
2013:
Calvin Roebuck ('57)
2012:
Linda Miller ('70)
2011:
Chuck Woods ('86) & Sherri (Pierce) Woods
2010:
Darrell Krueger & Nancy Krueger
Stanley & Doris (Pickens) Bohon ('43)
2009:
Linden Lyle Ingraham (awarded posthumously)
Dean Rosebery ('41) & Amy (Ayres) Rosebery ('43)
2008:
Chuck Foudree ('66)
2007:
Dwain Horn ('50)
2006:
Steve Rose ('69)
2005:
Charles McClain
2004:
Donald Scriven ('50, '59) & Jolene Davidson Scriven ('54, '59)
2003:
Alvina Britz
L.L. Via ('48)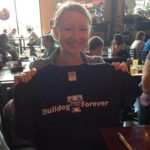 I love my alumni chapter. Our group does so many things around the city that I never knew existed. It's a great way to meet people outside your normal social circle and of course, network! It's a low-commitment, fun way to still be involved with the University and get to hear about Truman's happenings.