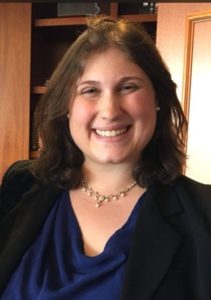 JoEllen (Flanagan) Engelbart ('11)
The 2021 Denise L. Smith Volunteer of the Year Award is being posthumously awarded to JoEllen (Flanagan) Engelbart. JoEllen graduated from Truman in 2011 with a degree in political science. She was active on Truman's campus as a member of Alpha Sigma Gamma service sorority as well as Student Government and served as student body president.
After graduating Truman, JoEllen went on to UMKC where she earned a J.D. and a master's degree in public administration. She graduated from UMKC School of Law cum laude with pro bono honors, recognizing the astounding quality and quantity of her volunteer work in the community while in law school. She logged more than 1,000 pro bono hours at the Jackson County Prosecutor's Office alone and also worked with Rose Brooks and other community organizations. She was the recipient of the 2015 Judge John W. Oliver Public Service Fellowship.
Upon graduation from UMKC, JoEllen joined the Jackson County Prosecutor's Office. She served on UMKC Law's Young Alumni Committee, supervising law student interns at the Prosecutor's office and mentoring many more. JoEllen worked as an assistant prosecutor for the Jackson County Prosecutor's office, which she joined in 2015 after completing an internship. Most recently, she served as a passionate advocate for victims of crime in the Special Victims Unit, where she helped protect and defend those affected by child abuse and domestic violence.
JoEllen was an active leader in Truman's Kansas City Alumni Chapter. In her roles as chapter secretary and service and event chair, she planned and attended many alumni events each year. She lead with contagious enthusiasm and humor and helped connect alumni to one another through the act of service, partnering with causes in the Kansas City area.
On January 2, 2021, JoEllen passed away from COVID-19 complications, only a few days after she gave birth to her first child, a son named Ross. JoEllen is also survived by husband Matt and was a proud cat-mom to Rosie and Ruthie.
---
About the Award:
The Truman State University Alumni Association created the Bulldog Forever Volunteer of the Year Award in 2012 to honor a volunteer leader for exemplary service to the University through the Alumni Association or any of its affiliated organizations. In 2019, the name of the award was changed to the Denise L. Smith Volunteer of the Year Award in honor of the late Denise Smith, who served as the director of alumni relations at Truman for many  years.
This award recognizes individuals who have sustained outstanding volunteer service to Truman State University through the Alumni Association and reflects length and depth of service on the part of the recipient.
Each year, one award is given to a member of the Truman Alumni Association who is a current member of a chapter and/or club. The Alumni Association encourages and appreciates the financial support of alumni gifts to the University. However, the Volunteer Award is intended for and elevates the service and time given to the University by our volunteers.
Nomination Criteria:
---
Previous Recipients
2020: Hope (Slaby) Harms ('07)
2019: John W. Davison  ('75, '81, '84)
2018: Phillip Campbell ('06)
2017: Gerald Hollingsworth ('67) & Karol Hollingsworth
2016: Marsha Redmon ('79)
2016: Chris Wiedmeyer ('96)
2015: Naomal "Vid" Vidyasagara ('92)
2014: Michael A. Wilson ('91)
2013: Tania Cook ('85)
2012: Will Sass ('72, '77)