Homecoming Parade Grand Marshals
Homecoming Parade Grand Marshals

As part of the Homecoming festivities held on the Truman State University campus each fall, the grand marshals have the special honor of leading the parade as it travels from downtown Kirksville through the campus.
---
2014 Homecoming Parade Grand Marshals
Robert Dager and Jane Dager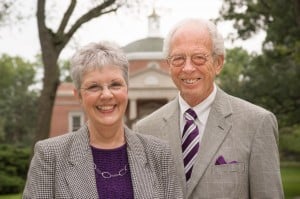 Robert "Bob" Dager served 25 years at Truman State University before retiring as head of the Division of Business and Accountancy in June 1999.
Bob came to Truman in 1974 as an assistant professor of business and was promoted to full professor before being named head of the division in 1977. From 1989-90, he served as interim president of the University. During his tenure, he served as acting head for the Division of Education, began and directed the John R. Kirk Honors Institute and oversaw the University Career Center. He chaired the committee for the renovation of Violette Hall.
Bob has served the Kirksville community as an active member of numerous organizations. He received the Kirksville Area Chamber of Commerce Hall of Fame Award in 1999, was named Kiwanian of the Year in 1981 and Citizen of the Year in 1980. He served as president of the Kirksville Kiwanis Club, vice president of the Chariton Valley Association for Handicapped Citizens, director of the Northeast Missouri State Bank, board member of the United Way, and board member of the Kirksville Country Club. Bob is currently a member of the Truman State University Foundation Board of Directors. The Dagers are members of Truman's Kirk Society, Baldwin Society and the President's Circle.
Jane was born and raised in Indiana. She is a graduate of Ball State University with a degree in speech pathology/deaf education and a graduate of Kirksville Area Technical Center. Jane worked as a clinic nurse for the past 20 years and is currently employed at Northeast Missouri Health Council's OB/GYN Clinic.
Over the years, Jane has actively served the Mary Immaculate Home and School, the PTA, Welcome Wagon, Sojourners Club, Mary Immaculate Piecemakers and the University Dames.
The Dagers have raised three sons: Kevin Dager, who resides with his wife, Kelly Dager, in O'Fallon, Mo.; Andy Dager ('06), who resides with his wife, Stephanie (Turner) Dager ('00) in Kaiserslautern, Germany; and foster son, Franklin Abramowitz (deceased). They have one granddaughter, Mackenzie Dager, also of Germany.
---
Previous Homecoming Parade Grand Marshals

2013: Darrel Gourley ('50)
2012: Edwin C. Carpenter & Nettie (Brown) Carpenter ('76)
2011: Ray Klinginsmith & Judie Klinginsmith
2010: Marietta (Jonas) Jayne ('41)
2009: Larry Moore ('67) & Ruth Ann (Winter) Moore ('68)
2008: Stan Bohon & Doris (Pickens) Bohon ('43)
2007: Dean Rosebery ('41) & Amy (Ayres)  Rosebery ('43)
2006: Gerald "Shag" Grossnickle ('42) & Sarah Grossnickle
2005: Judge James Reinhard & Shari (Powell) Reinhard ('58)
2004: Richard "Dick" Erzen ('49) & Edith "Edie" (Ford) Erzen ('49)
2003: Delbert Maddox ('37)
2002: Harry Gallatin ('49) & Beverly (Hull) Gallatin ('49)
2001: Bob Holden & Lori Holden
2000: Dwain Horn ('50)
1999: Charles McClain
1998: Dick Franklin ('56)
1997: Larry Lunsford ('81, '83)
1996: Steve Gaw ('78) & Fannie (Bowdish) Gaw ('84)
1995: B.D. "Bud" Hunter
1994: Mary Alice Bunney ('38)
1993: Frederick "Fritz" Lauer ('50)
1992: Ruth Warner Towne ('39)
1991: Larry Moore ('67)
1990: Marshal E. L. McNeely ('40)
1989: Martha Decker Blair ('40)