Homecoming Parade Grand Marshal
Homecoming Parade Grand Marshal

As part of the Homecoming festivities held on the Truman State University campus each fall, the grand marshal has the special honor of leading the parade as it travels from downtown Kirksville through the campus.
---
2015 Homecoming Parade Grand Marshal
Victor Childers ('55)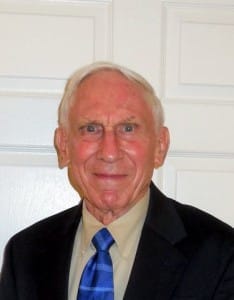 Victor Childers grew up on a farm near Rutledge, Mo., and for several years he attended a one-room rural school. He attended Rutledge High School, played a lot of basketball and was elected team captain in his senior year. He earned a B.S.E. at Northeast Missouri State Teachers College, graduating with the class of 1955. He worked as an accountant and office manager in Kansas City, Kan., and New York City prior to entering graduate studies at Indiana University where he earned M.B.A. and doctoral degrees. Victor and his family lived in Venezuela for a year, 1965-66, while he carried out research for his dissertation, "Unemployment in Venezuela," which was later expanded and published under the title, Human Resources Development—Venezuela.
Victor joined the faculty of Indiana University School of Business in Indianapolis in the fall of 1966. During 1970-71, he lived in Dacca, East Pakistan, as a member of the Indiana University advisory group at the Institute of Business Administration, University of Dacca. Political tensions leading to the formation of Bangladesh compelled the advisors to leave Dhaka, and Victor was reassigned to an Indiana University project at the National Institute of Development Administration in Bangkok, Thailand, where he and his family lived for three months.
From January to July in 1981, Victor was a visiting Fulbright Professor at the Institute for Graduate Studies in Administration in Caracas, Venezuela. His research resulted in a variety of publications concerning programs and policies for meeting low-cost housing needs.
Victor served on the faculty of the Semester at Sea Program for the around-the-world voyage of fall 1986. His wife sailed as a passenger, one daughter was a student, and the other daughter used vacation time to join the ship in Japan and sail through ports in South Korea and Taiwan. During the spring semester in 1993, he served as resident director of the IU School of Business semester abroad program in Maastricht, Netherlands. In May 1993, he was a short-term visiting lecturer at American University in Cairo. During 1993-1995 he was director of academic programs for the School of Business on the Indianapolis Campus.
Upon retirement in 1995, Victor worked through the Citizens Democracy Corps to carry out teaching and consultancy projects in Russia and the Ukraine. In October 1996, he was a guest lecturer at four Spanish universities in Cadiz, Huelva, Malaga, and Sevilla. The International Executive Service Corps sponsored him on a teaching/consultancy project in Vladivostok, Russia, in May 1997. In the fall of 1999, he was visiting tutor for the Henley Management College International MBA Program at National Economics University, Hanoi, Vietnam, and he repeated the course in Ho Chi Minh City in August 2000.
A longtime member of the Indianapolis Committee on Foreign Relations, Victor served as its executive secretary for three years in the 1980s. He has held a variety of offices for the Indiana Council on World Affairs, including a two-year term as president. He has represented these organizations as a member of national delegations to Panama, Hong Kong, Oman, and Azerbaijan. He remains active in the Economic Club of Indiana, having been a charter member over 40 years ago. Victor is a member of North United Methodist Church in Indianapolis and has been involved in several overseas mission projects. He serves as North Church's liaison with a covenant congregation in Nandayosi, Nicaragua, and is currently making arrangements for a group to visit Nicaragua in November, 2015.
While attending college, Victor was active in Alpha Phi Sigma, Blue Key, Kappa Delta Pi, Pi Omega Pi and Wesley House. He served as a member-at-large of the Truman Alumni Board and was honored in 2004 with an Alumni Distinguished Service Award. He is a member of the University's President's Circle.
---
Previous Homecoming Parade Grand Marshals

2014: Robert Dager & Jane Dager
2013: Darrel Gourley ('50)
2012: Edwin C. Carpenter & Nettie (Brown) Carpenter ('76)
2011: Ray Klinginsmith & Judie Klinginsmith
2010: Marietta (Jonas) Jayne ('41)
2009: Larry Moore ('67) & Ruth Ann (Winter) Moore ('68)
2008: Stan Bohon & Doris (Pickens) Bohon ('43)
2007: Dean Rosebery ('41) & Amy (Ayres)  Rosebery ('43)
2006: Gerald "Shag" Grossnickle ('42) & Sarah Grossnickle
2005: Judge James Reinhard & Shari (Powell) Reinhard ('58)
2004: Richard "Dick" Erzen ('49) & Edith "Edie" (Ford) Erzen ('49)
2003: Delbert Maddox ('37)
2002: Harry Gallatin ('49) & Beverly (Hull) Gallatin ('49)
2001: Bob Holden & Lori Holden
2000: Dwain Horn ('50)
1999: Charles McClain
1998: Dick Franklin ('56)
1997: Larry Lunsford ('81, '83)
1996: Steve Gaw ('78) & Fannie (Bowdish) Gaw ('84)
1995: B.D. "Bud" Hunter
1994: Mary Alice Bunney ('38)
1993: Frederick "Fritz" Lauer ('50)
1992: Ruth Warner Towne ('39)
1991: Larry Moore ('67)
1990: Marshal E. L. McNeely ('40)
1989: Martha Decker Blair ('40)