Bulldog Forever Volunteer of the Year
Bulldog Forever Volunteer of the Year
Members of Truman's alumni chapters and clubs devote time and effort planning events, serving in leadership roles, supporting current students, and initiating fun and innovative ways to bring alumni  together. This award singles out a volunteer leader who has gone above and beyond the call of duty.
---
2014 Bulldog Forever Volunteer of the Year: 
Michael A. Wilson ('91)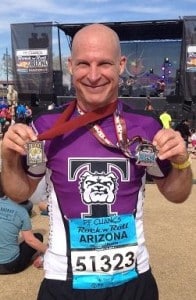 Originally from Odessa, Mo., Mike Wilson lives in Kansas City, Mo., with his family. He attended Truman State University, where he graduated with a Bachelor of Arts degree in finance in 1991. While working toward his degree, Mike was an active member of Sigma Tau Gamma and served as their representative on the Interfraternity Council. He participated in the Jefferson City Legislative Internship Program, was a member of Student Senate, participated in multiple intramural sports and met his wife!
Since graduating from Truman, he has held various positions in the financial services industry and is currently in his 11th year at UMB Bank. Mike says he finds fulfillment through encouraging and developing others to their full potential and creating process and procedures to help maximize performance utilizing efficiency and logistics. As a senior loan review officer, he assesses credit quality and policy adherence of the institution's loan portfolio. He also takes a "value-added" approach and helps business lines with strategic planning, reporting and process improvements.
Mike has been serving the Kansas City Alumni Chapter of Truman State University since 2000 in various leadership roles and is the current president. He is vice chair on his Parish Finance Committee, a member of the Parish Men's Club and teaches Parish School Religion. Mike is a member of the Risk Management Association, an ambassador for the Kansas City Corporate Challenge, American Royal and the employee wellness program. In his spare time, he trains and competes in marathons and triathlons. Mike and his wife, Terri (Lyle) Wilson, are members of the John R. Kirk Society and the Pershing Circle. They have also established the Merry Lynn Lyle Memorial Scholarship in honor of Terri's mother.
Mike has been married 22 years to Terri (they met at a Sigma Tau Gamma Mixer) and enjoys spending time raising their four boys. Mike says, "I am blessed to have found such a great companion and the best mother for our children.  I'm still working on the boys."
---
---
Past Recipients of the Bulldog Forever Volunteer of the Year Award
2013: Tania Cook ('85)
2012: Will Sass ('72, '77)