Members of Truman's alumni chapters and clubs devote time and effort planning events, serving in leadership roles, supporting current students, and initiating fun and innovative ways to bring alumni together. This award singles out a volunteer leader who has gone above and beyond the call of duty.
2017 Bulldog Forever Volunteers of the Year:
Gerald Hollingsworth ('67) & Karol Hollingsworth, Iowa Alumni Chapter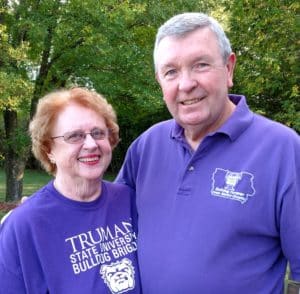 Gerald Hollingsworth is a "Centennial Year" graduate of the University, earning a Bachelor of Science in Education degree while majoring in Spanish. He was a member of Spanish Club, Blue Key Honor Society and worked in the University's foreign language lab. Both he and his wife, Karol, hail from Albia, Iowa. Karol worked on campus with Dr. Henry Boucher, Dean of Student Affairs. Married since 1965, they now live in Polk City, Iowa, and have three children, six grandchildren and one great-granddaughter.
After graduating in 1967, Gerald was hired immediately by the principal of the newest high school in Des Moines, Iowa, Herbert Hoover High School. As the sole Spanish instructor and Foreign Language Department Chair, he taught Spanish levels I through V, before retiring in 2005. During his time with the Des Moines Public School System, he also taught Spanish for the Adult Education Program and was an instructor in the district's driver education offerings. He also was an instructor of Spanish for Des Moines Area Community College. In 1971, Gerald graduated with a master's in education from Drake University majoring in secondary curriculum and instruction and Latin American history, an area of interest he gained from former University President Walter H. Ryle IV.
The day after retiring in 2005, Gerald was hired by the Iowa Association of School Boards on a federal grant program to instruct teachers and their students throughout the state on how to implement a diagnostic program concentrating on individual student curriculum weaknesses with prescriptive remedies. While engaged in that pursuit, Gerald was offered a position to return to the high school classroom to teach upper-level Spanish in Johnston, Iowa, which he accepted, retiring in 2013.
For 11 years, Karol was a full-time mother, raising their three children, David, Daniel and Deanna. She worked as an automation coordinator for 18 years at the Des Moines office of St. Paul Insurance Company and then another 18 years with EMC (Employers Mutual Insurance Companies) as support analyst retiring in 2013. She also has enjoyed the Iowa Alumni Chapter's many activities, volunteering alongside Gerald. Gerald and Karol spend their free time traveling and have visited more than 50 foreign countries.
Gerald has always been active in the community by coaching in the youth recreational leagues. He also wrote a program for local host families to learn some Spanish language and culture for a Des Moines Friendship Force Program to Venezuela. Through that program, he also served as in-country interpreter and translator for several dignitaries including the wife of then-Governor Robert Ray and the mayor of Des Moines. Gerald was invited to Caracas by the president of Venezuela to interpret for him to a group of the Des Moines contingency and international press concerning Venezuela's position on the Panama Canal. Currently, Gerald is engaged in activities with the Masonic Lodge, Scottish Rite Consistory, Lions Club and his church. Gerald and Karol are Iowa Lions Eye Bank volunteer transporters of tissue, a vital service for eye surgery patients. Both Gerald and Karol are very active in the Iowa Chapter activities of the Truman Alumni Association, and Gerald is a member of the Iowa Alumni Chapter Executive Board.
Homecoming Information
---
Past Recipients of the Bulldog Forever Volunteer of the Year Award
2016: Marsha Redmon ('79)
2016: Chris Wiedmeyer ('96)
2015: Naomal "Vid" Vidyasagara ('92)
2014: Michael A. Wilson ('91)
2013: Tania Cook ('85)
2012: Will Sass ('72, '77)