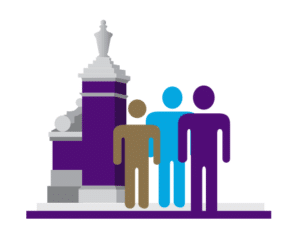 Dining Services
Preparations have been made to ensure appropriate social distancing in dining halls.
Transparent dividers placed on dining tables provide a barrier between individuals sitting across from one another.  Dividers will be cleaned/replaced between each meal.
When the dining halls reach maximum capacity based on social distancing, incoming diners will not be accommodated in the seating area until someone leaves the dining hall. As an alternative, diners may choose to utilize the take-out meal option.
Students who prefer to utilize the take-out meal option for lunch and dinner may access the dining hall 30 minutes prior to the regularly scheduled opening for those meals. Students entering during this time will not be allowed to remain in the seating area.  The take-out meal option continues to be available whenever the dining hall is open. Breakfast numbers tend to be much lower and should allow for appropriate social distancing.  If that should change, we will make appropriate adjustments related to the take-out dining option.
Self-service stations (i.e. salad bar, beverage stations) will not be in use. These food and drink options will continue to be available, but will be provided through the server stations.
Retail dining options will be available at the Student Union Building Main Street Food Court, Starbucks in the Pickler Memorial Library and C-Stores located in West Campus Suites and Dobson Hall.
Catering services will offer plated, served meals only. Buffet-style meals will not be available.
For more information visit truman.sodexomyway.com/.
Travel Restrictions
Essential individual domestic travel for University-related business can be requested. Employee travel requests must be approved in advance by an appropriate supervisor. A travel request cannot exceed two days in length or include air travel, and employees must follow CDC guidelines. The international travel restrictions are still in place.
Personal travel – Personal travel should be carefully considered, and following CDC travel guidelines and state and local travel restrictions is strongly recommended. It is important to note that anyone who chooses to travel may be restricted from returning to campus, depending upon the specifics of their travel.
Domestic Travel (University or personal) – Public health officials recommend minimizing domestic travel to the extent possible. When domestic travel is essential, follow these guidelines from the CDC.

Individuals who travel should monitor for symptoms and contact their medical provider if symptoms present.

International Travel (University or personal) –

Anyone who travelled internationally or on a cruise ship should not return to campus for 14 days upon their return.
Anyone arriving to the U.S. from an international location should quarantine for 14 days. Click here for CDC information related to international travel.
Intercollegiate Athletics
The University continues to develop policies and procedures for having athletics competition pursuant to state, local, NCAA, and GLVC health and safety guidelines.Go to Truman Athletics website>
Events
Interact Responsibly
Do not attend large gatherings. While parties are still unsafe options, you can create a pod of people to interact with regularly. Sometimes called bubbles, pods are partnerships between a few individuals. They can be a great way to experience social interactions while reducing the likelihood of acquiring COVID-19. Keep in mind, the smaller the pod, the less the risk of exposure. Pods are not invincible, and it is still important to be thoughtful in our choices.
The criteria for determining if an event can be held include:
Facility must have the capacity for the intended audience to maintain appropriate social distancing.
There will be no rental of University facilities for external entity sponsors.
Internal versus external attendees:

Decisions about external attendees will be made on a case-by-case basis.
Clubs and Extracurriculars
At this time clubs and extracurriculars will be able to operate, meet and host events. Organizational leadership is responsible for ensuring the group is following all of the appropriate CDC guidelines and parameters laid out by the University (i.e. facial coverings, room capacity limits, etc.). Departmental student organizations should work directly with their sponsoring department to ensure appropriate compliance with University protocol.
For more information about student organization operations, visit involvement.truman.edu. Specific questions can be addressed here.