Dining Options Across Campus
As an active college student at Truman, you have a busy schedule so we take care of your dining needs for you. And to make it even easier, your meal plan can be added to your student ID so you don't have to worry about carrying cash. If you are visiting campus, guests can also purchase single meals in any of the three residence hall cafeterias.
Meal Plan Options and Prices
Flexible Meal Plans  •  Local Foods  •  Vegan Options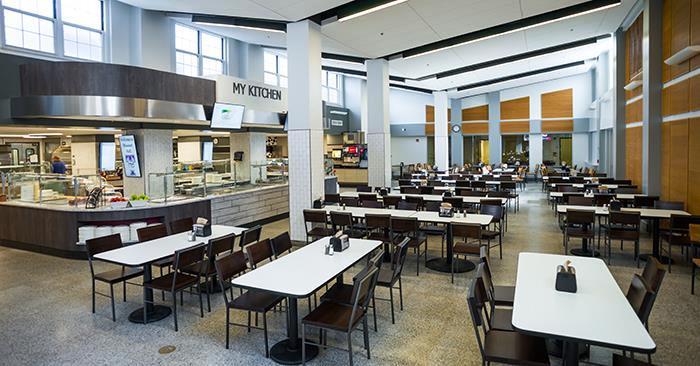 When you live in one of the University's residence halls, you have a variety of meal plan options that allow you to customize your on-campus dining experience. The dining rooms located in Centennial Hall, Missouri Hall, and Ryle Hall offer a varied and balanced menu that lets you choose from entrees, side dishes, soups, salad and deli bars, desserts, ice cream, and beverages.
A transfer option for some meal plans allows meal privileges at most of the food and beverage venues in the Student Union Building and the campus Convenience Stores.
When you complete your housing application, you select the meal plan that's the best fit for you.
Meal plan prices for the 2019-2020 academic year:
21 Meal Plan: $3,490 per year
21 meals per week
18 Meal Plan: $3,370 per year
18 meals per week
15 Meal Plan: $3,164 per year
15 meals per week
12 Meal Plan: $2,766 per year
12 meals per week
Available for resident housing renewals only
150 Meal Plan: $2,986 per year
150 meals per semester
Additional meals can be purchased in blocks of 25 for $206
Meal Plan Options for Students Living Off Campus
Off-Campus 75: $1,306 per year
75 meals per semester
Off-Campus 50: $864 per year
50 meals per semester
Dining services is excellent at meeting any allergy, food restrictions or religious needs.
The University Farm sells a percentage of its crops to Truman's dining halls, and food from the farm is marketed on campus.