Our Students
Our uniquely driven students make Truman a truly special place. Truman students seek the freedom to explore their passions and the knowledge to turn their interests into fulfilling careers. They're drawn to a personal approach to education that allows them to customize their academic experience. They participate in clubs and organizations, join club sports teams, volunteer in the local community, and broaden their educational experience through internships, research, and study abroad.
97%
of students earn scholarships
50%
of students graduate with no student loan debt
98%
of first-year students live on campus
3.80
Average high-school GPA for first-year students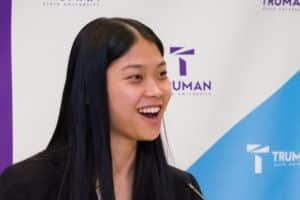 Student Spotlight: Esther Lee
Esther Lee picked Truman because she knew a smaller school would provide more opportunities for growth. She's grateful for the support she has received and plans to pay it forward whenever possible.
View Esther's story
Student Spotlight: Xoe Zuber
As a prospective student, Xoe Zuber saw the Student Activities Board (SAB) window in the Student Union Building on her campus visit and something just clicked. Working with other students, she became involved with planning entertaining events on campus.
Student Spotlight: Tyler Bichsel
Most days, junior Tyler Bichsel can usually be found at the University planetarium. While a creative writing major with minors in folklore and film studies might not be the stereotypical student associated with the planetarium, Tyler thinks it's a perfect fit.
Student Spotlight: Elena Pelaez
Elena chose Truman because a liberal arts school would give her experience in fields beyond her computer science major. As a student she did internships in software engineering, and after graduation she will work for Google at the YouTube office in California
Student Spotlight: Christina Carapia-Chaparro
After seeing the exciting research projects of her fellow students, Christina was motivated to conduct her own. Her research related to COVID-19 has inspired her to pursue a career in the public health field.
Student Spotlight: Caitlin Smith
A senior, Caitlin has tried to make the most of every opportunity she's had during her time at Truman. From serving as president of her sorority, to working as an orientation leader, the future music teacher has stayed active for four years.
Join us on Truman's campus to see our students in action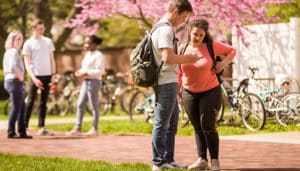 Schedule a Visit
By attending an on-campus visit, you'll get a personalized experience from our Admissions staff and Student Ambassadors.