Our Students
Our uniquely driven students make Truman a truly special place. Truman students seek the freedom to explore their passions and the knowledge to turn their interests into fulfilling careers. They're drawn to a personal approach to education that allows them to customize their academic experience. They participate in clubs and organizations, join club sports teams, volunteer in the local community, and broaden their educational experience through internships, research, and study abroad.
97%
of students earn scholarships
50%
of students graduate with no student loan debt
98%
of first-year students live on campus
3.81
Average high-school GPA for first-year students
Student Spotlight: Christina
After seeing the exciting research projects of her fellow students, Christina was motivated to conduct her own. Her research related to COVID-19 has inspired her to pursue a career in the public health field.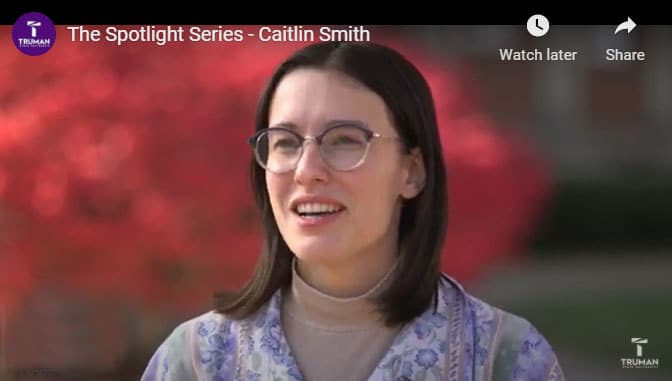 Student Spotlight: Caitlyn
Senior Caitlin Smith has tried to make the most of every opportunity she's had during her time at Truman. From serving as president of her sorority, to working as an orientation leader, the future music teacher has stayed active for four years.
STUDENTS
Katie
When she was a freshman, studying abroad wasn't something Katie thought she was capable of doing. However, she discovered it wasn't as scary as she had thought. While studying in Finland, she collected some amazing memories.
Katie's full story>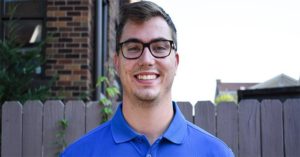 STUDENTS
Zach
Zachary spent more than 10 weeks cycling across the nation to raise funds and awareness for those with disabilities as part of Pi Kappa Phi's national philanthropy, The Ability Experience.
Zach's full story>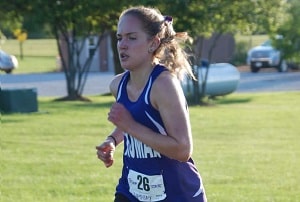 STUDENTS
Erica
Coming from Maryland, Erica Lindsay was a little nervous moving halfway across the country for college. She chose Truman for its reputation and cost but wasn't sure what to expect when it came to the experience.
Erica's full story>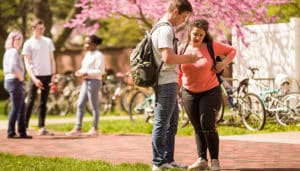 Schedule a Visit
Join us on Truman's campus to see our students in action! By attending an on-campus visit, you'll get a personalized experience from our Admissions staff and Student Ambassadors.