Ambitious, Curious, Creative, Focused, Ready
Our curious, passionate students pursue life and their education with a passion, and Truman nurtures those traits. A thirst for learning draws them to new ideas. They participate in student organizations, volunteer in the local Kirksville community, work one-on-one beside their professors to develop innovative research, and use their Truman experience to form lifelong connections.
Always Pursuing Everything
Truman students want to make a difference in the world, and their curiosity inspires them to pursue a life of more and more interesting questions. They actively seek ways to improve, expand and evolve. They want to accomplish their goals not just for their own gain but to create positive change in communities, organizations, and businesses that span the globe.
And they find Truman is the right place to pursue their passions.
---
Meet Some of Our Students
| | | |
| --- | --- | --- |
| Eric: A Land of Opportunity | Sadie: Racking up experience with an eye on the future | Becca: Promoting environmental consciousness |
More student stories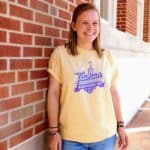 I initially chose to come to Truman because I was impressed with the numbers that compared well with other universities: average test scores, retention rates, job placements, rankings, degree programs, etc. I knew these statistics would provide me with a solid foundation of a well-rounded college education, and I was confident in my college choice. After arriving at Truman my freshman year, though, I realized that Truman has so much more to offer beyond our impressive statistics. We have a student body filled with individuals who inspire and motivate their peers, and a campus community that fosters life-long learning.