Ambitious, Curious, Creative, Focused, Ready
Our students pursue life and their education with a passion—and Truman nurtures those traits. A thirst for learning draws them to new ideas. They participate in student clubs and organizations, join club sports teams, volunteer in the local community, and work one-on-one beside their professors to develop innovative research. And they find Truman's supportive community is the right place to pursue their passions.
Always Pursuing Everything
Truman students want to make a difference in the world, and they actively seek ways to improve, expand and evolve. They want to accomplish their goals not just for their own gain but to create positive change in communities, organizations, and businesses that span the globe. Building on the connections they make at Truman, they learn how to invent their own future.
---
Meet Some of Our Students
| | | |
| --- | --- | --- |
| Eric: A Land of Opportunity | Sadie: Racking up experience with an eye on the future | Becca: Promoting environmental consciousness |
More student stories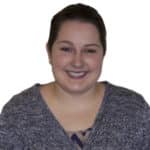 Truman's Liberal Arts program allowed me to take classes in a variety of areas besides my major. I spent a semester in Orlando, Fla., completing an internship through the Disney College Program, I spent a semester in Angers, France, taking business classes with international students from around the world, and I spent a summer in Taiwan teaching ESL. Truman offered me the flexibility to be able to take an entire year away from campus to complete an internship and study abroad, and I believe these experiences made me a more well-rounded person when I started my first full-time position.