Young Alumni of the Year
Young Alumni of the Year
Truman graduates are eager to make an impact on the world as soon as they can. And they know how to leverage the knowledge, skills, and connections they acquired as a student to lead meaningful lives of influence. This award recognizes the achievements of some of our most outstanding young alumni leaders.
---
2015 Young Alumni of the Year:
Jason Turk ('02) & Janeen (Traen) Turk ('00)
Jason Turk grew up in the St. Louis suburbs and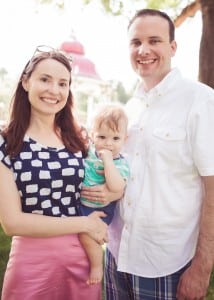 graduated from Truman State University in 2002 with a Bachelor of Arts in English.  While at Truman, he was active in Beta Theta Pi, Student Activities Board, Homecoming Committee, and Student Ambassadors.  Jason studied abroad at the National University of Ireland, Galway.  He graduated from the University of Missouri-Columbia School of Law in 2006, having served as an editor of the Missouri Law Review.
Jason is a Senior Associate with law firm Blitz, Bardgett & Deutsch, L.C. in St. Louis, focusing on complex commercial litigation.  Previously, he was a law clerk at the Missouri Court of Appeals, Eastern District.  He got his first break in the legal world as an intern for the Honorable Mary Rhodes Russell ('80).
Jason was president of the St. Louis Chapter of the Alumni Association from 2010 to 2015.  He has been a member of the Board of Directors of the Alumni Association since 2012.  Jason is also on the regional committee for the University's capital campaign.
Janeen (Traen) Turk, from Naperville, Illinois, graduated summa cum laude, valedictorian, from Truman State University in 2000 with a Bachelor of Arts in English.  Janeen was poetry editor of the University's literary magazine Windfall and editorial assistant for Paintbrush: A Journal of Poetry and Translation. She was a member of the Art History Society and the honor societies Sigma Tau Delta and Phi Kappa Phi. She was active in French drama and Campus Christian Fellowship. Janeen graduated from Northwestern University in 2002 with a Master's Degree in Art History.
From 2003 through 2015, Janeen worked in the curatorial department of the Saint Louis Art Museum, rising to the position of Assistant Curator of American Art. In 2015 she served as onsite curator and contributing author for the multi-venue exhibition (and related publication) Navigating the West: George Caleb Bingham and the River. The show recently concluded its run at the Metropolitan Museum of Art in New York.
Jason and Janeen are members of the University's Kirk Society.  They reside in the City of St. Louis with their one-year-old son, Michael.
Photo credit: Amber Potter Photography
---
Previous Recipients of the Young Alumni of the Year Award
2014: Ryan Shreve ('02, '03) & Lauren (Rase) Shreve ('03)
2013: Jason Hill ('00) & Jessica (Neighbors) Hill ('99)
2012: Travis McCubbin ('97) & Mindy (Frick) McCubbin ('97)
2011: Corey Then ('02) & Lauren DeSantis-Then ('03)
2010: Rudy Arredondo ('02) & Alice (Moore) Arredondo ('02)
2009: Scott Sifton ('96) & Stacey (George) Sifton ('00)
2008: Erin (Lesczynski) Church ('02)
2007: Jaime Geer ('00)
2006: Sarah (Hartmann) Burkemper ('92)
2005: Cindy Spiker ('93)
2004: Brian Krippner ('89) & Ame (Ahrens) Krippner ('90)
2003: DeAnn Malone ('93)
2002: Kurt Schulz ('90)
2001: Chris Geisert ('92) & Kara (Tuck) Geisert ('93)
2000: Ryan Brennan ('95)
1999: Jeff Poe ('90)
1998: Joseph Bambenek ('93)
1997: Jim Cherrington ('85)