President's Leadership Award
One of the most prestigious awards bestowed by the University, this award honors Truman's most ardent supporters who show an exceptional commitment to the University through gifts of volunteerism, expertise and financial resources. The awards are presented at the annual Truman State University Foundation Banquet held on campus each spring.
2014 President's Leadership Award Recipients:
Randa Rawlins
Odessa Ofstad
---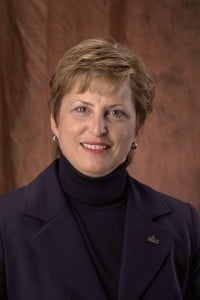 Randa Rawlins
Randa Rawlins serves as general counsel and corporate secretary at Shelter Insurance Companies in Columbia, Mo.
Her lifelong relationship with Truman State University began as a freshman in 1975, entering the University as a Pershing Scholar. In 1979, she received a bachelor of arts from Truman while participating in numerous extra-curricular activities, including Student Senate and Alpha Sigma Alpha. She also served as an intern in the Washington, D.C. office of Congressman Tom Coleman and in the Jefferson City office of State Representative Harry Hill. Rawlins earned a juris doctorate from the University of Missouri-Columbia School of Law, and in 2003, the Law School presented her with the Citation of Merit, its most prestigious alumni award.
Rawlins has served her alma mater with distinction. Her Truman volunteer service started in December of 1997 with an appointment to the Board of Governors, where she served until 2008. She was elected Board Chair in 2001 and 2007. In 2008, she began a two-term appointment to the Truman State University Foundation's Board of Directors and will wrap up her service later this year. In 2007, she was honored as Truman's Alumna of the Year. Rawlins was also a member of the Steering Committee for the University's "Bright Minds Bright Futures" Campaign.
Rawlins has also been a generous financial supporter of Truman. While supporting a number of areas at Truman over the years, Rawlins has specifically provided leadership support for the Missouri Government Internship program and the General John J. Pershing Scholarship. She is a member of University's John R. Kirk Society, Joseph Baldwin Society and the President's Circle (Quadrangle Level).
She is a member of the Missouri Bar Association, Federation of Defense and Corporate Counsel, the International Association of Defense Counsel, the American Board of Trial Advocates, the Association of Corporate Counsel and the Women Lawyers Association of Mid-Missouri. She was appointed to serve as a member of the Missouri Supreme Court Civil Rules committee and is a member of the Columbia Chamber of Commerce Board of Directors. She is also active in the Missouri United Methodist Church in Columbia and participates in mission work in Africa.
Rawlins is married to Blaine Einspahr and they live in Columbia, Mo.
---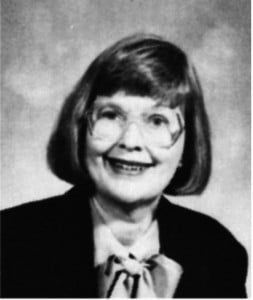 Odessa Ofstad
Odessa (Lang) Ofstad retired from Truman State University in 1993 following a 26-year career in the Pickler Memorial Library.
Over her long and distinguished tenure, Ofstad held the positions of cataloger, head cataloger, music and curriculum librarian, archivist and special collections librarian. She was granted the title of special collections librarian emerita upon her retirement.
Ofstad has been very generous with the University by investing in several priorities, including student scholarships, the library, faculty support and the Kohlenberg Lyceum Series. In 1994, the Clayton and Odessa Ofstad Scholarship was established through gifts from family and friends and has now become one of the Foundation's top 10 largest scholarship endowments.
In 2009, during the "Bright Minds Bright Futures" campaign, Truman received a substantial gift from Ofstad to establish the Odessa Lang Ofstad Endowed Library Fund. The endowed fund enhances the collections of Pickler Memorial Library, the academic hub of the Truman campus and provides a permanent resource for library acquisitions. In the following year, she made a major gift to create the university's first-ever faculty chair, the Clayton B. Ofstad Endowed Faculty Chair in English and Linguistics. The gift was made in memory of Ofstad's late husband to commemorate his teaching career at Truman.
Clayton Ofstad served as an Assistant Professor in English from 1967 to 1987 when he retired.  The endowed chair enables the University to recruit and retain exceptional faculty leaders and adds prestige to its corresponding department. Earnings from the Ofstad Chair are used to supplement the faculty member's scholarship and responsibilities in teaching, research, outreach and service.
Odessa Ofstad is a member of the John R. Kirk Society and the President's Circle (Harry S. Truman Level).
---
Past Recipients of the President's Leadership Award
2013:
Calvin Roebuck ('57)
2012:
Linda Miller ('70)
2011:
Chuck Woods ('86) & Sherri (Pierce) Woods
2010:
Darrell Krueger & Nancy Krueger
Stanley & Doris (Pickens) Bohon ('43)
2009:
Linden Lyle Ingraham (awarded posthumously)
Dean Rosebery ('41) & Amy (Ayres) Rosebery ('43)
2008:
Chuck Foudree ('66)
2007:
Dwain Horn ('50)
2006:
Steve Rose ('69)
2005:
Charles McClain
2004:
Donald Scriven ('50, '59) & Jolene Davidson Scriven ('54, '59)
2003:
Alvina Britz
L.L. Via ('48)