President's Leadership Award
President's Leadership Award
One of the most prestigious awards bestowed by the University, this award honors Truman's most ardent supporters who show an exceptional commitment to the University through gifts of volunteerism, expertise and financial resources. The awards are presented at the annual Truman State University Foundation Banquet held on campus each spring.
2015 President's Leadership Award Recipients:
John and Jackie Settlage

Charles Holman

---
John and Jackie Settlage

It's a classic story. People move to Kirksville thinking it will be for a short time and are surprised to discover it's one of the best places to live, work, and raise a family. When John and Jackie Settlage packed up and moved from Florida to a small town in northeast Missouri in 1962, they had no idea Kirksville would become the place they would call home. Since then, not only have John and Jackie shared their knowledge as thoughtful and engaged teachers, the community has also benefited from their desire to make a difference in the world.
John, who earned his bachelor's and master's degrees as well as his doctorate from the University of Florida, joined the lively community of learners at Truman State University where he taught ecology and science education for 30 years. When he retired from Truman in 1992, he was awarded the title Professor Emeritus of Science. Jackie graduated from the University of Florida with two degrees and taught for four years in Orlando, Florida. After they moved to Missouri, Jackie taught at Kirksville's Lutheran school during its first year, then spent the next 20 years teaching at Upper Elementary and Kirksville Junior High School. She retired in 1999.
Over the years, John and Jackie have chosen to support Truman State University in so many ways. In 2000, during Truman's Magruder Hall Campaign which raised money for the renovation and expansion of the University's primary science facility, John dedicated his time and talent as a member of the campaign committee. In addition, John and Jackie have made substantial gifts to the University to support fundraising initiatives that have special meaning for them, such as the Del and Norma Robison Planetarium and Multimedia Theater and the Truman Fund for Excellence.
Both John and Jackie lead lives that are as inspirational as their gifts. Possessed with adventurous spirits, they like to stay active pursuing their many interests including travel. Their travel adventures have spanned the greater part of Europe, parts of Central and South America, Australia, and as avid bicyclists, they have biked countless miles. They were involved with Earthwatch and Elderhostel completing service projects in areas of scientific studies and humanitarian assistance.
They often discover ways to combine their passion for helping others in their travels. For instance, in 1992, John, who was a founder and the first president of the Kirksville Habitat for Humanity, participated in a 3,000-mile bike ride across the country to raise money for the organization.
John has also been involved with many other organizations in the community including the Kirksville Lions Club, Kirksville Interchurch Ministry, Retired Senior Volunteer Program (RSVP), Adair County Red Cross, Boy Scouts, and the YMCA, among others.
Like John, Jackie enjoys helping others and has participated in activities around Kirksville ranging from teaching aerobic swimming, to serving as a member of the Community Chorus, to volunteering with the Presbyterian Church working with Food for Kids and the RSVP program. In 2012, Jackie was honored as one of Kirksville's "20 Over 60," and she was a recipient of the Missouri Lieutenant Governor's Senior Service Award.
The Settlages are active members of the Presbyterian Church and are lifetime members of the Kirksville Arts Association and the Adair County Historical Society.
With four children (along with children's spouses) and a granddaughter having attended Truman, the University has become a family experience for the Settlages and a place they call home.
---
Charles Holman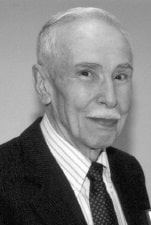 Born in Green City, Mo., in 1924, the late Charles Holman became connected to Truman State University long before he enrolled as a student. His father, Squire Paul Holman, served as the building custodian for Science Hall for 17 years, and both Paul and his wife, Meeda, took an active role in the lives of students attending the University. When the Holman family moved to Kirksville, many students lived in their home which was located on Florence Street across from the Blanton, Nason, and Brewer residence halls.
A B-17 Bomber pilot during World War II, Charles attended Truman following his discharge in 1942. After he received his Doctor of Osteopathy degree from the Kansas City Osteopathic School in 1949, he pursued a career as an anesthesiologist practicing in Michigan. Later in life, when he moved back to Kirksville, Charles had an opportunity to reconnect with Truman State University prior to his death in 2014.
The University clearly made an impression on Charles and his family as evidenced by the $2.87 million gift the family made to Truman in 2008. The gift, which is the second largest gift ever made to Truman State University, was designated for specific areas that were important to Charles and his family.
For the first area, the gift provided an endowment for need-based stipends for students to participate in study-abroad programs. Charles had traveled extensively in Europe and had lived in Germany, the island of Madeira and Mexico, and he wanted students to have similar opportunities. Thanks to the Holman Family Scholarship Program for Study Abroad, more students will have the opportunity to discover how a study-abroad experience can have a positive influence on their personal, professional and academic life.
The second designation for the gift provided an endowment for a distinguished speaker series. The Series provides an opportunity for the University to showcase national and international figures and to provide interaction opportunities with Truman students, faculty and staff as well as the northeast Missouri community. By providing funding for the Holman Family Distinguished Speaker Series, Charles created another way to enhance the educational experience for Truman students by bringing Nobel Prize winners, authors, artists and distinguished experts in a variety of fields to the Truman campus.
The third designated area for the gift was geared toward assisting students attending Truman's graduate programs. Several opportunities are available at Truman for students searching for professional training or advanced study in a liberal arts field, and Truman's graduate programs have a long history of receiving national attention. For the past 18 years, U.S. News and World Report's "America's Best Colleges" guide has ranked Truman among the top Public Universities in the Midwest Region in the Master's Category. Support for graduate students in the form of stipends helps the University attract bright and curious scholars and encourages them to attend Truman's distinguished programs.
Donors like Charles Holman and his family are an integral part of the University community, and the impact of their gifts demonstrates how philanthropy can change the world.
---
Past Recipients of the President's Leadership Award
2014:
Randa Rawlins ('79)
Odessa Ofstad
2013:
Calvin Roebuck ('57)
2012:
Linda Miller ('70)
2011:
Chuck Woods ('86) & Sherri (Pierce) Woods
2010:
Darrell Krueger & Nancy Krueger
Stanley & Doris (Pickens) Bohon ('43)
2009:
Linden Lyle Ingraham (awarded posthumously)
Dean Rosebery ('41) & Amy (Ayres) Rosebery ('43)
2008:
Chuck Foudree ('66)
2007:
Dwain Horn ('50)
2006:
Steve Rose ('69)
2005:
Charles McClain
2004:
Donald Scriven ('50, '59) & Jolene Davidson Scriven ('54, '59)
2003:
Alvina Britz
L.L. Via ('48)