Distinguished Service Award
Distinguished Service Award Recipients

Alumni, faculty, staff, families, and friends of the University directly impact the future of Truman State University through outstanding volunteer and philanthropic service. Our Distinguished Service Award is one of the ways the University recognizes their generous commitment to Truman and its students.
---
2016 Distinguished Service Award Recipients:
Angela "Ann" Leone Patterson ('72, '73)

Angela "Ann" (Leone) Patterson is the director of operations for the Patterson Legal Group in Wichita, Kan. She received a Bachelor of Science degree from Truman State University in 1972 and a master's degree in 1973. As a student, she was active with Cardinal Key, Echo Yearbook, Sigma Sigma Sigma, Student Senate and the Student Union Board. Patterson has hosted Student Send-off events in Wichita to help welcome new Truman students from the area.
Patterson serves as the Programs and Awards Committee Chair on the Alumni Board of Directors; she is involved with Sigma Sigma Sigma alumni and assisted in organizing the sorority's 2011, 2012, 2014 and 2016 reunions. She works with the Wichita Habitat for Humanity and has served as an executive officer for 10 years including serving as president, as well as a member of the Fundraising Committee. In 2012, Patterson received the Habitat for Humanity Affiliate Leadership Award. The Patterson family established the Leone-Patterson Scholarship in 2015 to be utilized by the Office of Admissions as a recruitment scholarship to encourage students to attend Truman.
Patterson resides in Wichita with her husband, Gary. They have two children, Megan and Tyler ('06) and two grandchildren.
---
Colleen Ritchie ('84)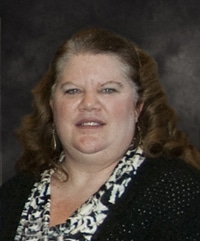 Colleen Ritchie, of Brentwood, Mo., is a senior IT program manager for Reinsurance Group of America (RGA) at the company's headquarters in Chesterfield, Mo. She has 30 years of finance, information technology and consulting experience.  Over the course of her career, she has delivered technological solutions to improve and enhance business processes for Anheuser-Busch, Solae, Monsanto, Express Scripts, Century Link, Bunge North America, Forest Pharmaceuticals, Mallinckrodt, KMPG and Daugherty Business Solutions. She has been with RGA for the last six years, where in conjunction with her role as an IT leader, she has also served as a career mentor for the past three years.
Ritchie has been actively engaged philanthropically at Truman, as she established the Joseph Baldwin Academy Opportunities Scholarship in 2004 to enable students to attend the JBA program every summer. She provided funding and initiative to launch a five-year matching gift commitment focused on harnessing the generous civic spirit of Truman students by encouraging them to channel that giving attitude toward Truman as new alumni by leaving a legacy of support for those yet to come.
Outside of Truman, Ritchie gives back to the St. Louis community through her commitments to the St. Louis Komen Race for the Cure, American Heart Association, iTN St. Charles and Autism Speaks. In her spare time, she enjoys cheering on the St. Louis Cardinals, St. Louis Blues, traveling, reading and most importantly--spending quality time in the company of family and friends, many who are Truman alumni.
Ritchie graduated from Truman in 1984 with a Bachelor of Science degree in Accounting and was an active member of Delta Sigma Pi.  Ritchie recently served six years on the Truman State University Foundation Board of Directors.
---
Past Recipients of the Distinguished Service Award
2015: Gail B. Crump ('64)
2014: Cynthia M. Spiker ('93)
2013: Jeffrey Romine ('74) & Marilyn (Casteel) Romine ('78)
Mike Schwend ('83, '90) & Mary Jo (Fitzpatrick) Schwend ('81, '83)
2012: Jim Bergman ('90)
2011: Jim Cherrington ('85)
2010: Jeannette (Toth) Harris ('71, '78)
David Nichols & Debra (Fortenberry) Nichols ('80, '01)
2009: Kathy Rieck ('73, '76, '81)
2008: Ron Gaber ('82) & Elsie (Kins) Gaber ('87)
G. Ruth (Black) Mach
Wilma (Rayfield) Maddox ('79)
2007: Tom Ballard ('69)
Major General John V. Cox ('52)
2006: Geraldine (Toth) Ready ('70)
Dwyane Smith ('84, '91)
Chuck Woods ('86)
2005: Bill Cable & Dianthe (Truitt) Cable ('60, '77)
Kevin Kuebler ('90) & Bonnie (Neuner) Kuebler ('87)
2004: Steven Barger ('67)
Doris (Pickens) Bohon ('43)
Victor Childers ('55)
John Lundgren ('64, '65)
2003: Maria Evans ('81)
Larry Lunsford ('81,'83)
Steve Rose ('69)
Mary (Rhodes) Russell ('80)
2002: Kay (Dewey) Baird ('62)
Steve Justice ('70, '81)