Distinguished Service Award
Distinguished Service Award Recipients
Alumni, faculty, staff, families, and friends of the University directly impact the future of Truman State University through outstanding volunteer and philanthropic service. Our Distinguished Service Award is one of the ways the University recognizes their generous commitment to Truman and its students.
---
2014 Distinguished Service Award Recipient:
Cynthia M. Spiker ('93)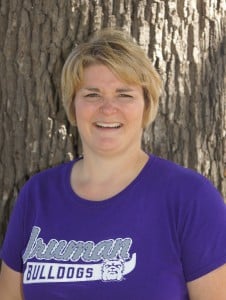 Born and raised in Blue Springs, Mo., Cynthia  "Cindy" Spiker graduated from Truman in 1993 with a Bachelor of Science degree in mathematics. She went on to earn a Master of Science degree in statistics from the University of Idaho in 1995 and previously taught statistics at Drake University.
Cindy currently lives in Des Moines, Iowa, and works as a senior database marketing manager for Meredith Corporation, which publishes 14 subscription magazines including Better Homes and Gardens, Family Circle and Fitness, as well as more than 100 special interest titles and owns 14 television stations across the country. Her department analyzes marketing data in both print, online and mobile/tablet environments.
Cindy serves as president of Truman's Iowa Alumni Chapter, is a past member of the Truman Alumni Board of Directors and she co-chaired the Iowa Regional Committee for the University's "Bright Minds Bright Futures" Campaign (2006-11). In 2005, she was honored as Truman's Young Alumna of the Year at Homecoming. She is also a member of the John R. Kirk Society, the Joseph Baldwin Society, the Pershing Circle and recently served on the Truman Foundation Board of Directors. Cindy has also established the Rick and Betty Spiker Scholarship in honor of her parents.
Cindy first got involved with the Iowa Alumni Chapter to meet new people after moving to Des Moines; her engagement as a volunteer evolved into supporting an institution that has given so much to her. She still keeps in touch with several professors and staff members from her college years and has formed many lifelong friendships during her time at Truman.
Outside of her Truman activities, Cindy is a ministry deacon and confirmation mentor for Meredith Drive Reformed Church, and is active with the Iowa State Fair Blue Ribbon Foundation, the fundraising arm of the Iowa State Fair. In her spare time, she enjoys golf, watching baseball games, gardening, hiking, camping, traveling and bicycling.
Truman has been a family tradition for Cindy and many of her family members.  Her father, Rick Spiker, is a 1965 Truman graduate, and her brother, Tony, is a 2002 graduate, along with aunts, uncles and cousins.
---
Past Recipients of the Distinguished Service Award
2013: Jeffrey Romine ('74) & Marilyn (Casteel) Romine ('78)
Mike Schwend ('83, '90) & Mary Jo (Fitzpatrick) Schwend ('81, '83)
2012: Jim Bergman ('90)
2011: Jim Cherrington ('85)
2010: Jeannette (Toth) Harris ('71, '78)
David Nichols & Debra (Fortenberry) Nichols ('80, '01)
2009: Kathy Rieck ('73, '76, '81)
2008: Ron ('82) Gaber & Elsie (Kins) Gaber ('87)
G. Ruth (Black) Mach
Wilma (Rayfield) Maddox ('79)
2007: Tom Ballard ('69)
Major General John V. Cox ('52)
2006: Geraldine (Toth) Ready ('70)
Dwyane Smith ('84, '91)
Chuck Woods ('86)
2005: Bill Cable & Dianthe (Truitt) Cable ('60, '77)
Kevin Kuebler ('90) & Bonnie (Neuner) Kuebler ('87)
2004: Steven Barger ('67)
Doris (Pickens) Bohon ('43)
Victor Childers ('55)
John Lundgren ('64, '65)
2003: Maria Evans ('81)
Larry Lunsford ('81,)
Steve Rose ('69)
Mary (Rhodes) Russell ('80)
2002: Kay (Dewey) Baird ('62)
Steve Justice ('70, '81)