Alumni, faculty, staff, families, and friends of the University directly impact the future of Truman State University through outstanding volunteer and philanthropic service. Our Distinguished Service Award is one of the ways the University recognizes their generous commitment to Truman and its students.
---
2017 Distinguished Service Award Recipients:
Sharon (Hogan) Husmann ('83) from O'Fallon, Mo.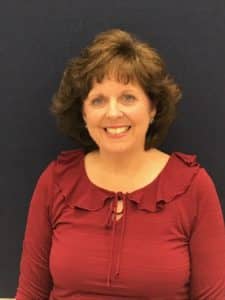 Sharon (Hogan) Husmann grew up in North County St. Louis, Mo. She earned a Bachelor of Science in Education degree in 1983. While at Truman, she was a member of Alpha Sigma Tau social sorority, Phi Lambda Chi Little Sister Organization, Student National Education Association and Student Council for Exceptional Children. Sharon was a 1979 Alumna Scholarship Recipient. In addition to her Truman degree, she went on to earn a Master of Arts in educational processes from Maryville University in St. Louis in 1987.
Sharon's mother, Shirley (Leber) Hogan also was a graduate of the University, earning a degree in music education in 1956. During her time on campus, Shirley was president of Delta Zeta social sorority. Sharon and her husband Greg established and endowed the Shirley Leber Hogan Woodwind Scholarship in honor of her mother's musical contributions at Truman.
A recently retired special education teacher, Sharon spent the final 15 years of her career at Fort Zumwalt North Middle School in her neighborhood school district.
After serving a six-year term on the Truman Alumni Board, Sharon remains active with the University as a member of the executive committee of the St. Louis chapter.
Sharon and Greg, a project manager for Boldt Construction Company, reside in O'Fallon, Mo. They are the parents of two daughters, Julie 28 and Colleen 25.
In her retirement, Sharon stays busy with community volunteering. She currently serves on the Board of Directors of Fathers Support Center, a non-profit in St. Louis dedicated to bettering the lives of children through parenting programs, job training and placement, legal services and supplemental support.
John Thompson Jr. ('92) from Chicago, Ill.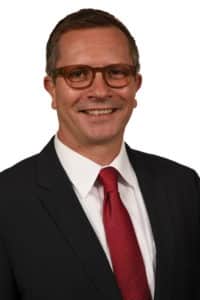 A native of Williamsville, Ill., John Thompson Jr. ('92) is a partner and head of investment solutions for the Institutional Advisory Solutions practice where he manages asset allocation portfolios for Aon Hewitt's clients. He works with clients to design model portfolios, analyze investment strategies and recommend changes in client products and services. He is also a member of the U.S. Aon Hewitt Investment Committee. With a focus on individual investors and behavioral finance, in addition to traditional institutional quality asset allocation, he has constructed and overseen the development of several asset allocation programs.
Active in research, Thompson's work has appeared in Financial Planning, International Political Economy and World Trade Magazine. He has more than 20 years of experience in the financial industry and is a frequent speaker at industry and client conferences, lecturing on asset allocation and alternative investments.
Prior to joining Aon Hewitt, Thompson was a senior vice president and portfolio manager for Morningstar Investment Management and Ibbotson. Before his time at Ibbotson, he worked as an international political risk analyst, specializing in South American markets, at Marvin Zonis & Associates. Previously, he developed and underwrote property and casualty insurance policies for the real estate industry at Aon Corporation.
Thompson has a bachelor's degree in history from Truman. He also has master's degrees in Latin American studies, business administration-finance and international business. As a Fulbright and Rotary Scholar, He conducted post-graduate research projects in Montevideo, Uruguay, and Buenos Aires, Argentina.
A member of the Truman State University Foundation Board, Thompson serves on the Investment Committee.
---
Past Recipients of the Distinguished Service Award
2016:  Angela "Ann" Leone Patterson ('72, '73)
2016:  Collene Ritchie ('84)
2015:  Gail B. Crump ('64)
2014:  Cynthia M. Spiker ('93)
2013:  Jeffrey Romine ('74) & Marilyn (Casteel) Romine ('78)
2013:  Mike Schwend ('83, '90) & Mary Jo (Fitzpatrick) Schwend ('81, '83)
2012:  Jim Bergman ('90)
2011:  Jim Cherrington ('85)
2010:  Jeannette (Toth) Harris ('71, '78)
2010:  David Nichols & Debra (Fortenberry) Nichols ('80, '01)
2009:  Kathy Rieck ('73, '76, '81)
2008:  Ron Gaber ('82) & Elsie (Kins) Gaber ('87)
2008:  G. Ruth (Black) Mach
2008:  Wilma (Rayfield) Maddox ('79)
2007:  Tom Ballard ('69)
2007:  Major General John V. Cox ('52)
2006:  Geraldine (Toth) Ready ('70)
2006:  Dwyane Smith ('84, '91)
2006:  Chuck Woods ('86)
2005:  Bill Cable & Dianthe (Truitt) Cable ('60, '77)
2005:  Kevin Kuebler ('90) & Bonnie (Neuner) Kuebler ('87)
2004:  Steven Barger ('67)
2004:  Doris (Pickens) Bohon ('43)
2004:  Victor Childers ('55)
2004:  John Lundgren ('64, '65)
2003:  Maria Evans ('81)
2003:  Larry Lunsford ('81,'83)
2003:  Steve Rose ('69)
2003:  Mary (Rhodes) Russell ('80)
2002:  Kay (Dewey) Baird ('62)
2002:  Steve Justice ('70, '81)