Alumni of the Year
Alumni of the Year
The Alumni of the Year distinction recognizes Truman graduates whose life's work is representative of the core values the University strives to instill in all its students:
intellectual integrity and informed ethical values
a focus on public service and the betterment of society
the willingness to exercise personal and intellectual leadership
---
2014 Alumni of the Year:
Mike McClaskey ('85) and Janet (Yearns) McClaskey ('84)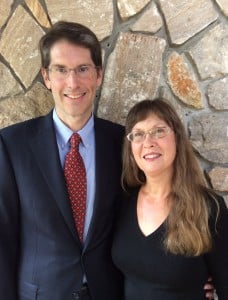 Mike and Janet (Yearns) McClaskey met in 1983 in a McClain Hall classroom at Truman State University. They later married in 1987. Mike grew up in Kirksville, Mo., and received his Bachelor of Arts and Bachelor of Science degrees in English from Truman State University. He received a Master's degree in English from the University of Missouri-Columbia.
Janet grew up in a northeastern Missouri community known as Brushy (in Schuyler County). She began her higher education in the Upward Bound Program at Truman State University.  Janet earned a Bachelor of Science in education, English education from Truman in 1984 and a Master's degree in curriculum and instruction, with emphasis in English from University of Missouri-Columbia in 1996.
As executive vice president and chief human resources officer for DISH, Mike is responsible for the recruiting, benefits administration, compensation, and leadership and organizational development for approximately 22,000 DISH team members.
Previously, he served as DISH's senior vice president and chief information officer, providing IT that supported high-quality customer service, new and emerging technologies and innovative products for the next generation of video and broadband services. Before joining DISH in 2007, Mike spent 12 years at Perot Systems where he served as the corporation's Vice President of Infrastructure Solutions and Chief Information Officer, responsible for IT strategy and operating customer-facing network, service center and data center outsourcing operations.
Mike was recently recognized by the Denver Business Journal and the Society for Information Management as CIO of the Year and was additionally included in Evanta's Top 25 Breakaway Leaders. Previously, he was the recipient of the 2012 and 2013 InformationWeek 500, Forbes Top 25 Social Media CIOs, Enterprise CIO Forum's Transformational CIO and Computerworld Premier 100.
Mike serves as a member of the Truman Foundation Board of Directors and is a member of the steering committee for Truman's current $40 million "Pursue the Future" fundraising campaign. He also served on the steering committee for Truman's inaugural fundraising campaign, "Bright Minds Bright Futures" from 2006 to 2011 and chaired the Colorado Regional Campaign.
For the past four years, Janet has taught critical thinking classes at Metro State University of Denver.  At MSU Denver, she serves on the METROLEADS committee which defines the University's leadership programs and develops key leaders; she also teaches English in the University's TRIO Upward Bound program.
Throughout her career in education, Janet has taught 6th grade through university levels in both public and private institutions in Missouri, Texas and Colorado.  She has been active in numerous professional organizations including Phi Delta Kappa and Delta Kappa Gamma, where she served as chapter president of Kappa Theta in Texas and Omega State Expansion Committee Chair in Colorado.  At state education levels, Janet has worked on curriculum and testing for both the Missouri Department of Elementary and Secondary Education Goals 2000 Curriculum and Assessment Issues Task Force and the Texas Education Agency.  She has presented at numerous conferences and published internationally.
The McClaskeys have strong family ties to Truman State University and have been closely involved for many years. Mike's parents, Bill McClaskey ('56, '59) and Martha McClaskey ('49, '59), earned their degrees from Truman and Martha taught at Truman most of her career. Mike's aunt, Bertha McClaskey ('53), was also an alumna that spent her career in elementary and secondary education.
Mike and Janet are members of the John R. Kirk Society, the Joseph Baldwin Society and the President's Circle. They have established the Martha McClaskey Humanities Scholarship in honor and memory of Mike's mother, who taught English at Truman from 1959 to 1978. In addition, they have provided a multi-million dollar bequest through their estate to create the McClaskey Family Endowment, a multi-purpose fund to benefit the School of Arts and Letters.
---
Past Recipients of the Alumni of the Year Award
2013: Mary (Rhodes) Russell ('80)
2012: Jack Magruder ('57) & Sue (Brimer) Magruder ('55, '77)
2011: Steve Rose ('69)
2010: Larry Quisenberry ('66, '75) & Sharron (Bailey) Quisenberry ('66)
2009: Greg A. Gerhardt ('79)
2008: Lanny Morley ('62, '64) & Beth (Fisher) ('63) Morley
2007: Randa Rawlins ('79)
2006: Guy Burton ('53, '55) & Betty (McKanna) Burton
2005: Eugene Croarkin Sr. ('49, '52)
2004: Dwain Horn ('50)
2003: Calvin Roebuck ('57)
2002: Linda Miller ('70)
2001:  Dean Rosebery ('41) & Amy (Ayres) ('43) Rosebery
2000: Carole Kennedy ('72)
1999:  Chuck Foudree ('66)
1998:  B.D. "Bud" Hunter ('50)
1997:  Joseph Hasenstab ('60)
1996:  Steve Gaw ('78) & Fannie (Bowdish) Gaw ('84)
1995:  James C.C. Chen ('86) 1994:  Ruth Warner Towne ('39)
1993:  Frederick "Fritz" Lauer ('50)
1992:  Ray Bentele ('60) & Mary (Cox) Bentele ('60)
1991:  Larry Moore ('67)