The Alumni of the Year distinction recognizes Truman graduates whose life's work is representative of the core values the University strives to instill in all its students:
intellectual integrity and informed ethical values
a focus on public service and the betterment of society
the willingness to exercise personal and intellectual leadership
---
2017 Alumnus of the Year:
Kenneth "Ken" Rickli ('65) from Houston, Texas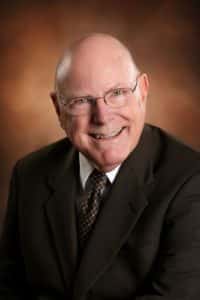 During a trip to Switzerland when Ken Rickli was a child, his father registered Ken and his siblings in the family's original hometown, giving them all dual citizenship. While young Ken thought it was neat, he still took exceptional pride in being a first-generation American. His parents immigrated to the U.S. because as Ken says, "options for success were limitless."
Throughout his lifetime, Ken has achieved what his parents envisioned when they came to America. A veteran of the Marine Corps Reserve, he graduated from Truman with a bachelor's degree in business administration in 1965. The Affton, Mo., native went to work in the Lone Star State, finding success in the auto auction business and the real estate industry.
Ken and his wife, Kathy, reside in The Woodlands, Texas. They are the parents of two adult daughters, Keri and Kristi. Both are graduates of Texas A&M University. Growing up, the girls and their mother Kathy studied together while she completed her master's degree. Both daughters and their families live in Texas. Ken and Kathy are enjoying their three grandchildren and encouraging them to be strong proponents of education.
Ken was inducted into the Affton High School Hall of Fame in 2013. He and Kathy are active in their church, The Woodland's United Methodist, along with numerous other philanthropies. The Ricklis recently celebrated their 50th wedding anniversary!
Both Ken and Kathy are deeply committed to life-long learning, supporting education and giving back to society. Inspired by his parent's selflessness, they created the Rickli Family Scholarship in 2012 with a six-figure gift to the Truman State University Foundation. This renewable full-tuition scholarship is now awarded annually to an Affton High School senior who demonstrates great promise of future success at Truman. As supporters of the Foundation, they are members of Truman's John R. Kirk Society and the President's Circle.
Homecoming Information
---
Past Recipients of the Alumni of the Year Award
2016:  Daniel "Dan" Shepherd ('79) & Janet "Jan" (Kreimeyer) Shepherd ('76)
2015:  Steve Justice ('70, '81)
2014:  Mike McClaskey ('85) & Janet (Yearns) McClaskey ('84)
2013:  Mary (Rhodes) Russell ('80)
2012:  Jack Magruder ('57) & Sue (Brimer) Magruder ('55, '77)
2011:   Steve Rose ('69)
2010:  Larry Quisenberry ('66, '75) & Sharron (Bailey) Quisenberry ('66)
2009:  Greg A. Gerhardt ('79)
2008:  Lanny Morley ('62, '64) & Beth (Fisher) Morley ('63)
2007:  Randa Rawlins ('79)
2006:  Guy Burton ('53, '55) & Betty (McKanna) Burton
2005:  Eugene Croarkin Sr. ('49, '52)
2004:  Dwain Horn ('50)
2003:  Calvin Roebuck ('57)
2002:  Linda Miller ('70)
2001:  Dean Rosebery ('41) & Amy (Ayres) Rosebery ('43)
2000:  Carole Kennedy ('72)
1999:  Chuck Foudree ('66)
1998:  B.D. "Bud" Hunter ('50)
1997:  Joseph Hasenstab ('60)
1996:  Steve Gaw ('78) & Fannie (Bowdish) Gaw ('84)
1995:  James C.C. Chen ('86)
1994:  Ruth Warner Towne ('39)
1993:  Frederick "Fritz" Lauer ('50)
1992:  Ray Bentele ('60) & Mary (Cox) Bentele ('60)
1991:  Larry Moore ('67)