The Alumni of the Year distinction recognizes Truman graduates whose life's work is representative of the core values the University strives to instill in all its students:
intellectual integrity and informed ethical values
a focus on public service and the betterment of society
the willingness to exercise personal and intellectual leadership
---
2016 Alumni of the Year:
Daniel "Dan" Shepherd ('79) & Janet "Jan" (Kreimeyer) Shepherd ('76)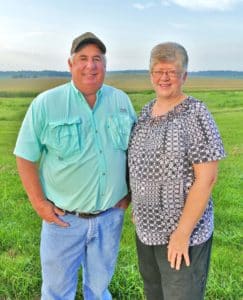 Originally from the Moberly, Missouri, area, Dan is a 1979 Truman graduate with a Bachelor of Science degree in agriculture. While at Truman, Dan was involved in the Alpha Gamma Rho Fraternity and worked a full-time job while carrying a heavy class load during his last two years.
Hailing from Bevier, Missouri, Jan is a 1976 graduate with a one-year clerical certificate in business and accountancy.
Together, they own and operate Shepherd Farms, a 4,000-acre farm, located in central Missouri near Clifton Hill. They were instrumental in the propagation of Eastern gamagrass and at one time were the largest Eastern gamagrass seed producer in the nation. Their operation was also home to one of the oldest and largest buffalo herds in the state. The main focus of Shepherd Farms is the pecan enterprise. With the largest northern pecan orchard in the country, their farm is home to more than 300 acres of pecan trees. In 1990 they opened a store to sell their products and in 1996 they started an online store. Featured products include their pecans, along with candies, jams and jellies and they frequently ship to all 50 states.
Dan and Jan were introduced by a mutual friend and went on a blind date. Even though they did not know each other while attending Truman, Dan says, "he can remember Jan and her sister walking to work and going past the fraternity house," then located on Jefferson Street. Truman has remained near and dear to their hearts through their 32 years of marriage. In 2015, through their estate, they established two scholarships including the Dan and Jan Shepherd International Student Scholarship to offer resources to international students, and the Dan and Jan Shepherd Scholarship for U.S. students.
The Shepherds regularly participate in exchange programs through their Rotary Club. They have hosted 12 youths from nine countries. The international high school students stay for four months and then move to another Rotary family. The Dan and Jan Shepherd International Student Scholarship at Truman will offer resources exclusively to international students since the Shepherds are well aware of the struggles those students can face.
"Many of them would have liked to attend college in the U.S., but the money was just not available," Dan said. "With this scholarship, we might be able to help some really talented kids experience life in the U.S., and also add to the understanding of the local students that it is a big world."
Sharing a love for travel, Dan and Jan have traveled extensively across the U.S. and abroad. Favorite trips include Belgium, Thailand, Indonesia, Australia and any place where it does not snow in January! Locally, Dan is active in the Huntsville Rotary Club and Rotary International. He is the past president of the National Buffalo Association. Jan is active in Chapter EW of P.E.O. in Huntsville and Beta Sigma Phi Sorority in Moberly. In addition to traveling, they enjoy scuba diving, going to car shows and cruising in their Mustang.
---
Past Recipients of the Alumni of the Year Award
2015: Steve Justice ('70, '81)
2014: Mike McClaskey ('85) & Janet (Yearns) McClaskey ('84)
2013: Mary (Rhodes) Russell ('80)
2012: Jack Magruder ('57) & Sue (Brimer) Magruder ('55, '77)
2011: Steve Rose ('69)
2010: Larry Quisenberry ('66, '75) & Sharron (Bailey) Quisenberry ('66)
2009: Greg A. Gerhardt ('79)
2008: Lanny Morley ('62, '64) & Beth (Fisher) Morley ('63)
2007: Randa Rawlins ('79)
2006: Guy Burton ('53, '55) & Betty (McKanna) Burton
2005: Eugene Croarkin Sr. ('49, '52)
2004: Dwain Horn ('50)
2003: Calvin Roebuck ('57)
2002: Linda Miller ('70)
2001:  Dean Rosebery ('41) & Amy (Ayres) Rosebery ('43)
2000: Carole Kennedy ('72)
1999:  Chuck Foudree ('66)
1998:  B.D. "Bud" Hunter ('50)
1997:  Joseph Hasenstab ('60)
1996:  Steve Gaw ('78) & Fannie (Bowdish) Gaw ('84)
1995:  James C.C. Chen ('86)
1994:  Ruth Warner Towne ('39)
1993:  Frederick "Fritz" Lauer ('50)
1992:  Ray Bentele ('60) & Mary (Cox) Bentele ('60)
1991:  Larry Moore ('67)