Our Students
value in the nation among public colleges & universities (Consumers Digest)
The Typical Truman Student
Our curious, passionate students are actively involved in everything they pursue—academically, socially, personally—and form a community of learners where everyone pushes each other to excel.
Curious. Smart. Inspiring
Truman's student population shares a passion for the pursuit of knowledge, ability, community, and a better world. They participate in nearly 240 student organizations, volunteer in the Kirksville community, work one-on-one beside their professors and mentors to develop new and innovative research, and form lifelong connections.
Most important of all, Truman students approach learning with enthusiasm pursuing the questions that matter most to them—in classes, in campus activities, in their careers, and in their lives.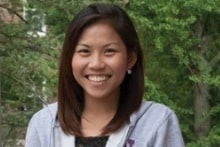 "The close-knit environment provided by Truman was one of the biggest reasons I chose this school! It allows me to focus on my studies with professors who truly care about my well-being, while at the same time participate in different activities with my friends. In addition to all the scholarships offered at Truman, the atmosphere here definitely played a big part in my decision."
– Esther C., Music & Psychology Major, Petaling Jaya, Malaysia