Accounting Student Embraces Opportunities That Launch Her Career

From getting involved with student organizations to participating in an Alternative Spring Break that led to a job offer, Thilini discovered opportunities at Truman State University that inspired her to pursue her dreams.
By Rachel Likert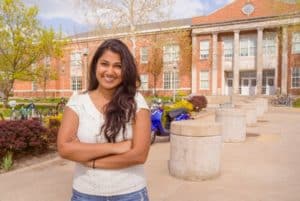 As Thilini Weerawarnasuriya prepared to graduate from the Master of Accountancy program at Truman State University this past May with plans to begin her career at the Ernst and Young accounting firm later this fall, she reflected on how her experiences at Truman prepared her for the opportunity.
When Weerawarnasuriya, who was born and raised in the United Arab Emirates, decided to leave her home in Colombo, Sri Lanka, to study in the United States, she was drawn to the small liberal and sciences university in northeast Missouri because of its reputation for affordability and consistent high rankings in national publications, such as U.S. News and World Report. She was also excited to learn that a small population from Sri Lanka also called Truman home.
Once she arrived in Kirksville, Mo., Weerawarnasuriya delved into campus life becoming a member of Beta Alpha Psi, Beta Gamma Sigma, and the Christian Campus Fellowship. She cites her Business Law class as of one of the first impactful experiences she had at Truman. She enjoyed working closely with her fellow students on projects such as role-playing as lawyers in mock court cases in class.
Learning Beyond the Classroom
Weerawarnasuriya also took advantage of opportunities outside the classroom to enhance her skills and practical experience. She found a campus job with the Center for International Students where she helped recruit other students from around the world. "It was so much fun and so very rewarding," said Weerawarnasuriya.
After careful consideration, she decided to major in accounting because it opened up many opportunities for her. She earned her Bachelor's degree from Truman in 2014 before entering the University's Master of Accountancy program. "The best part is the great professors," said Weerawarnasuriya. "I was initially surprised at the amount of writing that we were assigned, but I eventually learned that accounting really was about being able to analyze and translate numbers into logical facts."
When Weerawarnasuriya signed up for Truman's Alternative Spring Break in the spring of 2013, little did she know that the experience would ultimately lead to a job offer. During the break, she was placed to job shadow at Ernst and Young, a well-known accounting firm, and the following summer, she participated in Ernst and Young's Emerging Leadership Program. She was invited back to intern at the accounting firm the summer of 2014  and was offered a full-time position starting in September.
Besides learning applicable technical skills as an intern, she also valued the experience she had improving and gaining confidence in interpersonal communication, which she acquired by working alongside full-time employees and communicating with actual clients. Weerawarnasuriya discovered that having the type of diverse pool of knowledge associated with a liberal arts education provided an advantage when working in the real world ― she found her Truman education helped her stay a step ahead because it touched on many different fields and disciplines.
As Weerawarnasuriya counts down the days before she begins working full-time with Ernst and Young, she feels excited about everything the future has in store. No matter where life takes her, she plans to use her intellectual pursuits and her passions to make a difference in the world.
One day she hopes to own her own orphanage. "Sri Lanka is very much a third-world country, and I am willing to do whatever I can to help the burdened," said Weerawarnasuriya. "I have learned that I have an innate love for children, and it would be a pleasure to do something like this."
"I absolutely loved every minute of my time at Truman," said Weerawarnasuriya. "There is not a thing I would change, and I would do it all over again if I could."
More Internship Stories
Internships Overview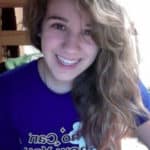 The liberal arts and sciences have taught me not what to think, but how to think. I feel incredibly blessed to have had the opportunity to sit and think and talk through complex ideas with the leaders in their respective fields. This university has prepared me, not for a specific career with one skill set, but the tools to succeed in an ever increasingly diverse and complex society.