At Truman, you can earn a Bachelor of Science in Agricultural Science with specialized study in pre-veterinary medicine/animal science
Courses of Special Interest for Pre-Veterinary Medicine/Animal Science Specialization
AGSC 121: Livestock Management Techniques
AGSC 122: Introductory Meat Science
AGSC 193: Introduction to Equine Science
AGSC 391/392: Internship in Agriculture
AGSC 306: Special Topics in Sheep Production
AGSC 306: Special Topics in Beef Cattle Science
AGSC 306: Special Topics in Livestock Evaluation
AGSC 315: Animal Agriculture
AGSC 316: Food, Fiber and the Consumer
AGSC 320: Anatomy and Physiology of Domestic Animals
AGSC 321: Animal Nutrition
AGSC 322: Animal Health
AGSC 327: Genetics of Plant and Animal Improvement
AGSC 352: Animal Reproduction
AGSC 353: Equine Reproduction Practicum
AGSC 354: Bovine Reproduction Practicum
AGSC 355: Ovine Reproduction Practicum
AGSC 375: Equine Exercise Physiology
AGSC 422: Grazing Animal Ecology
AGSC 423: Physiology of Lactation
AGSC 427: Swine Management Science
AGSC 429: Domestic Animal Behavior
Research
As an undergraduate student at Truman, you can explore exciting research opportunities. Animal science faculty, assisted by their undergraduate research assistants, engage in a wide variety areas of investigation that include manipulation of sex ratio outcomes for super-ovulated beef cows; concentrating the polled gene in full-blood Gelbvieh cattle; evaluating new varieties of warm season grasses and legumes for summer grazing beef cattle; effects of varying mineral concentrations on reproductive performance of grazing beef cows; comparison of pelvic shape versus calving ease of several breeds of beef cows; and evaluation of co-product feeds for beef cattle and sheep.
Internships
Gain valuable hands-on experience while you test your skills and knowledge through internships at off-campus sites in research, agri-business, or with governmental agencies. Internships are also available in other parts of the U.S. or abroad.
For More Information
Michael Seipel, Ph.D.
Professor
Magruder Hall 3082
(660) 785-4316
mseipel@truman.edu
Susan Guffey, D.V.M.
Assistant Professor
Magruder Hall 3070
(660) 785-4408
sguffey@truman.edu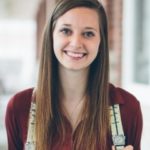 My favorite aspect of Truman is the sense of community. I love knowing so many people around campus and having so many great opportunities that I might not have at a larger university.