Master of Athletic Training Program
Master of Athletic Training
Our Master of Athletic Training (MAT) program provides you with specialized coursework and practical experience that prepare you for a successful career in athletic training. Through broad-based professional preparation combined with close collaboration with professors and progressive clinical experiences, you'll graduate from the program with the knowledge, skills, and experience to take the national Board of Certification (BOC) exam to become a certified athletic trainer.
Why Truman?
Small, personal classes
Tremendous value — high quality at low cost
Strong connection and collaboration with physicians and health care professionals
Individualized attention
Clinical experiences enhance every phase of your learning
Specialized coursework covers Athletic Training, Exercise Science, and Clinical Practice
Greater than 90% first-time BOC pass rate
100% job placement
Accreditation
Our high-quality professional program is accredited by the Commission on Accreditation of Athletic Training Education (CAATE).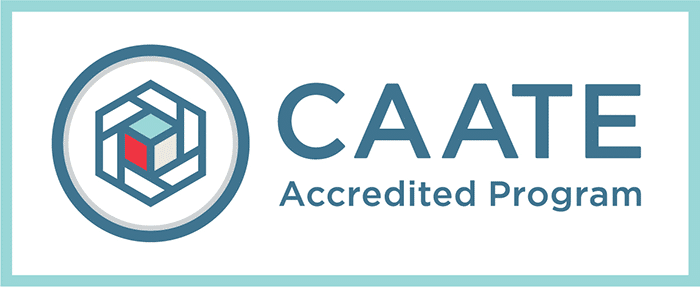 Truman offers Graduate Teaching/Research Assistantship (GTRA) positions for qualified applicants pursuing graduate studies such as the Master of Athletic Training.
A new Master of Athletic Training cohort begins the program every year in July. The final deadline to apply for the next cohort is June 1. Applications are reviewed as they are received, so apply early for priority consideration.
July Start → Apply by June 1
Admission Requirements
No GRE required. In addition to the online application ($40 fee) to apply for the Master of Athletic Training Program, you'll need to submit the following:
Tuition
Missouri residents and non-residents pay the same tuition and fees for the Master of Athletic Training program.
$29,736
total estimated tuition*
*Total estimated tuition based on 2023-24 academic year. Tuition subject to change.
Financial Aid
There are no MAT degree scholarships or out-of-state tuition waivers at this time. All on-campus employment opportunities are handled through the Financial Aid Office. It is not recommended that an MAT student work full time. A part-time job may be possible as long as it does not interfere with classroom or clinical experience hours.
Some students may qualify for a Graduate Teaching/Research Assistantship (GTRA) position once enrolled in the MAT program. GTRAs are either a cash stipend or a tuition waiver for up to nine graduate credits per academic semester that is awarded by the individual graduate program and Truman State University. GTRAs are available during the academic year (August-May).
For more information, contact the Financial Aid Office or the Athletic Training Program Director.
Direct/Automatic Admission
Students may enter the Truman Master of Athletic Training (MAT) program via the Direct/Automatic Admittance route.
ES/MAT 3+2 Program
Earn a Bachelor of Science in exercise science and a Master of Athletic Training in 5 years.
More Details About the MAT Program
Virtual or In-person
Get an inside look at program specifics, tour your learning environment, and meet your professors.