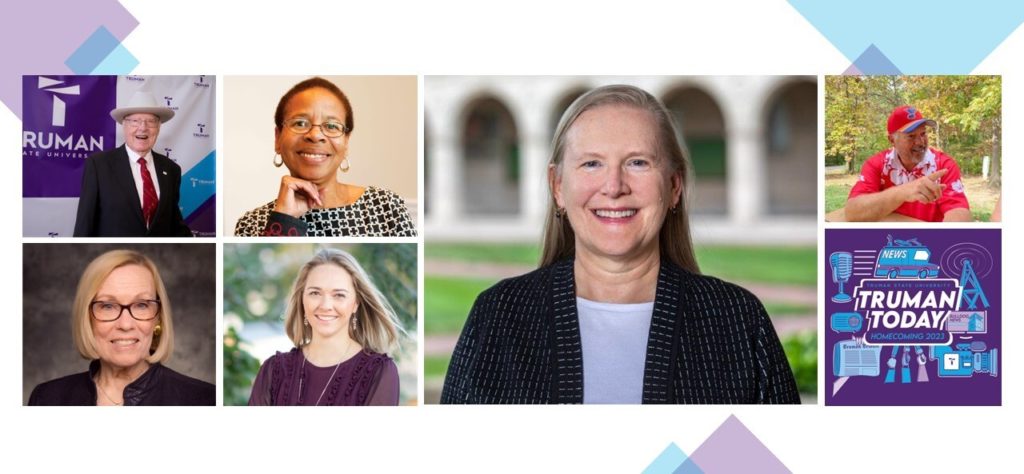 Alumna of the Year: Susan Plassmeyer ('86)
Susan Plassmeyer is the Associate Vice Chancellor for Advancement Services and Administration in University Advancement at Washington University in St. Louis. Her service to her alma mater includes serving on the Alumni Association Board of Directors, several terms on the Truman Foundation Board, the School of Business' Advisory Board and the Board of Governors, which she chaired in 2014. 

Young Alumna of the Year: Angela Crawford ('08)
Angela Crawford has more than a decade of experience in strategic communications and currently serves as membership and marketing vice president for The Builders, a chapter of the AGC. In addition to serving as the President of the Kansas City Alumni Chapter since 2014, she is actively involved the Kansas City community serving causes such as Community LINK, Kansas City MLB Urban Youth Academy's Raising Royals After School program and Big Brothers Big Sisters of Kansas.
Distinguished Service: Marianna Giovannini ('64, '67)
Marianna Giovannini is in her 57th year working at Truman State University and has the distinction of being the longest serving employee. Over the course of her career, she has connected over 11,000 students to the transformation of higher education by listening, encouraging, informing and challenging them to develop with the school's mission.
Distinguished Service: Bertha Thomas
Bertha Thomas began her career at Truman in 1992, having been hired as the first program coordinator for Truman's Ronald E. McNair program. She went on to work as the assistant dean for Multicultural Affairs and Scholastic Enhancement Experience Program as well as serving as Truman's Diversity and Inclusion consultant.
Parade Grand Marshal: Dr. Jack Magruder ('57)
Dr. Jack Magruder served his alma mater in a variety of roles including assistant professor of chemistry, head of the Division of Science, dean of instruction, vice president for Academic Affairs and President. Magruder served as a member of the Board of Trustees for A.T. Still University and chair of the Board of Trustees Education/Research Committee before being named president of A.T. Still University in 2008. He was granted the title of President Emeritus upon his retirement from that position in 2012.
Denise L. Smith Volunteer of the Year: Brad Borgstede ('80)
A Certified Public Accountant, Brad Borgstede served as a tax advisor to General Electric, Honeywell, Halliburton, Anheuser Busch, Johnson & Johnson, Ralston Purina and many other Fortune 1000 Companies. After his retirement from PricewaterhouseCoopers, Brad and his wife Teresa organized two very successful reunion of Greek alumni from the 1970s in 2018 and 2022 with another reunion planned for 2024. 
---
More information on additional alumni awards, past recipients and how to nominate someone, visit Awards and Recognition or contact bulldogforever@truman.edu.