As a Health Science major at Truman, you pursue rigorous training for your future role as a promoter of health, enhance your critical-thinking skills and problem-solving skills, and explore your personal and professional interests through research, internships, and study abroad.
Customize Your Education
When you pursue a Bachelor of Science degree in health science, you focus on the area that's the best match for your future career by selecting a concentration:
An Intellectual Learning Community
At Truman, you will find students are the priority with an emphasis on providing you with problem-based learning and practical experience. You join a community of engaged learners where you can pursue answers to the questions that intrigue you. A unique feature at Truman is the opportunity to engage in research—you can even present your research findings at international, national, regional, state, or local professional conferences, or publish your work in a peer-reviewed professional journal.
The Best Labs for Hands-on Learning

Our modern labs and equipment provide you with unique opportunities to explore research and individualized study. Work in the Human Performance Lab to measure all aspects of human function. Investigate neural contributions to movement control and movement learning using everything from a Sony PlayStation system to Neurocom's Balance Master system in the Movement Neuroscience Lab.  Learn about human motion, muscle activity, and kinematics in the Piper Movement Analysis Lab. For Human Anatomy class, you'll work in a human cadaver lab (only 4% of undergraduate programs in the nation offer human cadaver-based anatomy).
Our Graduates Succeed

Our graduates are well-prepared for health careers in educational or clinical settings in school, worksite, community, or public health environments as well as graduate work in public health, health administration, occupational therapy, medicine, or physician assistant programs.
October 9, 2018
Phi Epsilon Kappa (PEK) is putting on a fundraiser! In the HES department, there are 6 jars each assigned to a professor, and the professor with the most dollar bills and silver coins in their jar will dress up on Halloween. When: Now-October 30 Why: To help raise money for cancer research (Relay For Life […]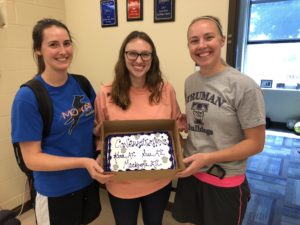 AT Students Pass Certification Exam on First Attempt
August 27, 2018
Congratulations to Athletic Training seniors Susanna Goodell-Fields, Mackenzie Snyder, and Kara Wehmyer on passing the Board of Certification exam on their first attempt!