As an exercise science major, you study human movement, enhance your critical thinking and research skills, and acquire specific skills in preparation for professional certification.
Customize Your Education
When you pursue a Bachelor of Science degree in Exercise Science, you choose the area that is the best match for your future career by selecting one of four concentration areas:
See a sample four-year plan for the Exercise Science major.
The Best Labs for Hands-on Learning
Our modern labs provide you with unique opportunities to explore research and individualized study. Learn about human motion, muscle activity, and kinemati4s. Picture yourself using our sophisticated motion-analysis system to measure force vectors in 3-D space. For your Human Anatomy class, you'll work in a human cadaver lab (only four percent of undergraduate programs in the nation offer human cadaver-based anatomy). Students also use Truman's athletic training facilities for clinical practice and active learning. Exercise science majors also gain valuable experience through internships and practicums, and Truman has cooperative partnerships with local agencies provide you with additional avenues for skill development and job experience.
Preparing for Lives That Matter
Around 75 percent of our Exercise Science students identify physical therapy as their occupation of choice, and approximately 80 percent of those who apply to graduate programs in physical therapy gain admission. Truman has affiliations with select graduate programs that provide some students special advantages in the graduate admissions process. The American College of Sports Medicine's Certified Exercise Physiologist (EP-C) certification exam serves as the senior exit exam.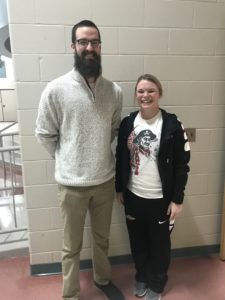 Where They Are Now: Evan Cerven (ES '16) and Lex Van Norstrand (ES '17)
February 4, 2019
Evan Cerven and Lex Van Norstrand graduated from Truman with degrees in Exercise Science in May of 2016 and May of 2017, respectively. Upon graduating with their bachelors degrees, they pursued MAE degrees with focuses in Exercise Science. Evan is now the head girls basketball coach at Hannibal and Lex is his assistant! Lex is […]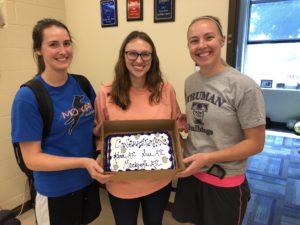 AT Students Pass Certification Exam on First Attempt
August 27, 2018
Congratulations to Athletic Training seniors Susanna Goodell-Fields, Mackenzie Snyder, and Kara Wehmyer on passing the Board of Certification exam on their first attempt!