With Truman's interdisciplinary environmental studies minor, you learn to identify, analyze, communicate about, and influence the complex forces that shape the environment and living things. This minor pairs well with any major, broadening your path to pursue positions in government, private industry, and non-profit organizations.
Study the Connections Between Ecosystems
Focus on the complex interactions between humans and other components of the natural environment through coursework that combines selected courses in the earth's physical, chemical, and/or biological systems with studies in the humanities and social systems.
Discover New Connections
At Truman, we know that all fields of study are connected in complicated and fascinating ways. Environmental Studies is one of several interdisciplinary studies programs available for you to explore the new possibilities that open up when two or more fields overlap. Our interdisciplinary studies major even allows you to custom-design your own field of study.
Please contact the committee chair or one of its members with any questions about this minor.
Environmental Studies Minor Committee
Events
"Diary of a Change Agent Wannabe: Solastalgic Reflections"
Michael Kelrick, Professor Emeritus of Biology, Ecologist and Environmental Activist

Feb. 24, 2022 | 7-8 p.m.
Magruder Hall 1000
Recording of meeting:
https://truman-edu.zoom.us/rec/share/yDZELqLaxj7Bm6yPOsqgtvhD3VwRT7W5b3dO3eDK7dL7kqBlvN-dVIdU1qBj0-EK.MmgZgqMbv5DJs16o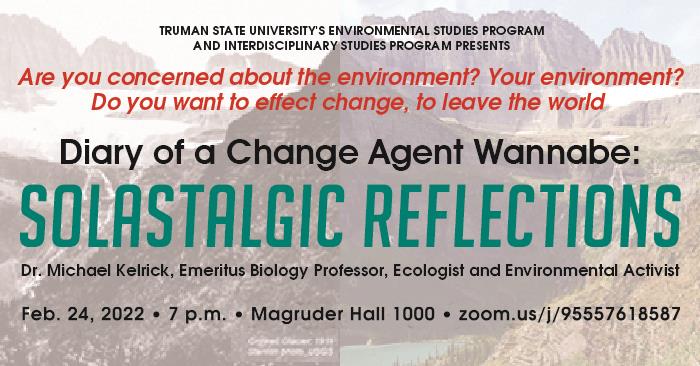 Internship Opportunity
In the summer of 2021, the City of Kirksville conducted a greenhouse gas inventory (GHGI) for all government operations for the calendar year 2019, with the help of two TSU interns. The City is now seeking a student intern to help Kirksville's City Planner complete the next phases of this process, which will include forecasting and planning for the City to set goals to reduce emissions. The intern will use online software designed to help cities set emissions reduction goals:  https://icleiusa.org/clearpath/
A possibility exists to earn ENVS credit (probably 1 credit) for the internship.
If you are interested, contact either ENVS committee member Christine Harker <charker@truman.edu> or chair Marc Becker <marc@truman.edu> for more information.
---