Online Graduate Certificate in Data Science
Online Graduate Certificate in Data Science
The Online Graduate Certificate in Data Science is designed to help you quickly acquire new skills you can apply to this rapidly expanding field. Accelerate your career by enhancing your ability to manage, analyze, and draw conclusions from large amounts of data and applying your findings to your field of interest, such as science, business, government, engineering, and health care.
A tech-related undergraduate degree is not required to pursue this program.
15 credits
Intro to Data Science
An introduction to the world of Data Science and in-depth exposure to the statistical software environment "R."
Big Data Management
An exploration of techniques used to manage and prepare very large data sets.
Data Mining
An exploration of techniques used to find patterns in very large data sets, with an emphasis on the statistical structure of the approaches and practical uses of key tools.
Machine Learning
Get familiar with statistical learning techniques (regression, regularization, and principal component analysis) and programming in a popular machine learning language such as R.
Data Science Capstone
Working alone or in a pre-approved group, you'll complete a data science project within your given discipline. The deliverables for this project include a technical paper written in R Markdown that details the project and the steps taken.
---
Simply apply to the master's degree program as you are finishing the graduate certificate. You'll only have 15 more credits to go. The graduate certificate is stackable which means if you ever choose to return and complete your Master's degree, all your certificate credits will count toward it.
Data Science Program—Academic Calendar
Program starts in spring and fall each year. Eight-week courses offered year round.
| | | | | |
| --- | --- | --- | --- | --- |
| 2022 | | | | |
| Spring First Block | Spring Second Block | Summer Eight-Week | Fall First Block | Fall Second Block |
| 1/5/22-3/1/22 | 3/14/22-5/7/22 | 6/6/22-7/30/22 | 8/17/22-10/11/22 | 10/17/22 -12/17/22 |
| 2023 | | | | |
| Spring First Block | Spring Second Block | Summer Eight-Week | Fall First Block | Fall Second Block |
| 1/11/23-3/7/23 | 3/20/23-5/13/23 | 6/5/23-7/29/23 | 8/16/23-10/10/23 | 10/16/23-12/16/23 |
| 2024 | | | | |
| Spring First Block | Spring Second Block | Summer Eight-Week | | |
| 1/10/24-3/5/24 | 3/18/24-5/11/24 | 6/3/24-7/27/24 | | |
Application Requirements
Online application ($40 application fee)
Official transcripts demonstrating:

completion of baccalaureate degree from an accredited institution (or international equivalent)
2.5 cumulative GPA
completion of STAT 190 – Basic Statistics
completion of CS 170 – Intro to Computer Science
Regrettably, we are unable to consider applications for fully-online programs by individuals who reside outside of the United States and its territories at this time.  International applicants are still encouraged to consider our face-to-face programs located on campus in Kirksville, Missouri.
Total Program Cost
$6,805
15 total credit hours at $415 per credit hour plus $116 fee per course.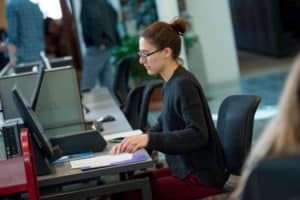 Virtual Visit
Get an inside look at the online learning environment, meet your professors, and get all your questions answered during a virtual visit.